It seems that everywhere you turn lately you'll see or hear Kirsten Van Ritzen. This popular Victoria-based actor, comedienne, writer and television producer has an incredibly busy schedule for the months of January and February; playing the mother in Polly Stenham's hard-hitting, award-winning drama, That Face, at Langham Court Theatre while simultaneously launching a third season of the live-improvised serial, Sin City: Bedlam-by-Sea, and working as executive producer for The Broad Comedy Room, a comedy series for APTN that will be live taped in Victoria February 13-17.
Van Ritzen and her spouse Ian Ferguson arrived in Victoria 2 years ago and immediately produced SinCity: Die Nasty, Season one. It proved so popular that season two (and now three) followed.  She made her Victoria Fringe debut in 2011 with a solo show, All My Day Jobs and returned with an ensemble for Fringe-provise Me! in 2012.  A regular of the local comedy circuit, Van Ritzen also teaches comedy classes for beginners.  Her book, The Comedy Diva Diaries was published in late 2012.
We sat down recently to talk about her creative journey and work, and her current projects.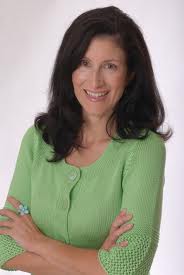 You've been in Victoria for two years now, and I didn't know you were a "serious" actor. 
The media attention is often on Sin City and teaching comedy, but I've always been an actor. I trained at the University of Winnipeg, and had done a lot of singing and dancing before. My finishing school was working with other professionals who I learned from.

On graduating, I worked the first five years as an equity actress, doing new Canadian plays in both Edmonton and in Toronto (at the Blyth Festival).

So, it's ironic, in a way, that people in Victoria have a different image of me.  I enjoy wearing many hats and they all feed off one another.
Where do you get your entrepreneurial spirit as a performer?
It might depend on the city you are in. In Edmonton, there was no sitting around complaining you weren't getting hired. We were part of a troupe of friends and colleagues who regularly did 5 – 7 plays a year.  There were: the mid-sized theatres like Workshop West and the Phoenix Theatre; a dinner theatre that paid well; the Citadel; and the Fringe too. We weren't put in a box; we could do all kinds of work.

Out of the Fringe, 5 small playwright-driven theatre companies created The New Varscona (an equivalent of the VEC). The playwrights involved: Marty Chan, David Belke Stewart Lemoine, Ian Ferguson – were all very accomplished and have won all many awards.
How did you come to be performing in That Face for Langham Court Theatre?
I was chatting with Denise Brown (Langham administrator) and she mentioned the show was part of the 2012/13 season.  I read the script.

It completely blew me away. I thought 'It's the role of a life time, no matter where it's going to be done, I think I need to pursue this'.

I had a few questions though about the role: do I want her living in my head for 3 months, will that be something my spouse can live with, and, can I get my other work  (Sin City and the Broad Comedy Room) done.

I knew that the young actor (the son) needed to be an incredible performer; also I'd never worked with director Judy Treloar – would we be on the same page, and could we trust one another? Those questions were answered during the audition process.
What's it been like working in Victoria's oldest theatre?
It's an amazing building that many smaller companies would die for – especially the costume loft and the shop. There are a few traditions I learned about:  the meet and greet with members and the stuffed rat on the set. Everyone has been very welcoming.

Some things are different – the perception is that we are judging the end product but it's actually the rehearsal process, the journey that is different.

One of the differences with community theatre is that it introduces people to all aspects of a production; there's encouragement to work in all areas behind the scenes.
Why should the average person (one who only sees a couple of shows a year) go to a show like That Face?
It is challenging – ultimately it has to feel life-affirming, or else we're all depressed. As dark as this play is, it does have moments of humour and lightness. The specificity of this dysfunctional family provides insight into humanity, and therefore it's uplifting in some way.

Judy (Treloar, the director) is very opinionated and passionate about the play and her vision for it. I'm very appreciative of that.
Langham Court's media release quotes Treloar.
Be warned, That Face is not for "the faint-hearted, or anyone who believes all families are perfect!  So, brave men, women and teenagers [only]!"
And what about Sin City: Season Three?
Season Three is Bedlam-by-Sea. I'll be able to perform in the preview on the 8th, and opening night on the 15th, and will only need to miss two shows.

This season is about a pub/hotel in a tiny coastal English town. It will be a bit of Austin Powers with some James Bond thrown in.  There's so much Anglo – stuff in Victoria, we're going to embrace every single cliché.

It will have a lighter tone than Carnies which was about a serious era, the Depression.

Everyone from last season is coming back.  With 20 episodes (until the end of May) it will allow for story telling, or else it feels too short-form. We don't like to force the plot; we want to give time for the characters to develop.SinCitygets attention because it recreates the form and breaks people's expectations of what improv is all about.
Tell me about the APTN (Aboriginal Peoples Television Network) show – The Broad Comedy Room.
I'm the executive producer and will host the show, as well as perform. It was my idea and I've done the casting

We're taping 13 episodes with 2 female comic performers per episode. There'll be a lot of local and across-Western-Canada talent representing a whole range of comedic performance – character, clown, burlesque, music – and not just stand-up.

Performers include Janet Rogers (Victoria's Poet Laureate), Dawn Dumont, and Sharon Shorty from theYukon.
Van Ritzen's debut novel – The Comedy Diva Diaries was recently published.
It's a "tale of a 29 year old female comic who vows to find success in one year, or quit showbiz entirely."
March 27th attend a free reading and book signing (with standup comedy performance) at the Juan de Fuca library.  Register online.
Any final thoughts?
It's embarrassing to talk about yourself, to put yourself out there but you can't put on a play unless there's an audience. There has to be self-promotion, but it's a bit nauseating at times to go 'I'm talking about myself'. It's the way to do what you want to do creatively, otherwise you sit around. You have to do it if you want to work
Kirsten Van Ritzen has made a career based on hard work, talent, passion and NOT "sitting around".  Over the next couple of months, take the opportunity to enjoy one of her many performances – there's a lot to choose from.
That Face by Polly Stenham, Langham Court Theatre
January 16 – February 2, 2013
Tickets $21/$19.
Preview night Wednesday January 16, 2 for $20
2 for $30 Tuesday, January 22 and 29, 2 for $30
*January 18 Performance includes a talk-back with the director and cast

Sin City: Season Three. Bedlam-by-Sea
Tuesday nights, 8pm at the Victoria Event Centre
January 8th (preview) – May 28, 2013
Tickets at the door: $15.
Season's passes and punch card available

The Broad Comedy Room (comedy show) live-taping
February 13-17 at the Metro Studio Theatre
Tickets: $20 through Ticket Rocket, online, by phone or in person.

The Comedy Diva Diaries
Book reading and performance
March 27th, 7pm.
Juan de Fuca library