THIS EVENT HAS BEEN POSTPONED TO FEBRUARY 2014. Stay tuned for more details.
Sip and Savour August 24, 2013 in Sidney BC in conjunction with the North Saanich Flavour Trail (August 23-25).
It's the time of the year to partake of all the bounty our wonderful region has to offer. New this year, TIDES Group has created Sip and Savour at the Mary Winspear Centre. Featuring wines and cider by de Vine Vineyard, Muse Winery, Dragonfly Hill Vineyard, Sea Cider Farm & Ciderhouse, Domaine Rochette Winery and Highland House Winery as locally-sourced foods prepared by the wonderful chefs of Island Culinary Services and Melinda's Biscotti with coffee from Level Ground, there are sure to be many highlights.
People travel from all over the world to experience what we often take for granted in our own backyard.  Come and celebrate with those who produce world-class food and drink, right here.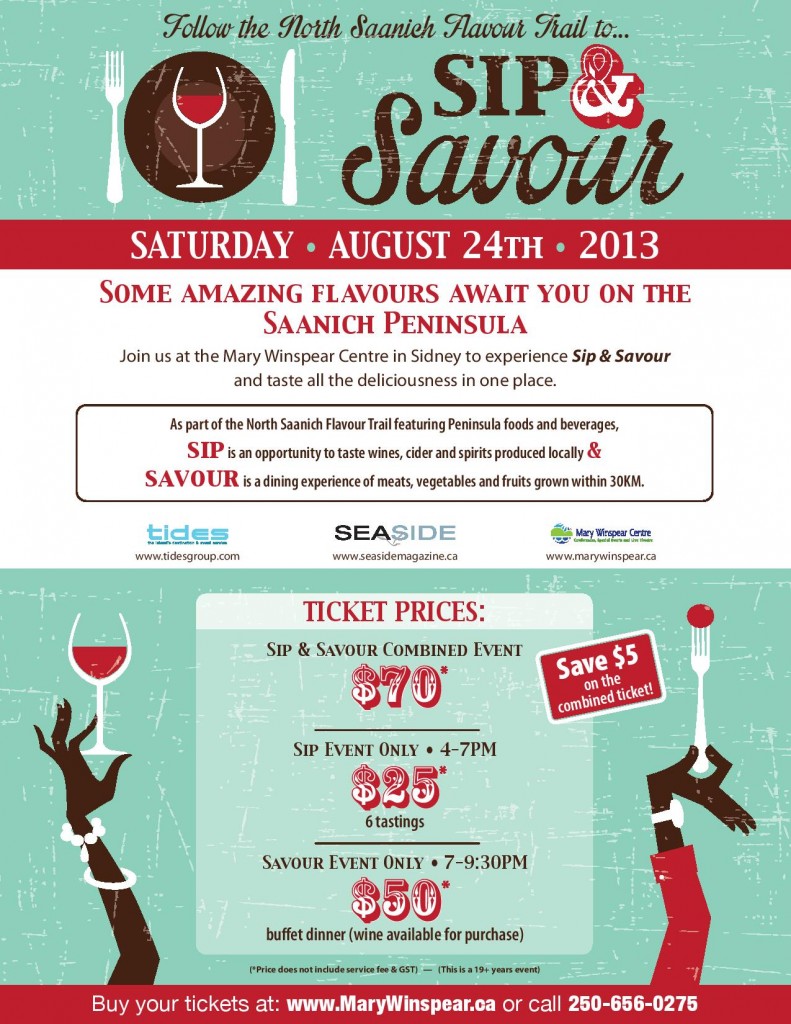 Have you taken a wander around your Saanich Peninsula backyard? Some amazing tastes await you. Join TIDES at Sip & Savour to experience the deliciousness all in one place. On Saturday, August 24th from 4 pm to 9:30 pm, wander and enjoy at the Mary Winspear Centre.

Featuring the beverages produced on the Saanich Peninsula and Gulf Islands, Sip offers an opportunity to taste wine, spirits, cider and coffee made locally. Following Sip is Savour – a wonderful dinner of the foods produced in the region – meats, vegetables and fruits from our backyard. Sip & Savour runs in conjunction with the North Saanich Flavour Trail. So, after a day of checking out the farms and market stands of the Peninsula, come by the Mary Winspear Centre to relax with delicious local food and beverages.

– Sip & Savour combined ticket: $70
– Sip 4-7 pm ticket: $25 for 6 tastings
– Savour 7-9:30 pm ticket: $50 for dinner (wine available for purchase)

Tickets can be purchased through Mary Winspear Centre ticket services.

Sip & Savour is a production of TIDES and the Mary Winspear Centre.