Paul Holmes organized a second WordCamp May15th.  Attendance at both has been over 100 each time.
Don't miss the third WordCamp Saturday January 22nd. Registration costs are modest, and the speaker line-up  includes options for beginners, advanced and technical users. I'll be moderating a blogger panel with Rebecca Bollwitt (Miss 604), Mike Vardy (Eventualism) and Lorraine Murphy (Raincoaster) and speaking on "Promoting Through Blogging". 
Pecha Kucha Night volume 2 was held on May 27th. Speakers included Ben Ziegler and Karen Rivers. 
from The Vancouverite

May 25th @RealReporter Salim Jiwa spoke to Social Media Club on "Trends In Journalism Today & The Impact of Social Media". Here's some thoughts from one of the attendees, Yule Heibel. 
photo from youcookca

Kudos to the Fairmont Empress and Inn at Laurel Point for innovative marketing. May 12th saw the inaugural #poutineoff on the lawns of the Empress Hotel. Judges, sourced via Twitter, were @cqwww @toots11 @flygirlWS @seedtocup @lacouvee @EATmagazine @TravelWithTaste @youcookca. Mayor Dean Fortin was the MC. Fairmont Empress Chef Ito's "Tiger Poutine" was narrowly declared the winner.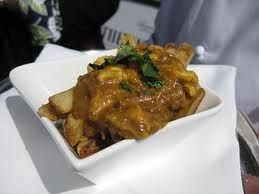 photo from youcookca