Folksinger, songwriter, author, poet, and activist— for over four decades Bob Bossin has deployed his considerable talents in service to community.  His skills as an entertainer are well-honed and evident in the easy-going way he approaches the formidable task of re-telling his father's life in Songs and Stories of Davy the Punk (currently at Intrepid Theatre's Uno Fest 2014).
Bossin is dedicated to telling stories of what is really going on in the day-to-day lives of people as opposed to the official point of view, party line or "propaganda".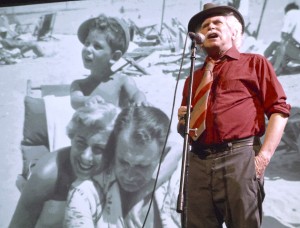 Songs and Stories of Davy the Punk pits his father Dave Bossin—who played an important role in the gambling underworld in Toronto during the 1930s and 1940s—against city council, the forces of law and order, and the "uplifters"—people who were determined to maintain the image of "Toronto the Good".
As an added bonus, there's a rich Jewish heritage displayed in the pattern of these tales, and anyone familiar with the work of traditional storytellers Shalom Aleichem and Isaac Bashevis Singer will recognize the distinctive voices.
Bossin's father died when he was 17—this piece has been, by his own admission, almost 50 years in the making.  From chance encounters, reminiscences, his own memories and prodigious amounts of research, he has crafted a highly entertaining, amusing and—even—educational retrospective. The nostalgia is carefully tempered—what emerges is a loving tribute that exposes dark undercurrents as well as sunny father-son moments.
Backed by archival photos, his guitar an extension of his body, Bossin draws the audience in, as if we were seated around a few beers at the neighbourhood watering hole or kitchen party. Our appetite becomes insatiable; like small children—reluctant to go to sleep—our collective cry is "just one more, please tell us one more".
Whether you have an interest in Canadian history, Toronto, or Jewish community life in the early 1900s, or whether you simply enjoy a good folk tune or story expertly told, you will be fascinated by Songs and Stories of Davy the Punk.
Thankfully, Bossin's solo show is but a teaser for his just-released book.  In addition to performances (and a book launch) at Intrepid Theatre's Uno Fest in Victoria, Bossin will be touring the country this summer, with stops in Vancouver, Toronto, Montreal, the Ottawa and Winnipeg Fringe Festivals, and the Sunshine Coast Writer's Festival.
Bob Bossin started his career in the early 1970s as a member of the seminal Canadian folk group Stringband who pioneered independent recording and artist-controlled album releases in Canada. His life, in my opinion, is as fascinating as his father's, and deserves further investigation.  At a time of much cultural homogenization artists like Bossin deserve our undying gratitude for their willingness to remind us of our individuality, our specificity, which, when woven together, make us strong.
Songs and Stories of Davy the Punk, Intrepid Theatre Club, 2-1609 Blanshard St.
Tickets $20, $79/5 Show Pass, $100 Karma 5 Show Pass
Ticket Rocket online, in person or by phone 250 590 6291
Wed May 28 7:30* Pay-What-You-Can performance
Thurs May 29 6:00
Sat May 31 4:00 (Noon: Book Launch & Interview – FREE)
The Old Folk Singer (GabriolaIsland)
Created and performed by Bob Bossin
Directed by Simon Webb
$20 – 90 minutes – musical
Disclaimer: I received a complimentary ticket to attend Songs and Stories of Davy the Punk.