Lighting Designer Itai Erdal How to Disappear Completely has designed for opera, dance and the stage. In Victoria you've seen his work at the Belfry Theatre (The Life Inside, Billy Bishop Goes to War, Where the Blood Mixes) and Metro Studio (Three Sisters by Theatre SKAM).  In 2011 he won the Victoria Critics Spotlight award for The Life Inside.  By his own admission, he's "not an actor".  He is, however one of the best lighting designers in the country and a natural and compelling storyteller.
In 2000 Erdal was a recent graduate of the Vancouver Film School when his beloved mother Mery was diagnosed with lung cancer and given nine months to live.  He left Canada for Israel with the goal of documenting the last months of his mother's life and her death; in fact How to Disappear Completely was originally titled Death of My Mother.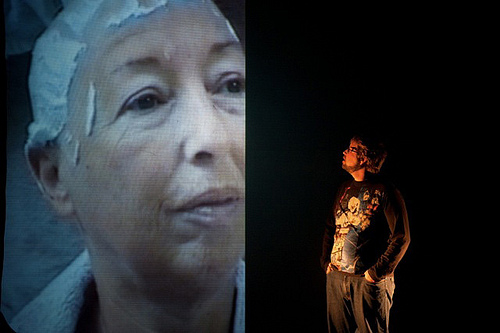 How to Disappear Completely presents archival film snippets, some sub-titled, and others translated live, while Erdal manipulates the lighting from a portable board onstage, and enacts scenes from his life.  His musings on the art of lighting, and technical explanations of the equipment he typically uses, provide potent and poetic insights into his craft.  The thread throughout is love – of family and life.
At one point the documentarian and his sister, a poet, engage in spirited debate over what constitutes a proper "remembering".  Is it better to document every single moment, or to remember by emotion?  How do our loved ones live on?  What legacy do we leave?  How do we choose to be remembered?
Erdal provides answers to these weighty questions with great transparency through his own, and his family's, lived experiences.  His step-father shaves his mother's head, and then kisses it.  And there are moments of laughter amid the dying. The self-professed know-it-all gets the audience to quiz him about the capitals of the world, and is stumped at Sierra Leone.  He goes to an all night rave in the desert with his best friend, flailing wildly to the pulsating music, and sees the most beautiful sunrise.
At once highly personal, and profoundly universal, this story of love, legacy, and family will have you hugging those close to you tight in appreciation of every moment.
How to Disappear Completely appears next at this year's SummerWorks in Toronto.
How to Disappear Completely, Metro Studio 1411 Quadra Street
Thursday May 23 9pm* (pay what you can opening night)
Saturday May 25 2pm
Tickets $20 $69/5 Show Pass  $100 Karma 5 Show Pass
Ticket Rocket online, in person, or by phone at 250 590 6291

Performed by Itai Erdal
Directed by James Long
Lighting Design by Itai Erdal
Sound Design by Emelia Symington Fedy
Original Composition by Andrea Young
Projection Design by Jamie Nesbitt
Remount Projection Design by Corwin Ferguson
Stage Managed by  Kelly Barker
Dramaturged by Anita Rochon
65 minute, autobiographical, adult themes
thechoptheatre.com
 Disclaimer:  I was offered a complimentary ticket to review How to Disappear Completely. As always, I retain full editorial control over all the content on my blog.