Two of Victoria's largest performing arts organizations, the Victoria Symphony and Pacific Opera Victoria, collaborate on a production of the beloved musical South Pacific (Rodgers and Hammerstein) with performances November 23rd and 24th 2013 at the Royal Theatre.
"This is a first", declared POV Artistic Director Timothy Vernon.  "It's the first time that Victoria audiences will experience this Broadway musical with a full orchestra and beautiful operatic voices, and it's the first co-production of our two pre-eminent professional arts organizations."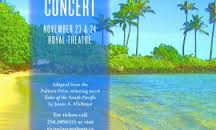 Based on a Pulitzer Prize-winning book by James Michener, South Pacific is a sweeping romantic story of two unlikely couples on a small island during WWII.  The 1949 musical snagged 10 Tony Awards (Broadway's version of the Oscar), and a 2008 revival at Lincoln Center in New York grabbed another 7.

SOUTH PACIFIC is endowed with hit after hit:  "Younger than Springtime", "Bali H'ai", "Some Enchanted Evening", "There is Nothin' Like a Dame", "This Nearly Was Mine".   The POV/VS production includes all of the dialogue and music of the Broadway show in a rich, theatrical presentation, with cast and orchestra sharing the stage.

Welsh baritone Jason Howard interrupted his international opera career to portray Emile de Becque in the Lincoln Center Theater revival of SOUTH PACIFIC.  To quote Richard Ouzounian of the Toronto Star, "Jason Howard is, quite frankly, a perfect Emile de Becque…He knows how to dispense both elegant sophistication and uncensored emotion with equal ease. And his voice — the aural equivalent of a finely polished piece of mahogany — adds incredible depth and texture to those heartfelt Rodgers tunes…"

"Opera audiences will remember Jason from his appearances here in the title roles of The Barber of Seville and Eugene Onegin" said Vernon.  "We are all delighted to welcome him back to the Royal Theatre in this iconic role".

Joining Jason Howard in the cast of SOUTH PACIFIC are Lara Ciekiewicz as Ensign Nellie Forbush, Adam Fisher as Lieutenant Joe Cable, and Lynne McMurtry as Bloody Mary.  All three are critically acclaimed performers making their POV debuts.

Whether being hailed as "mesmerizing" (Classical Voice of North Carolina), or "a clear standout" (San Francisco Classical Voice), Lara Ciekiewicz is quickly making her mark as a compelling, intelligent, and accomplished singing-actress.  A graduate of l'Atelier lyrique de l'Opéra de Montréal, she has performed throughout the US and with Manitoba Opera.

Canadian tenor Adam Fisher has performed with Voicebox/Opera in Concert, Toronto Operetta Theatre and Edmonton Opera.  He recently performed in "Best of Broadway", a concert of favourite Rodgers and Hammerstein songs with Chorus Niagara and was a guest artist with Vancouver's popular "Music in the Morning" for "I Got Rhythm: The Songs of George Gershwin".

Mezzo-soprano Lynne McMurtry has performed with the symphony orchestras of Boston, Charleston, Winnipeg, and Edmonton, among others, and with the Canadian Opera Company, Opera Ontario, Manitoba Opera, Opera in Concert, and at Tanglewood and Ravinia.

SOUTH PACIFIC is staged by renowned Canadian director/choreographer Jacques Lemay and conducted by POV's Artistic Director, Timothy Vernon.  Scenic design is by Ian Rye with lighting design by Adam Wilkinson.

SOUTH PACIFIC is presented November 23 at 8pm and November 24 at 2:30pm, at the Royal Theatre, 805 Broughton Street in Victoria.  Priced between $35 and $85, including GST & box office service charges, tickets are available from the Royal and McPherson Box Office at 250-386-6121, or online at www.rmts.bc.ca.
Donations for Typhoon Haiyan Relief
More than 5 million people in the Philippines have been affected by Typhoon Haiyan, one of the most powerful typhoons ever recorded.
During the Saturday & Sunday performances of South Pacific, Pacific Opera Victoria & Victoria Symphony volunteers will accept donations in support of the Canadian Red Cross Typhoon Haiyan Fund.
Donations of cash, cheque or credit card will be accepted in the lobby of the Royal Theatre. Tax receipts will be issued by the Canadian Red Cross for donations of $20 or more.
Donations may also be made
At the local Red Cross office, 909 Fairfield Rd, Victoria, BC V8V 3A3.
By phone: 1-800-418-1111.
Please earmark donations "Typhoon Haiyan" – The Government of Canada will match donations made by individual Canadians between November 8 and December 9, 2013.