Spooky Arts Events in Victoria BC October-November 2014
Hallowe'en approaches. As the days get shorter and dark nights beckon, local Victoria arts groups have submerged themselves with gusto into the spirit of this spooky season, offering up all manner of arts events for your pleasure.
Frankenstein by Mily Mumford
Inspired by the work of Mary Wollstonecraft Shelley
October 17, 18, 23-26, 30 and November 1st 7 and 9 pm.
Emily Carr House 207 Government St.
Tickets 12$ Student, 15$ Regular (Rated PG-13)
Tickets available by phone at: (250) 383 5843 or email at ecarr@shaw.ca.
Space is limited, reservations recommended.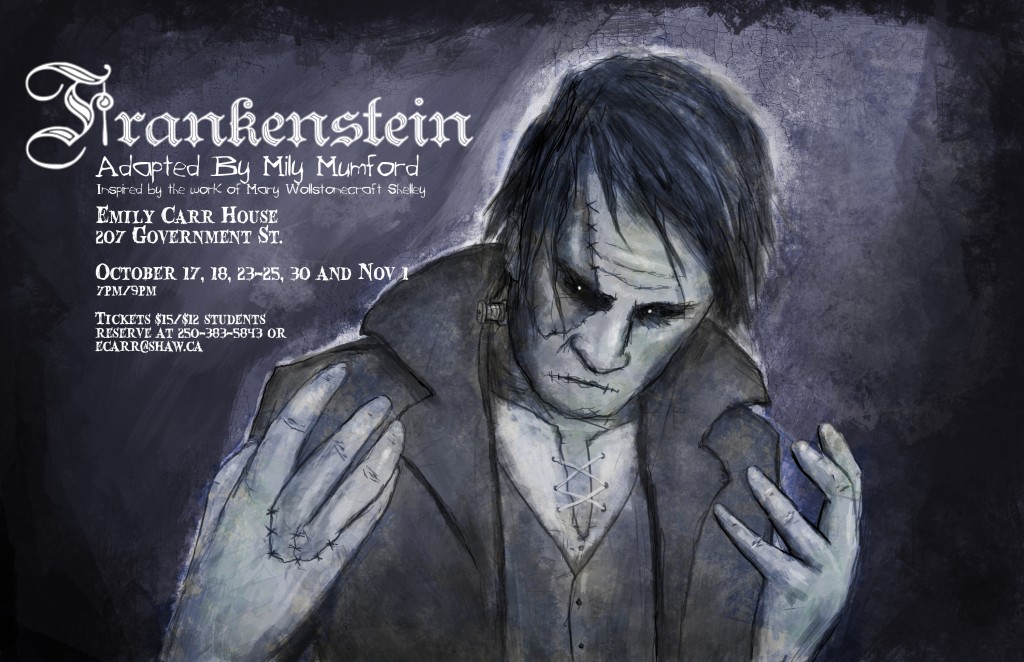 "A dark retelling of the classic tale that challenges our ideas of life and death and what makes us human. Is it our desire for love and belonging, or our capacity for cruelty?
Set in historic Emily Carr House in downtown Victoria, Frankenstein is opulently gothic; guaranteed to make you jump, shudder and chill your bones."
Starring: Amy Lee Radigan, Jonathan Mason, Justin Guthrie and Mily Mumford
The Extemporium, a Kafka-esque Improv Experience
Paper Street Theatre
Intrepid Theatre Club (#2-1609 Blanshard Street at Fisgard)
October 22-25
Tickets $15 + s/c through Ticket Rocket

Enter a strange world so utterly mundane that it becomes absurd. This Halloween Paper Street Theatre brings you this disturbing set of improvised tales inspired by the works of author Franz Kafka.
Paper Street Theatre creates improvisation that feels like theatre. By studying great artists and theatrical styles then performing them with no script, the ensemble creates award-winning performances that have been enjoyed around the world.
Gaslight by Patrick Hamilton
Blue Bridge Repertory Theatre (at the Roxy in Quadra Village)
October 21st-November 2nd
Tickets $28.25-$42 through Ticket Rocket
Starring Thea Gill (Queer as Folk, A Streetcar Named Desire) and Adrian Hough (X Men 3, Planet of the Apes).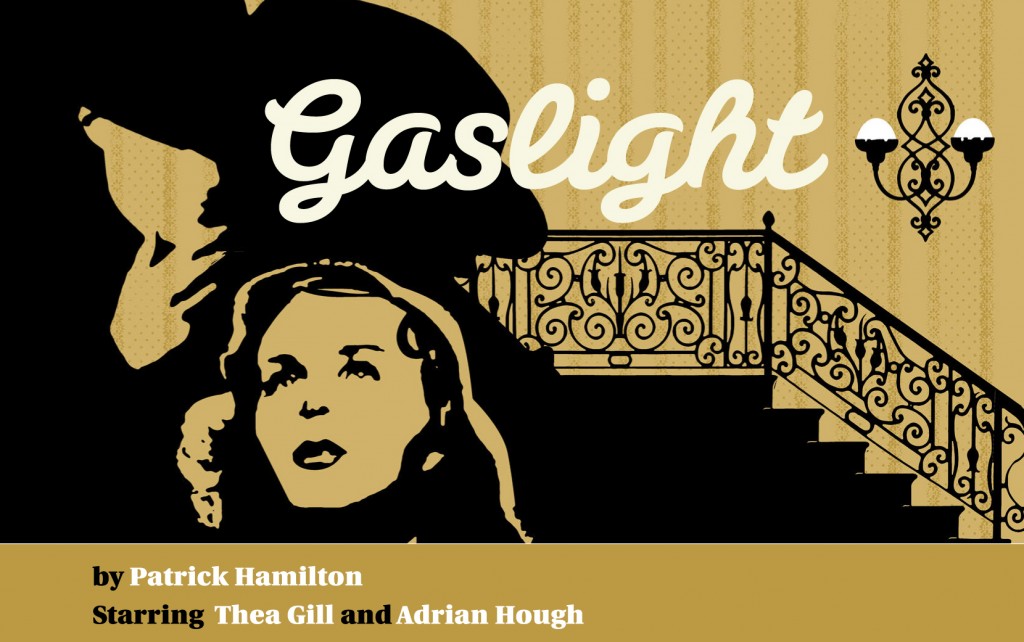 "Gaslight, in my opinion, is one of the most under rated British plays from the 1930's" said the show's director and Blue Bridge Artistic Director Brian Richmond. "It's a taut Victorian thriller that has drawn the admiration of such high level actors and directors Stephen Fry and Martin Scorcese who have recently championed  the British film version of the work and cited it as one of the best films of the 1940's. I couldn't agree more and I think both the film, and the original stage play on which it is faithfully based, absolutely riveting. I am sure that it will delight audiences who are looking for a superlative example of an edge-of-the-seat- who-done-it during the Halloween season."
The Rocky Horror Show presented by Rebel Knockout Productions
Metro Studio Theatre (corner of Quadra and Johnson)
Tickets starting at $30 available at www.ticketrocket.org 
October 23rd, 24th, 25th,  29th, 30th and November 1st at 8pm
October 31st 7pm and 10pm


For decades, the audiences of Victoria have been attending Hallowe'en screenings of The Rocky Horror Picture Show at the Roxy Theatre. RKO's The Rocky Horror Show will provide all the nostalgia of that intimate, integral part of our city's culture, and give Victoria the chance to take that experience to the next level with this thrilling live performance.
Directed by Atomic Vaudeville's Britt Small, featuring a live rock and roll band under the musical direction of Stephanie Sartore.
With an all-star cast of 15 local actors, including Randall Peters and Sarah Ann Murphy as newlyweds Brad Majors and Janet Weiss, Griffen Lea as Frank N'Furter,  Kelly Hudson as Riff Raff, Stephanie Sartore as Magenta, Candace Woodland as Columbia and Alex Judd as both Eddie and Dr. Scott.
Craigdarroch Castle
Hallowe'en Film Festival
October 23—the Birds by Alfred Hitchcock
October 24—the Changeling
October 25—Creature from the Black Lagoon
October 30—Psycho by Alfred Hitchcock
October 31—Frankenstein 1931 classic starring Boris Karloff
Begin with a tour of the glamorous Craigdarroch Castle at 6:30. Film will play at 7pm in the dance hall, located on the 4th floor. Note: there are 87 steps and no elevator. Admission includes a tour of the Castle, private screening of the film, and popcorn. No additional food or drink is allowed.
Tickets: $20 for the general public, $15 for members. By phone or in person only. Call 250-592-5323 x31 and leave a message to reserve your tickets.
Atomic Vaudeville Hallowe'en Cabaret
October  24, 25, 30, 31 and November 1
Victoria Event Centre, 1415 Broad Street
Tickets $15-$35 through Ticket Rocket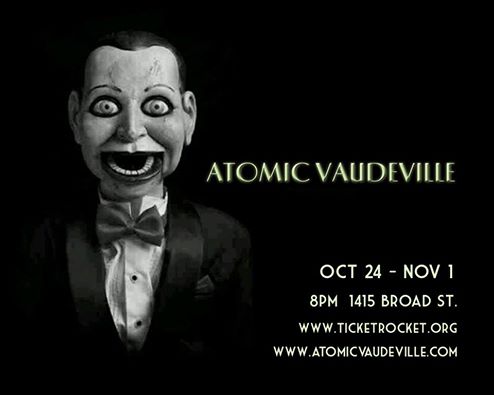 Do you like spooky dances? Creepy puppets? Monstrous puns? Andrew Bailey in a Guy Fawkes mask? Then you're going to love our always popular Halloween Cabaret!
Join Atomic Vaudeville as we celebrate the 11th Annual Halloween Cabaret with scary songs and dances.
The October 31st show will have an amazing after show DJ Dance Party included in the price of your ticket!
The Haunting of Hill House, a Reader's Theatre presentation, directed by Wendy Merk
Langham Court Theatre
October 25th at 8pm. FREE.
Please note:  this is a staged reading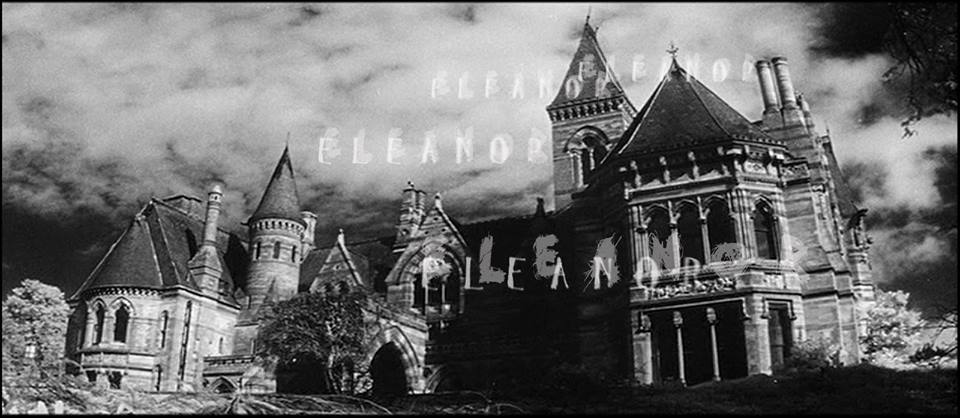 A chilling and mystifying study in mounting terror in which a small group of "psychically receptive" people are brought together in Hill House, a brooding, mid-Victorian mansion known as a place of evil and "contained ill will." Led by the learned Dr. Montague, who is conducting research in supernatural phenomena, the visitors have come to probe the secrets of the old house and to draw forth the mysterious powers that it is alleged to possess—powers which have brought madness and death to those who have lived therein in the past.
Cast: Phil Gibbs (Dr. Montague), Lesley Gibbs (Mrs. Dudley), Mitch Barnes (Arthur), Perry Burton (Luke), Rosemary (Eleanor), Kathy Macovichuk (Theodora), Vicky Etchells (Mrs. Montague)
The Rocky Horror Picture Show
The Vic Theatre (808 Douglas Street)
Oct 30, 2014 until Oct 31, 2014
Showtime: 7pm and 9:30pm
Tickets   $15 (advance purchases encouraged)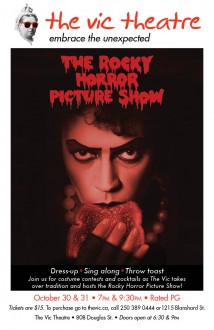 The Vic is taking over the tradition and hosting a Halloween celebration of Rocky Horror Picture Show! Don some fishnets and come enjoy cocktails, costume contests and cat-calls at one of the most fun theatre experiences of the year!
The Vic will do the time warp and celebrate almost 40 years of the cult classic in style.
I see you shiver with antici…(SAY IT!)…pation!
*We know your Eddie costume feels incomplete without the switchblade knife. But please, leave it at home. While you're at it, it's best if these are left at home too.
Weapons of any kind
Buttered toast (plain toast, all the way!)
Chainsaws
Alcohol
Fireworks
Candles
The Addams Family: A New Musical Comedy
A benefit in support of Kaleidoscope Theatre
McPherson Playhouse October 31-November 2, 2014
Based on the characters created by Charles Addams
Tickets: $25-$45 through the Royal and McPherson box office


They're creepy and they're kooky, mysterious and spooky. Everyone's favourite family comes to spooky and spectacular life in an all new story, based on the bizarre and beloved characters created by Charles Addams. Featuring all of your favourite ghouls – Gomez (Roderick Glanville), Morticia (Francesca Bitonti), Uncle Fester (Darren Rathgaber), Grandma (Gouda Gabor), Wednesday (Rachel Paxton), Pugsley, and, of course, Lurch.
Wednesday Addams has fallen for the wrong type—he's sweet, smart and from a respectable "warm-blooded" family. Nothing changes a family more—more hilariously, more musically or more enjoyably—than a daughter in love. The magnificently macabre Addams are put to the test, hurling them into a night that will change their lives forever. Directed by Pat Rundell (Kaleidoscope's Singin' in the Rain, Snow White) with choreography by Tara Britt and musical direction by Yanik Giroux, The Addams Family is a devilish delight for all ages. Come meet the family. We'll leave the lights off for you.
Puente Theatre presents the 3rd annual Day of the Dead Fiesta
Open Space Victoria, 510 Fort Street
Tickets $15 at the door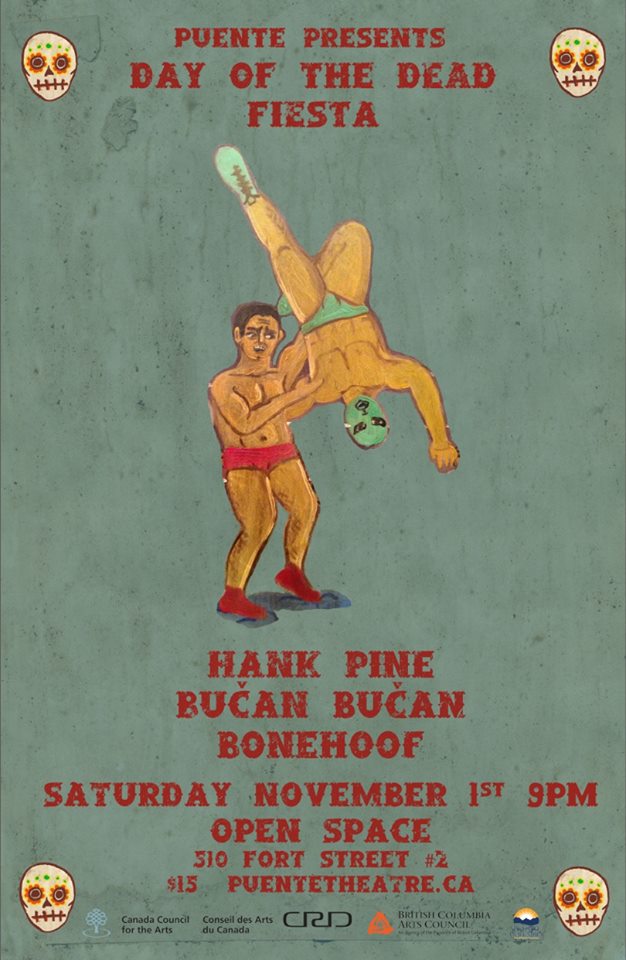 Music, dancing, cerveza.
A uniquely Mexican holiday honouring the spirits of the departed. Participants are encouraged to wear costumes.   (as you can see from the the picture below from the 2013 festivities, they can be quite elaborate).