Since time immemorial people have gathered together at this turn in the seasons, as night falls earlier and earlier, and conversation around campfires, hearths and living rooms has turned to spooky and scary tales.  Victoria theatre companies have seized upon this desire for the frightful, and propose a panoply of plays for your viewing pleasure. In addition, the ever popular Ghost Bus Tours narrated by local historian John Adams, a fundraiser for the Old Cemeteries Society, will roll again this year. And, new for Intrepid Theatre, is Movie Monster, an event for children and families.
The complete list
Dracula: The Blood is the Life by Giggling Iguana Productions and Launch Pad Productions. October 10 – 30 at Craigdarroch Castle.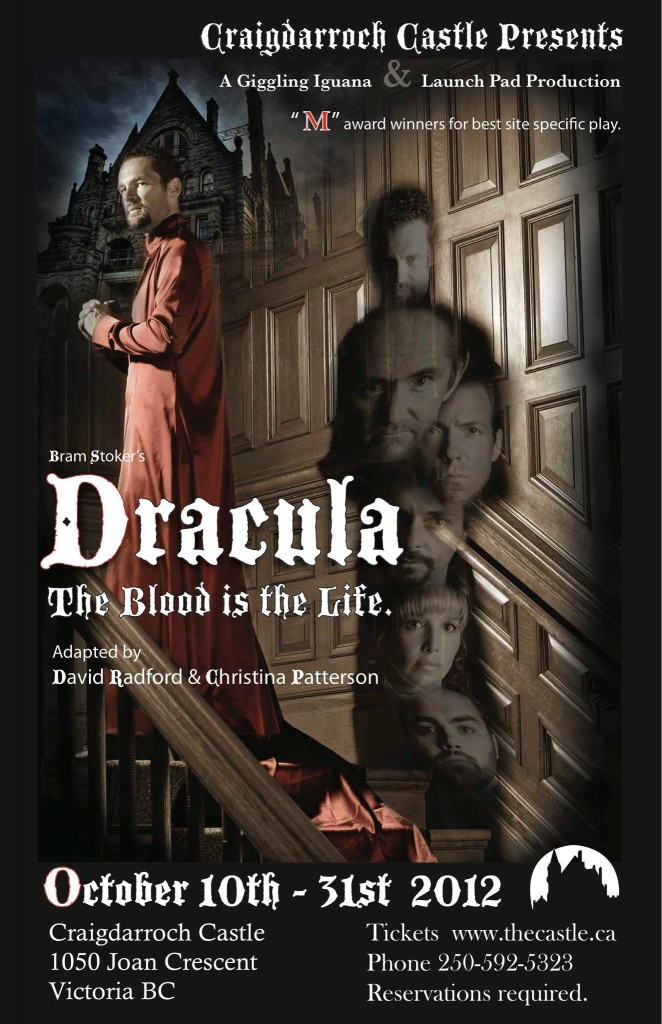 Ian Case defined the genre with his first show The Fall of the House of Usher in 1991. This year marks the 12th for the company. Tickets sell out fast, and at last word, there may be a few for an extra show Monday October 29th. Don't be disappointed. CraigdarrochCastle is wonderfully suited to Gothic horror tales.
Dracula might be suitable for children over 12. Be forewarned though that I had nightmares the night after attending. My review is here:
The Horror Within by Paper Street Theatre, October 26/27
Intrepid Theatre, 1609 Blanshard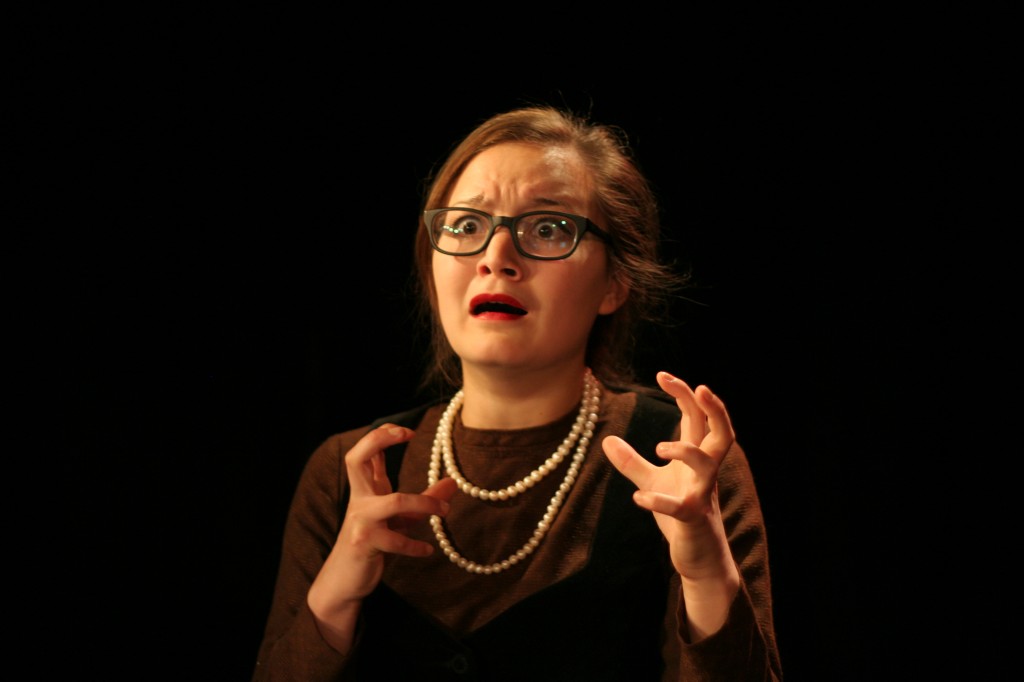 Photo: Steven Ray Orr
Improvised theatre – no scenes, no script, no safety net. On the spot, based on a few audience suggestions.  Taking improvisation to new heights, this style goes far beyond what most people would understand the genre to be.
This Halloween come and listen to the harrowing tales of three intrepid knowledge seekers as they delve too deep into ancient mysteries…

Inspired by the works of the grandfather of horror, HP Lovecraft, Paper Street Theatre presents a miasmic show steeped in eldritch lore and dripping with tentacles too terrible to name. Listen in rapt terror as three characters recount horror stories based on your suggestions

If you love to be scared by the unknown, or if you have a soft spot in your heart for Cthulhu then this is a show not to be missed. Cthulhu Fhtagn!
Atomic Vaudeville's Halloween Cabaret  at the Victoria Event Centre
Fri Oct 26   Sat Oct 27  Wed Oct 31  Thurs Nov 1  Sat Nov 3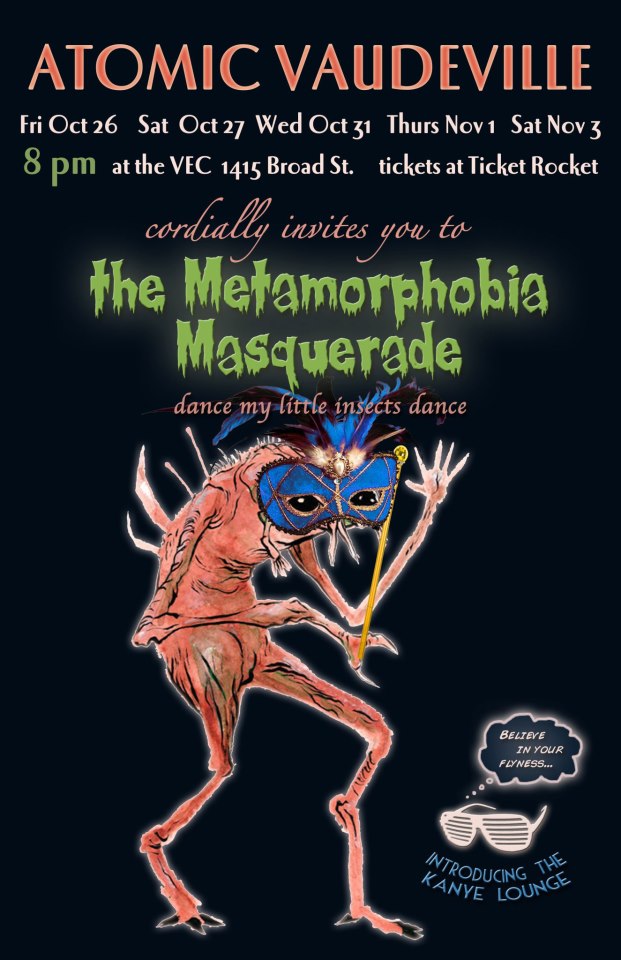 This iconic troupe brings Halloween craziness to a new level. Tickets will definitely sell out. Don't delay in getting yours.  Come in costume, and only sit close to the front if you are prepared for a significant splash zone. It's gory!
Tickets $22/$18 and $35 for the Kanye Lounge (first drink free)
Via TicketRocket online or by phone 250 590 6291
Movie Monster by Intrepid Theatre
Oct 30 +31.3pm–8pm.Tickets $5 child / $15 for family up to 4 people. At the Da Vinci Centre,195 Bay St.
[vsw id="36804188″ source="vimeo" width="425″ height="344″ autoplay="no"]
A chance to celebrate with the wee ones.
Become the star of your own Monster Movie… as the Monster! This Halloween Intrepid Theatre is excited to bring you this interactive film installation for children and adults with big imaginations. What better way to celebrate Halloween than to go behind the scenes to create your own scary sets and monster costumes and then record your own short film for the camera? Afterwards, you can step into a private screening room to see your own movie!

Movie Monster is the third incarnation of award-winning multidisciplinary artists Cathy Gordon and Ulysses Castellanos' continuing exploration of horror iconography in pop culture and religious mythology. Previous work includes Haunted Shed: A Macabre Work of Art (commission LabCab Festival 2009) and Cabin In The Woods (commission Casa Loma, Nuit Blanche 2010).
The Hobbit by William Head on Stage (WHoS)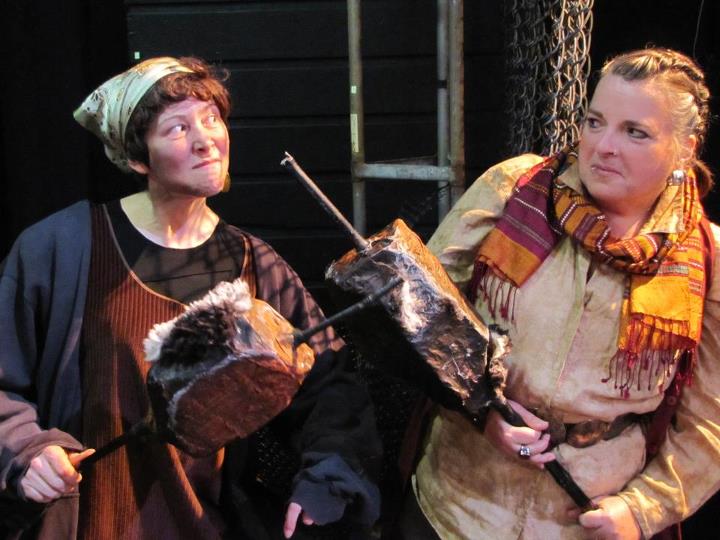 Anne Cirillo and Monica Prendergast. Photo: Derek Hutchings 
Perhaps you'd rather have a theatrical Tolkien fix before the release of the movie later this year.  William Head on Stage presents a beautifully rendered adaptation of this classic tale.  My review is here:
The Hobbit continues until November 10th. Only persons 19 and over will be admitted. You must purchase tickets in advance.
Tickets are $20 and are available at the following outlets:
* My ChosenCafé – 4480 Happy Valley Road– 250-474-2333
* Ticket Rocket (online, by phone or in person)
Puente Theatre is hosting Day of the Dead festivities at the Martin Batchelor Gallery (712 Cormorant St), Friday November 2nd, 8pm. Tickets are $20
Day of the Dead is a celebration of life, and it is a very beautiful and festive tradition that honours those who have passed on, but who return to this world on this very special day to celebrate with those of us who are still in this world.

Silent Auction, traditional 'ofrenda' (altar), pan de muerto (bread of the dead), Catrinas, tacos, churros, great music, and dancing!Featuring:Lily Fawn – Brightest Darkest
Bucan Bucan
Bonehoof
MeatdrawPut on your dancing shoes and costume, and come celebrate the cycle of life with us.

You don't want to miss this, it's going to be deadly!
(This event is postponed until further notice) The Table Saw
, at the inaugural
Keg Show
, Saturday November 3rd, Little Fernwood Hall, 1923 Fernwood Hall.  The brainchild of Jeremy Banks and Graham McDonald. "Because drinks, music and theatre belong together".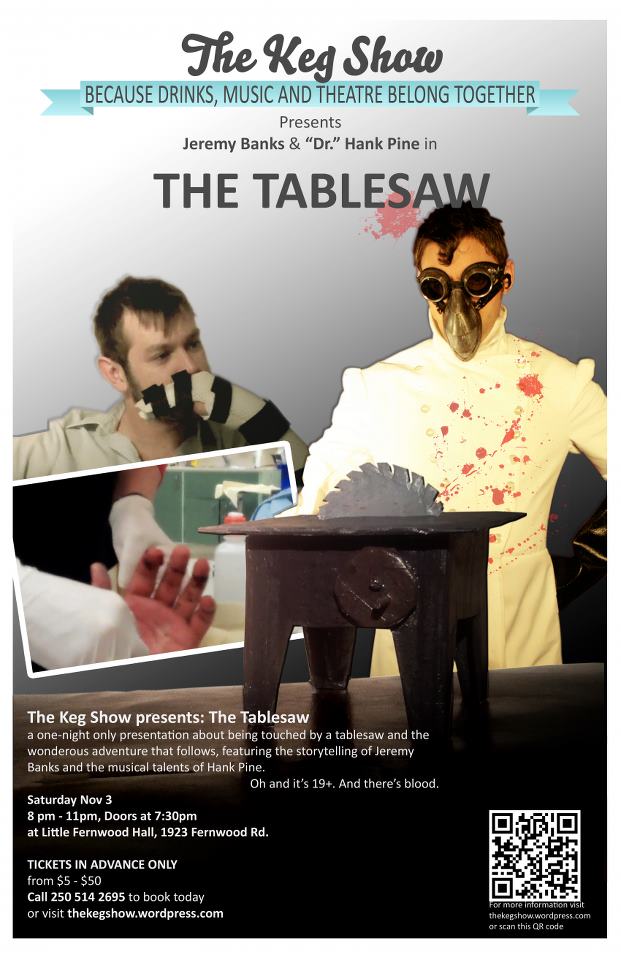 Episode 1: A one-night only presentation about being touched by a tablesaw and the wonderous adventure that follows, featuring the storytelling of Jeremy Banks and the musical talents of Hank Pine.
19+ and tickets
MUST
be purchased in advance ($5 – $50). 
Purchase them online 
or by phone 250 591 2695