Spring Awakening by Company C October 21-November 2, 2014.  Presented in association with the Belfry Theatre Victoria BC.
14 highly talented Year III performers from Oak Bay's Canadian College of Performing Arts (CCPA) are working tirelessly to produce the region's first-ever staging of Spring Awakening. Claiming an astonishing eight Tony's in 2007, Spring Awakening is a ground-breaking musical by Steven Sater and music by Duncan Sheik that bridges the generation gap and shatters the stigma surrounding adolescence, innocence and sexuality. With a powerful rock score reminiscent of shows such as RENT, Hair and Next to Normal, Spring Awakening is a show that musically appeals to a wide audience.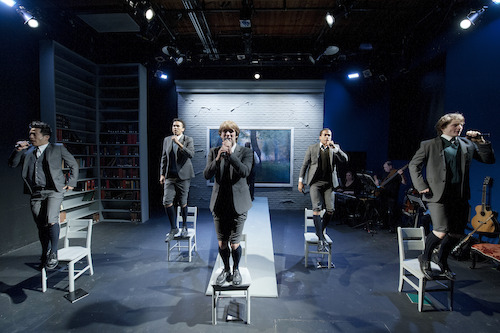 John Han (Georg) Jesse Negraeff (Ernst), Ian Crowe (Melchior), Austin Eckert (Moritz), Nick Heffelfinger (Hanschen) Photo: David Lowes.
The show is controversial in its truthful portrayal of adolescent sexual curiosity and the consequences of deprivation of information, oppression and sexual ignorance. Its rock score with song titles such as "The Bitch of Living" and "Totally Fucked" make the Musical very relevant and relatable to today's youth.
This production also marks the college's first ever show with the support of the Belfry Theatre. Working alongside Belfry Artistic Director, Michael Shamata and talented mentors, the students are contributing to the show both on and off stage in a variety of fields. "Working on Spring Awakening with the students from the Year III program has been a long time coming and I'm very excited to get to share the whole experience with this group", says Music Director and Company C manager Heather Burns. "It seems it is the aligning of all the ideal components; production team, musicians, directors, and cast, with the potential to bring a brilliant production to life".
Spring Awakening is the first of three shows this year's Company C program will be mounting between now and February with each show introducing them to new production and management challenges, a new role, a new venue and a new professional Canadian director.
Spring Awakening, directed by Michael Shamata
Presented by Company C, the Canadian College of Performing Arts
Belfry Theatre, Studio A
October 21-November 2, 2014
Tickets $28.50. Seniors $10% off. Students %25 off
For tickets and ticket information, contact the Belfry Box Office at 250-385-6815 or visit their website. Tickets are on sale now!