I'm happy to announce a ticket contest for the up-coming production of Twelfth Night by the Canadian College of Performing Arts (CCPA) Year III students, Company C, November 8 – 10th at the Metro Studio Theatre.
The students are part of the cast and most of the production roles, a unique experience for Canadian artists so close to launching their professional careers. "This program gives us the courage and skills needed to become more than just actors. I myself have a much clearer idea on what it really means to put up a show," says Alex Dorward who plays Olivia and is providing sound design for the production.
The cast will mount the classic Shakespeare comedy, Twelfth Night – Downtown Abbey style. Stratford director Darcy Evans is staging the show with a feel not unlike the popular British television show. Set in the early 1920s, chambermaids, butlers, and footmen worked to run the house for the nobles, as in Twelfth Night.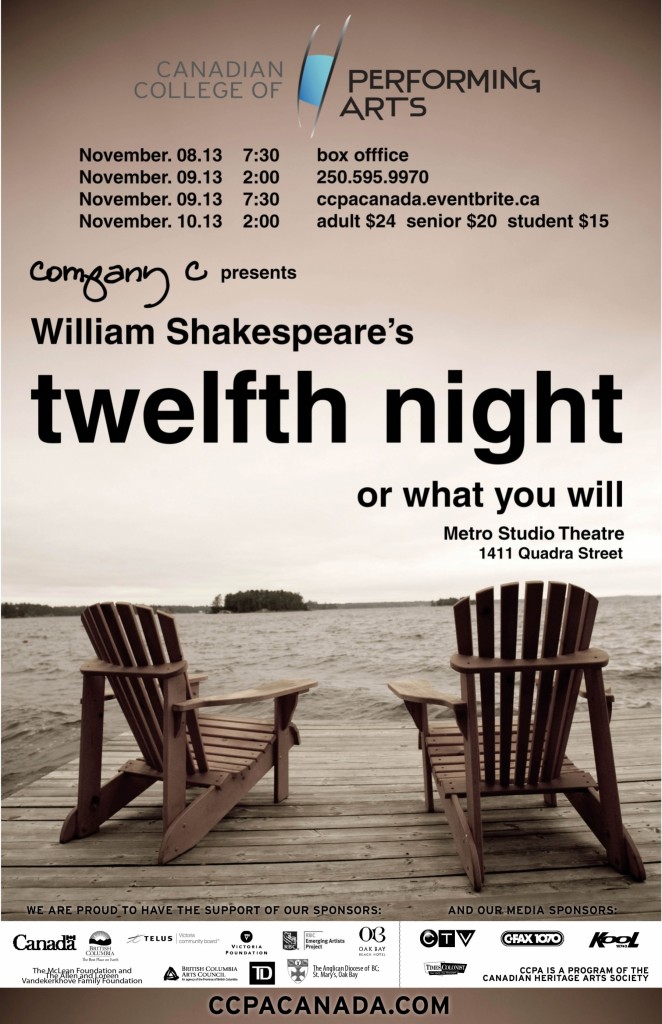 Twelfth Night tells the story of a ship-wrecked girl Viola, who disguises herself as a man, Cesario, to be hired to serve the Duke of Illyria. The Duke, Orsino, uses 'Cesario' to woo the maiden Olivia on his behalf. However, Olivia ends up falling for 'Casario,' and Violia falls for the Duke. This epic love triangle becomes the main plot for the show, with drunken uncles, fools, and mischievous chambermaids popping in along the way. This comedy is sure to leave audiences laughing.

Shakespeare Channels Downtown Abbey as 'Company C' Takes on Classic Comedy 

What: The CanadianCollege of Performing Arts (CCPA) Year III students perform William Shakespeare's "Twelfth Night", led by Stratford Director Darcy Evans
When: November 8 (7:30), November 9 (2:00 & 7:30), November 10 (2:00)
Where: Metro Studio Theatre, 1401 Quadra Street, Victoria BC
Tickets: http://ccpacanada.eventbrite.ca/

As Maria, the head chambermaid, says: "If you desire the spleen, and will laugh yourself into stitches, follow me".
To be entered in the draw for two tickets you can either:
Comment on this blog post with the last Shakespeare play (or film) you saw.
Tweet the following:
Share w/ @lacouvee the last Shakespeare play you saw to enter to win tickets to Twelfth Night by @CompanyC3. I shared mine here. http://ow.ly/q6UD1
I'll draw for the tickets on Tuesday November 6th at noon, and will contact you by email or Twitter.  You have 24 hours to contact me and let me know if you can make use of the tickets.  If you can't redeem the giveaway, or I haven't heard from you within 24 hours, I will re-draw the tickets.
The tickets can be used for any one of the shows, and must be redeemed by contacting the CCPA Ticket Office, 250 595 9970.
I have close ties to CCPA – my son, Elliott Loran, graduated from Company C in late 2007 – and am happy to help spread the word about their excellent shows.