Unity 1918 at UVic Phoenix Theatre, March 11-22, 2014. A Review.
The current UVic Phoenix Theatre production of Unity 1918, Kevin Kerr's Governor General's Award-winning play, is actually the first time the writer has directed his modern day Canadian classic.
Set in the small Saskatchewan town of Unity in the fall of 1918, just weeks before the end of "The Great War" and the arrival of the Spanish flu—pandemic scourge sweeping the world—the action is seen through the lens of a young woman's diary.
Beatrice Wilde (Amy Culliford) has just turned 21. Surrounded by friends (Mary- Gillian McConnell, Doris-Danielle Florence, Rose-Marisa Nielsen) and her sister Sissy (Haley Garnett) she yearns for romance, and a return of the young men she recalls with great fondness.
Even before the Spanish flu took hold of the world, there was an inevitability to death—the constant companion. Unlike our modern-day reality, people are buffeted rather than buffered from the everyday tragedies of life—death in childbirth, childhood illness, and work accidents— giving rise to a certain fatalism and earthy perverse humour that punctuates the dialogue.
Farmer Stan (Sean Dyer) transports his wife Ardell's body in a wheelbarrow, tipping her unexpectedly as he trips. Later Hart (Logan Mitev) recounts the tale of a runaway coffin on the streets of Halifax.
Kerr extenuates this sense of the grotesque with his staging of the two telephone operators—Doris and Rose—who are wheeled in on their office chairs throughout the play.  Their interactions provide a running commentary on the spread of the disease while providing comic relief as the corpses begin to accumulate.  Danielle Florence and Marisa Nielsen manage the difficult task of blending comedy and tragedy with great sensitivity and tone.
The arrival of an outsider, the young soldier Hart (Logan Mitev)—arrived too late by hours for a reunion with his alienated father, the undertaker Mr. Thorson (Francis Melling)—presages the horror about to come.

Stan (Sean Dyer), Hart (Logan Mitev), Sissy (Haley Garnett), Mary (Gillian McConnell) and Bea (Amy Culliford).Photo: David Lowes
From the opening scenes, movement (Conrad Alexandrowicz) is ever-present, set against the immovable immensity of the prairie—coffins are pushed and pulled, even doubling as the arriving train (a harbinger of death); townspeople go about their daily activities—Sunna (Keshia Palm) prepares bodies and shovels dirt in the graveyard; Michael (Tristan Bacon) forks hay—with ritualistic routine.
Grasping life from the clutches of death—Sissy (Haley Garnett) and Michael (Tristan Bacon)—escape the confines of the town, and sit among the fields as they shyly explore their mutual attraction.  Garnett captures Sissy's wild streak as she rants about the coming Armageddon, and explores her budding sexuality.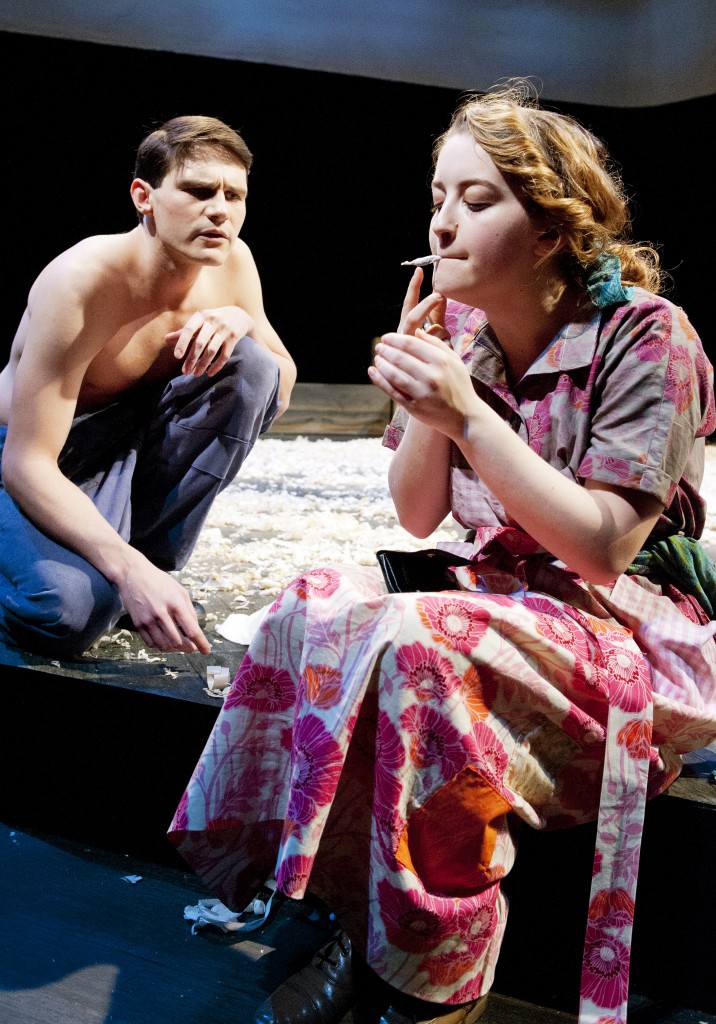 Michael (Tristan Bacon) and Sissy (Haley Garnett). Photo: David Lowes
Life in Unity is measured, precise and prescribed—Sunna recounts a long litany of body measurements as she prepares for her marriage night to the recently bereaved Stan; town elders declare "no-touching" at the victory dance—in juxtaposition to the unstoppable rampage of the flu through the community.
There is an allegorical thread throughout the play—Hart the blind prophet, Sissy the fiery preacher.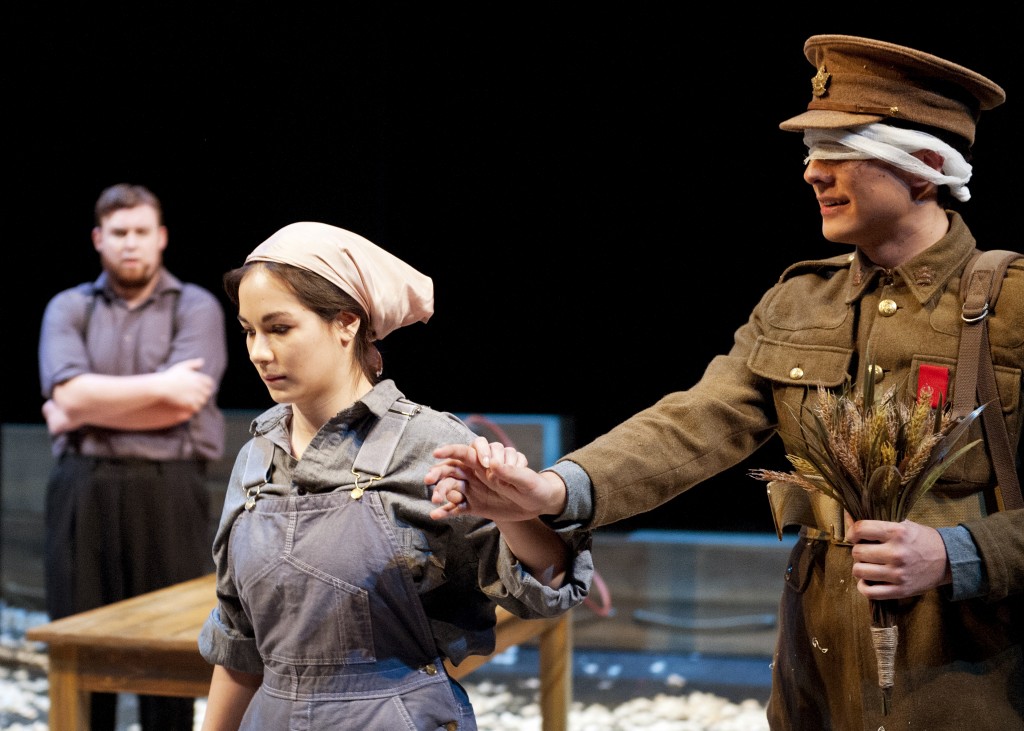 Sunna (Keshia Palm) and Hart (Logan Mitev). Photo: David Lowes
Staging (Allan Stichbury) is sombre and majestic in its simplicity.  Running completely around the theatre, a canvas drop conveys the grandness of the stars in the prairie sky—an effect that is mirrored in the costumes (Halley Fulford) which are made to twinkle, at times, by lights set into the very fabric.
Music by Francis Melling sets up a dirge-like wail of electronic sound as the action nears its conclusion.
The relatively small cast of nine actors achieves the demanding task of conveying an entire population caught up in the mundane tasks of every day life, while battling the unseen forces of a mutual enemy.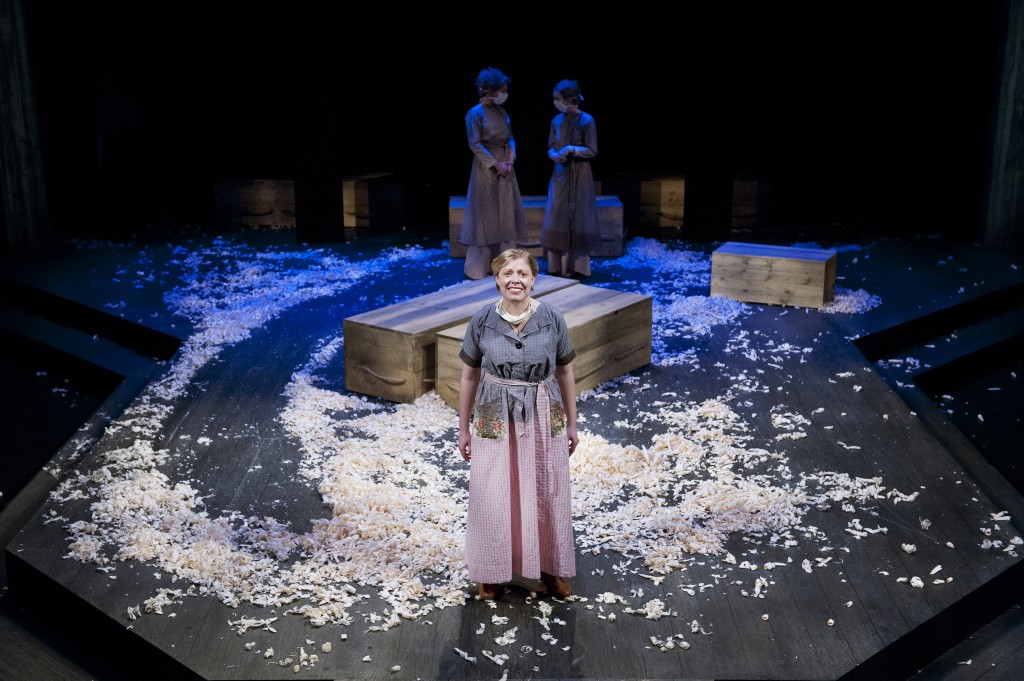 Rose (Marisa Nielsen) and Doris (Danielle Florence)-background. Bea (Amy Culliford).Photo: David Lowes
Unity 1918 has been described as a gothic romance and yet, for me, there were definite under tones of Greek tragedy, complete with the chorus at the end of the play. This young cast captures the terror of what must have seemed like "end times" in extremely convincing fashion. Days later I'm still puzzling out the meaning as glimpses of the characters interactions come back to me in flashes—Amy Culliford's quiet dignity as Bea, Keshia Palm's calm acceptance hiding Sunna's driving desire to return home, the sisters sibling rivalry, Mary's thwarted happiness, Michael's infectious nature, Hart's whimsical humour.
A masterpiece by any measure, Unity 1918 is an ode to our human capacity to endure, and continue to dream, even among unimagined horror. UVic's Phoenix Theatre ends the 2013/2014 season with a remarkable production and a fine tribute to our persevering ancestors.
(Unity 1918)…is a touching, intensely human and darkly comic portrayal of a forgotten chapter in Canadian history. During the final few weeks of World War I, the global Spanish Flu pandemic is spreading across the country and has the entire town of Unity, Saskatchewan, under siege from an invisible enemy, more horrifying and deadly than the war. Seen through the lives of the charming, eccentric townsfolk – including several young women driven by their dreams of finding true passion – this gothic romance explores human needs of love, sex and faith, during their desperate embrace of life at the edge of death.
Unity 1918, Written & Directed by Kevin Kerr, Assoc. Professor, Writing Dept.
UVic Phoenix Theatre
March 11-22, 2014
Single Tickets: $14 Student /$20 Senior/$22 Adult/$24 Weekends @ 8pm
Phoenix Theatre Box Office
www.phoenixtheatres.ca
250-721-8000
Director Kevin Kerr
Set & Lighting Designer Allan Stichbury 
Costume Designer Halley Fulford 
Music Director & Composer Francis Melling
Sound Designer Colette Habel
Stage Manager Kristen Iversen
Production Dramaturge Leah Callen
Assistant Lighting Designer Freya Engman
Assistant Director Melissa Taylor
Movement Consultant Conrad Alexandrowicz
Featuring (in alphabetical order)
Tristan Bacon Michael / Glen
Amy Culliford Beatrice
Sean Dyer Stan / Fred
Danielle Florence Doris
Haley Garnett Sissy
Gillian McConnell Mary
Francis Melling Mr. Thorson / Ted
Logan Mitev Hart
Marisa Nielsen Rose
Keshia Palm Sunna
Disclaimer: I  was provided with complimentary tickets to Unity 1918. As always, I retain editorial control over all content on this website.