Picnic, currently at the Phoenix Theatre (February 11-22, 2014) thrums with hope and yearning.
Nothing is as it appears in a small town.  In the space of one day, events can change the direction of people's lives in spectacular, and devastating, fashion—the ripples felt throughout.
Picnic may be set in small town Kansas in the early 1950s but there are definite parallels, even to our more sophisticated and inter-connected age.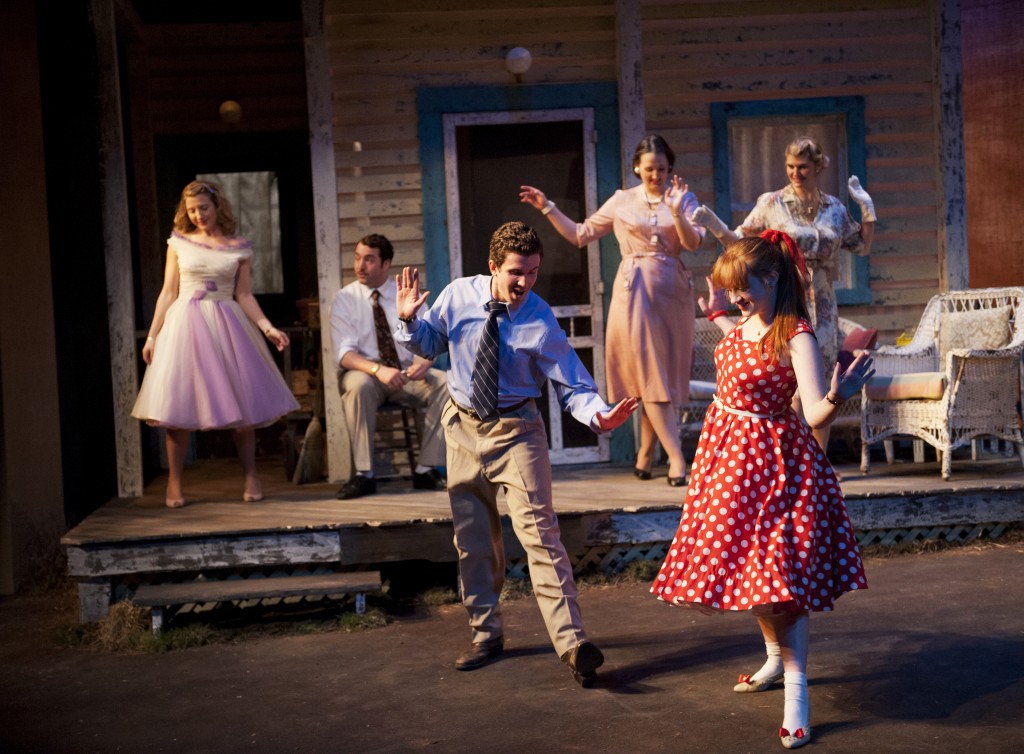 Hal (Jenson Kerr) teaches Millie (Lindsay Curl) a new dance step. Photo: David Lowes
Madge (Hayley McCurdy), Howard (Markus Spodzieja), Rosemary (Michelle Morris), Mrs Potts (Dallas Ashby)
Playwright William Inge, a protégé and contemporary of Tennessee Williams, excels in writing classically-structured, compact ensemble pieces where each line of dialogue serves to slowly reveal the character's complete back-story.  The language is sparse and elegant.
Picnic begins on a late summer's day; the town is eagerly awaiting festivities. Planning is in full swing when Helen Potts (Dallas Ashby) decides—in a fate-filled gesture—to hire a drifter, Hal Carter (Jenson Kerr) to do some chores.
Daughters from the neighbouring Owens family—Madge (Hayley McCurdy) "the pretty one", and Millie (Lindsay Curl) "the smart one"—are soon all a-flutter, much to their mother Flo's (Julie Forrest) dismay.  In Hal she sees all her careful plans placed in jeopardy.  To her mind Madge is destined for marriage to Alan (Kevin Eade), son of one of the town's rich business owners, and Millie for college.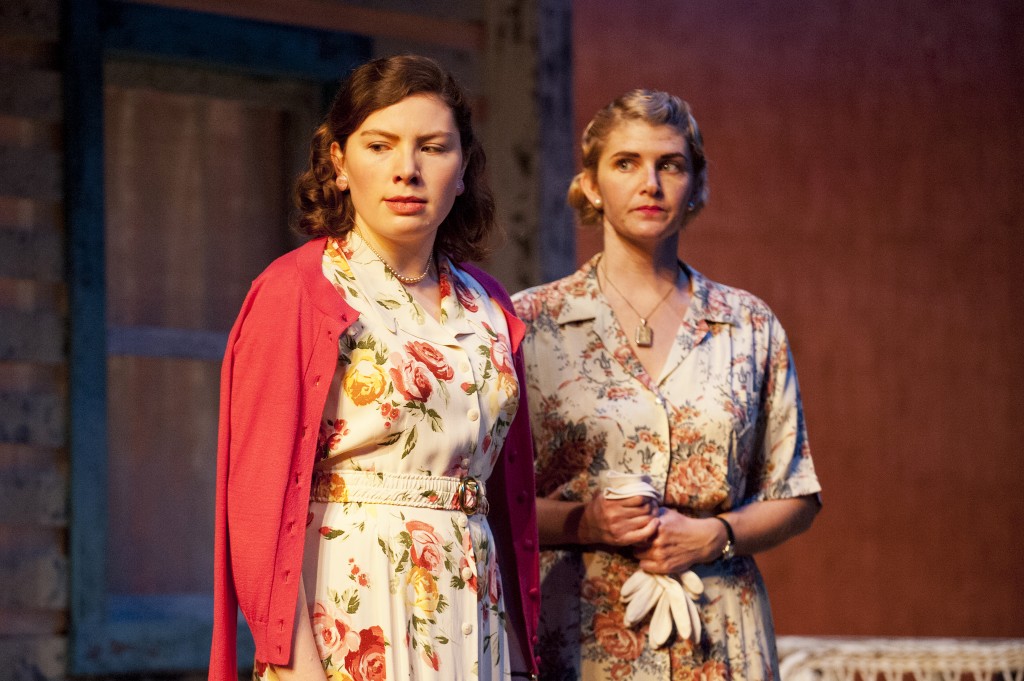 Flo Owens (Julie Forrest) and Helen Potts (Dallas Ashby). Photo: David Lowes
Schoolteacher and boarder Rosemary Sydney (Michelle Morris) has worries of her own in trying to tie down long-time beau Howard Bevans (Markus Spodzieja).
What is remarkable about the Phoenix Theatre production, under director Peter McGuire, is the ease with which young actors successfully play roles decades older than they are.  There is an astonishing naturalness to performances by Forrest and Ashby in particular as Mrs Owens and Mrs Potts—weighed down by regret, hoping to salvage something good out of lives gone awry, placing all their hopes in a younger generation.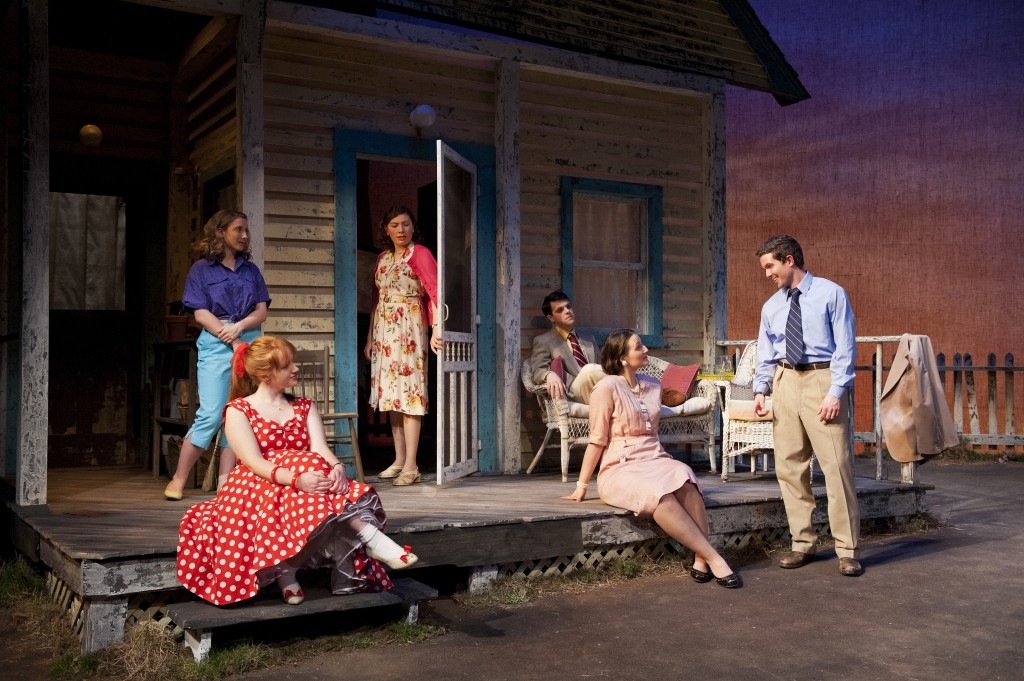 Ensemble: (L to R): Madge (Hayley McCurdy), Millie (Lindsay Curl), Mrs Potts (Julie Forrest),
Alan (Kevin Eade), Rosemary (Michelle Morris), Hal (Jenson Kerr). Photo: David Lowes
Parallel to the developing stories of hopeful young love is that of desperate spinster Miss Sidney, waiting year after year for a reluctant Mr Bevans to pop the question.  Their scenes together are filled with a multitude of carefully rendered and nuanced emotions—relief, hesitation, tenderness.  The audience applauds inwardly at this brief moment of joy.
Much of the dramatic tension is reserved for the interplay between siblings (Millie and Madge), friends (Alan and Hal) and lovers (Alan and Madge, Madge and Hal).  Inge teases out sibling rivalry, jealousy, insecurity and braggadocio with fine detail.
Characters battle the constraints and stereotypes imposed—by small town living and society—in the hope of a brighter future—one free of limits.  Hayley McCurdy shone with a quiet sensuality in the dance sequence, suddenly aware of her power over, and subjugation to, the eternal "bad boy" Jenson Kerr.  And Kerr, in a departure from his macho image, draws an exquisite portrait of a soul equally tormented by his inability to escape his pre-determined position.
In minor roles, Bomber Gutzel (Aidan Correia) reveals the insidious nature of the nastiness and bullying that can be endemic in any group while schoolteachers Irma Kronkite (Bethany Heemskerk) and Christine Schoenwalder (Sharmila Miller) provide a brief apercu into the lives of young working women, seen in sharp juxtaposition to the more traditional mothers and housekeepers.
Beautiful period costumes by Pauline Stynes also highlight socio-economic differences—the luxury afforded by some, the care taken by others.
Jon Maxwell's substantial and solid set design grounds this piece—it wasn't until the very end that I realized the deconstructed nature of the houses, which serve as a powerful metaphor for the lives of the characters.   Lighting by Alan Stichbury enhances the emotional tone, moving from morning to night and morning again.
2013 marked the centenary of William Inge's birth, and a renewed interest in his work.
Thanks to the Phoenix Theatre for this beautifully rendered period piece that remains relevant today—asking important questions about the restrictions placed on the individual in society, and the sense of personal agency.
Picnic, by William Inge
February 13 – 22, 2014
Single Tickets: $14 Student /$20 Senior/$22 Adult/$24 Weekends @ 8pm
Phoenix Theatre Box Office
www.phoenixtheatres.ca
250-721-8000
Directed by Peter J. McGuire
Set Design Jonathan Maxwell
Costume Design Pauline Stynes
Lighting Allan Stichbury
Sound Design Colette Habel
Stage Manager Becca Jorgensen
Cast (in alphabetical order)
DallasAshby    Helen Potts
Aidan Correia  Bomber Gutzel
Lindsay Curl   Millie Owens
Kevin Eade     Alan Seymour
Julie Forrest  Flo Owens
BethanyHeemskerk Irma Kronkite
Jenson Kerr    Hal Carter
Hayley McCurdy Madge Owens
Michelle Morris Rosemary Sydney
Sharmila Miller Christine Schoenwalder
Markus Spodzieja Howard Bevans
Disclaimer: I was provided with complimentary tickets to Picnic. As always, I retain editorial control over all content on this website.