Victoria Fringe Festival picks – local companies or actors I know
Disclaimers first:

I am not a reviewer, but I do see a lot of theatre – almost 30 shows at last year's Victoria Fringe Festival. During the year I volunteer regularly with Atomic Vaudeville, Intrepid Theatre, The Canadian College of Performing Arts, Blue Bridge Repertory Theatre, and Theatre SKAM. I attend the Belfry, Theatre Inconnu and the Phoenix Theatre at Uvic too. My son is a performer.
I have seen these performers in previous shows, or volunteered with them. Based on this, I'm planning to attend their shows at this year's Fringe.
My picks are listed as listed on the Victoria Fringe Festival website. I have not attended previews or rehearsals. Caveat emptor. Happy fringing!!
VENUE 1: Downtown Activity Centre 755 Pandora Ave 
Reckless Daughters features UVic graduate Laura Harris, star of the Fringe festival circuit hit "Pitch Blond".  There's been lots of attention for Reckless Daughters, too.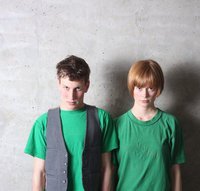 Ginger Ninjas
 by Elliott Loran and Ingrid Hansen. Elliott is #2 son., home from a phenomenal 2 week  run of Atomic Vaudeville's "Ride the Cyclone" at Summerworks in Toronto. Ingrid founded Snafu Dance Theatre, producers of last year's Fringe hit "Pretty Little Instincts". 
Snafu.liquidbeat.com
VENUE 2: Metro Studio Theatre (corner Quadra & Johnson)
Magical Stone Soup and Pinocchio by Story Theatre.  Story Theatre is the grand daddy of them all – 30 years young this year. Take your kids (or borrow some) to one of these shows, and release your inner child in the process.  Storytheatre.ca
Thank You My Love, Goodbye a memory play by Jim Leard (founder of StoryTheatre) featuring theatre veterans, with graduates and students of the CanadianCollege of Performing Arts.
Z-Day: The Anthem for Post-Zombie Apocalypse by Jay Mitchell. Undeterred when his gig performing at the provincial legislature was cut this year, Jay penned a zombie musical. Jay is familiar to Atomic Vaudeville and Phoenix Theatre audiences. And who doesn't love a good zombie show! Zombie episodes
VENUE 3: Wood Hall 907 Pandora Ave
The Big Smoke with Jer Banks.  I first met Jeremy when he was front of house manager of the Metro Studio. Since then he's worked his way across Canada at other fringe festivals; I can't wait to see him perform.  Fringetastic.com
Gonads & Gametes by Jeff Leard. The apple did not fall far from the tree. Jeff is son of Jim (Story Theatre) and a UVic theatre student. You may have seen him at the Phoenix Theatre or starring in the movie by the Crystal Meth Society.
VENUE 4: St Andrew's School Gym, 1002 Pandora Ave 
Pretty Monster by Milly Mumford.  If you've been to Atomic Vaudeville productions, chances are good you've seen Millie, an Atomic regular. Here's to her solo début.
VENUE 5: The Victoria Event Centre 1415 Broad Street 
The Peter n' Chris Show presents: Pete n' Chris Save the World.  Peter Carlone and Chris Wilson have performed with Atomic Vaudeville, Itsazoo Productions, the Phoenix Theatre and at last year's Victoria fringe.  They were recently awarded "Outstanding Duo Performance" at the Ottawa Fringe Peer Awards.
Confessions of a Public Servant by Missie Peters.  Missie recently organized Iconocraft with Sammie Gough at the Victoria Event Centre. A performance poet and founder of Poetry in the Raw, Missie is planning a Spoken Word Festival in Victoria in early 2011. missiepeters.com
VENUE 11: St Ann's Auditorium, 835 Humboldt Street
The Money Fast by Wes Borg, Morgan Cranny and Jacqueline McLaughlin.  Atomic Vaudeville regulars, Wes and Morgan starred in The War of 1812 at last year's fringe. Jacqueline performs at Logan's Hootenanny. Arguably some of Victoria's better known theatre and performing personalities. Randomselectionofchairs.com
VENUE 14: King's Park, 1150 Caledonia between Cook and Chambers
Smalltown: A Pickup Musical by Theatre SKAM. Theatre SKAM celebrated its 20thanniversary this year. You may have seen their Home Grown Collective shows: School House Rocks and Bike Ride. Specialists in site specific theatre. I have haunting memories of the boat sailing in to shore at Fleming Beach for Lieutenant Nun.  "Are you in?"
VENUE 16: University Canada West, 950 Kings Rd
Dave Morris is an a**h*** (and you can be one too!) Dave organizesthe Big Rock Showdown for stand up comics on the 3rd Sunday of the month at the Victoria Event Centre. A performance/slam poet, stand up comic and improviser of note. One intriguing title, sure to grab people's attention.