Victoria Spoken Word Festival 2014 (VSWF) – interview with Poet of Honour Barbara Adler.
Barbara is a poet, spoken word artist, slam champion and musician (accordion). She'll be in Victoria for the festival March 4-9, 2014, and is also offering a workshop (Sunday March 9th) that will be open to the public.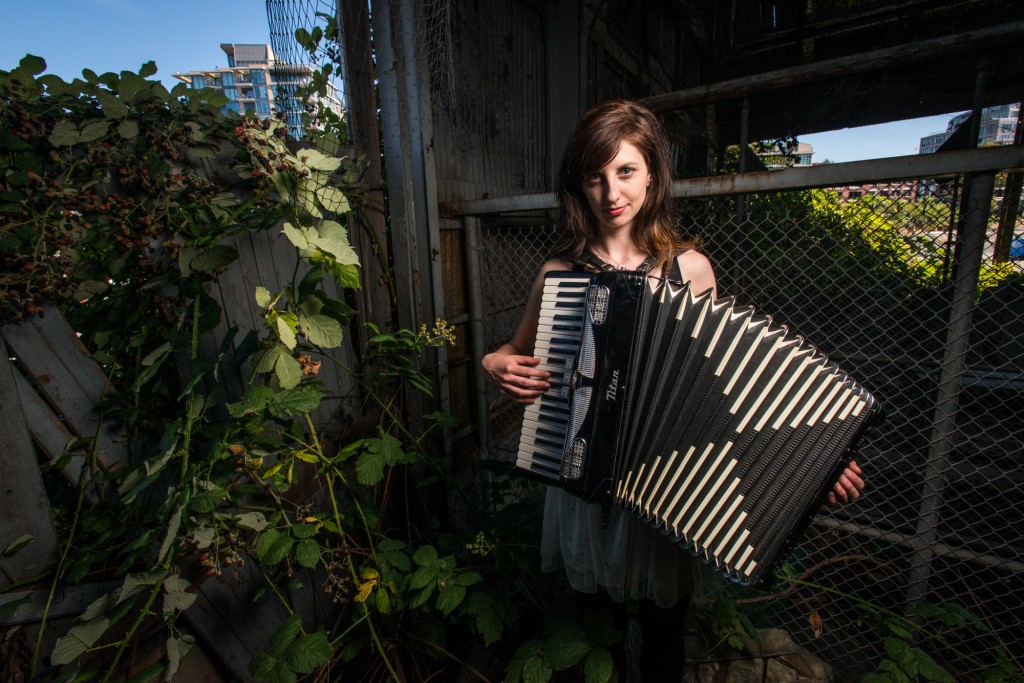 Photo: Tony Hoare 2013
You participated in the inaugural Canadian Festival of Spoken Word.  How have you seen the "scene" change in the past decade? 
I think the biggest change is that the slam poetry scene has transformed spoken word from a relatively niche interest, into something that almost feels like a youth-culture 'rite of passage'.  When I bring up that I used to perform at poetry slams, everyone knows what I'm talking about these days. It used to be such a pain in the butt trying to explain it. "So…people go to see….poetry??? Outloud???"
In your opinion, why is a festival like VFSW so important?
Well, there was one nice part about the days when poetry slam was so new in Canada that it was confusing– everything felt a bit more rebellious. It's true that I am probably misremembering things in a classic, nostalgic way. I mean, I was 18 when I started performing and likely felt rebellious because of hormones, and because it was my first time catching downtown buses at night. But I think there really is something that you lose when things become established. Popularity can make things familiar, and familiar can be another word for boring or even lazy. I think festivals like this are a chance for this scene's artists and audiences to push themselves out of those little ruts, and maybe invent something that's new again.
What would you say to people who are not slam poetry enthusiasts to encourage them to come to some (or all) of the events at the VFSW?  How is it relevant to their lives? 
If you're someone who has never seen poetry performed, and you hate spoken word poetry in a purely theoretical way, I would say that you should come to my show on Saturday, and see for yourself. I don't really see how anyone could hate me in a purely theoretical way, so come and get some evidence. If you think you already have evidence that you dislike slam poetry… well, sure. But this isn't slam poetry, this is interdisciplinary spoken word. FYI, did you know that stand-up comedy is technically spoken word? So are presidential speeches and your sloppy drunk friend saying "I love you". If you are even a little bit intrigued by ANY of those things, this is relevant to your life. During my show, I plan to do all three things AND play the accordion. The other shows will nicely round out your experience with puppetry, theater and improvisation. Relevant!
For more information on the Victoria Spoken Word Festival visit: www.victoriaspokenwordfestival.com.
Tickets on sale online now: http://ticketrocket.org/victoria-spoken-word-festival-2/.
[vsw id="5EVkL4ArTpk" source="youtube" width="425″ height="344″ autoplay="no"]