Victoria Symphony New Music Festival celebrates Gerald Barry March 5-9 2015. Victoria BC.
Irish composer Gerald Berry will be celebrated in his first feature festival in North America March 5-9 in Victoria BC. Explore the unexpected and wacky genius of his music and delve into other works created to exhibit the lighter side of life. The vibrant Barry will be in attendance to join the fun. Other concerts in the festival will include the Emily Carr String Quartet, Vox Humana, and UVic's Sonic Lab. As well there is a "meet the artist" at UVic before the Sonic Lab concert, and an interview with Michael Oesterle before the Victoria Symphony concert.
Barry grew up in rural Ireland, where he had little exposure to music – only BBC classical when he went on car trips. The sudden outbursts of beautiful singing in Handel operas set him on the path to becoming a composer. Under the tutelage of Karlheinz Stockhausen after college, Barry developed a style with blend of hard edges and humour that entertains listeners: the only thing one can expect from Barry's music with any certainty is the unexpected.
Former Victoria Symphony Composer in Residence Michael Oesterle chose Barry as the subject of this New Music Festival because he is relatively unknown to North American audiences. Barry's chamber, choral and orchestral works will be played in the first festival in North America in his honour.
Featured Barry works include his string piece La Jalousie taciturne, his orchestral work Wiener Blut, Lisbon for piano and chamber ensemble, and choral works The Coming of Winter and Long Time. In addition to Barry's pieces, each concert will feature the music of Canadian composers including Paul Frehner, Linda Catlin Smith, Jocelyn Morlock and both former and current VS Composers in Residence Michael Oesterle and Jared Miller.
A festival pass for all events is available for purchase at the Victoria Symphony office for $25, or tickets to individual concerts are available for $20. VS subscribers receive a discount on individual tickets. Admission to the Sonic Lab performance at UVic is by donation.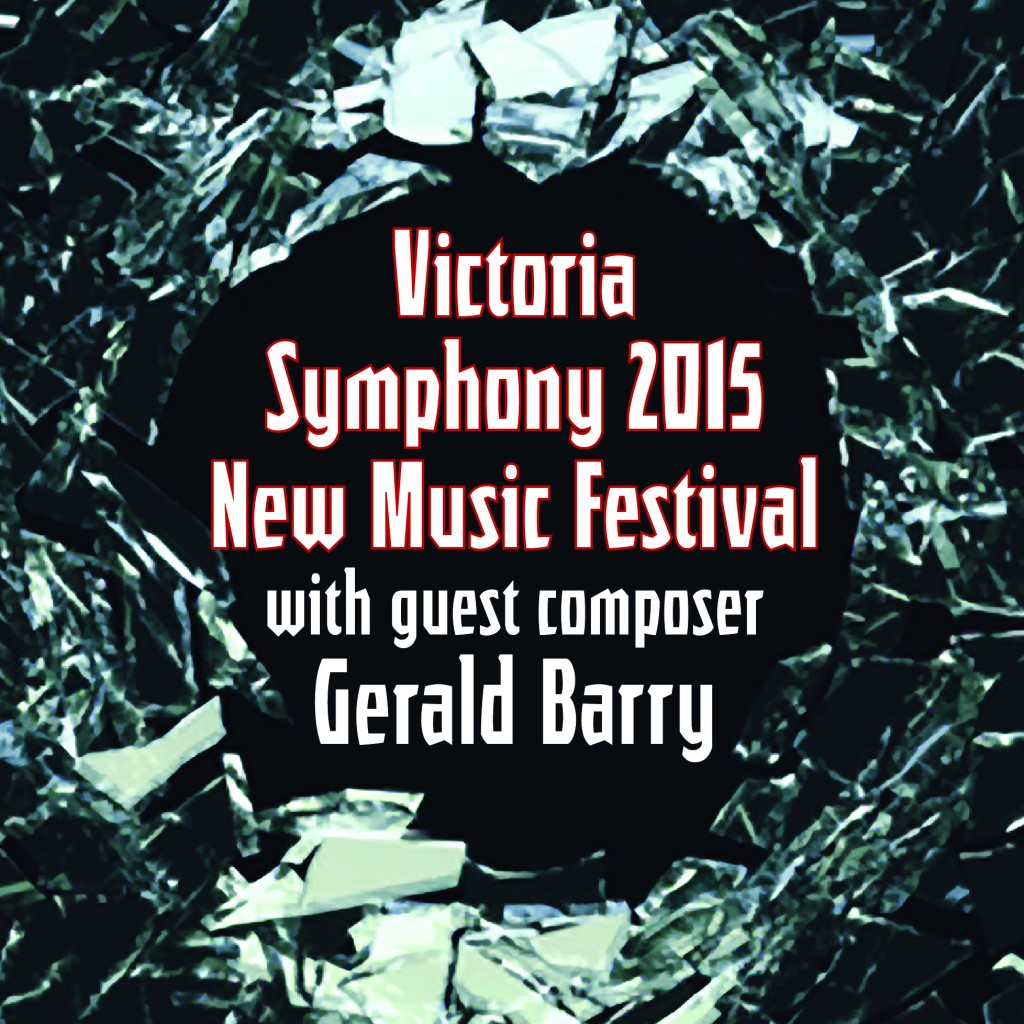 Victoria Symphony 2015 New Music Festival—Gerald Berry
University of Victoria Sonic Lab
Thursday March 5, 4pm Meet the Artist, MacLaurin Building Room A168. Free Admission.
Thursday March 5, 8:00 pm / Phillip T. Young Recital Hall. Admission by donation.
Ajtony Csaba, conductor
Vox Humana
Friday March 6, 8:00 pm – Lutheran Church of the Cross
Brian Wismath, conductor / Brian Yoon, cello
An Interview with Michael Oesterle about Gerald Barry
Saturday, March 7, 7:00 pm – Alix Goolden Performance Hall
Tania Miller will speak with Michael preceding the Victoria Symphony concert
Victoria Symphony New Music Festival celebrates Composer Gerald Barry
Saturday, March 7, 8 PM / Alix Goolden Performance Hall
Tania Miller, conductor
Emily Carr String Quartet
Monday, March 9, 8:00 pm – Wood Hall (Victoria Conservatory of Music)
with Tzenka Dianova, piano