It's time for some of the freshest and strongest young voices to represent as Victorious Voices comes to the Victoria Event Centre April 15th and 17th.  If you think that poetry is only for the printed page, these young poets will show you the power of the spoken word.
Victorious Voices is the Victoria-based high school slam poetry competition, which has grown to such an extent that it is now staged in the community.
"When I was a teenager, I could have used a positive creative outlet like Victorious Voices" festival organizer Jeremy Loveday explains.  "Ì remember being overwhelmed a lot, I really think having a supportive and celebratory outlet to express myself could have made a big difference for me."
The two evenings will be full of high energy and passion. Finals Night opens with a poem by Victoria's Poet Laureate Janet Rogers and DJ Big Tiny Smalls will spin.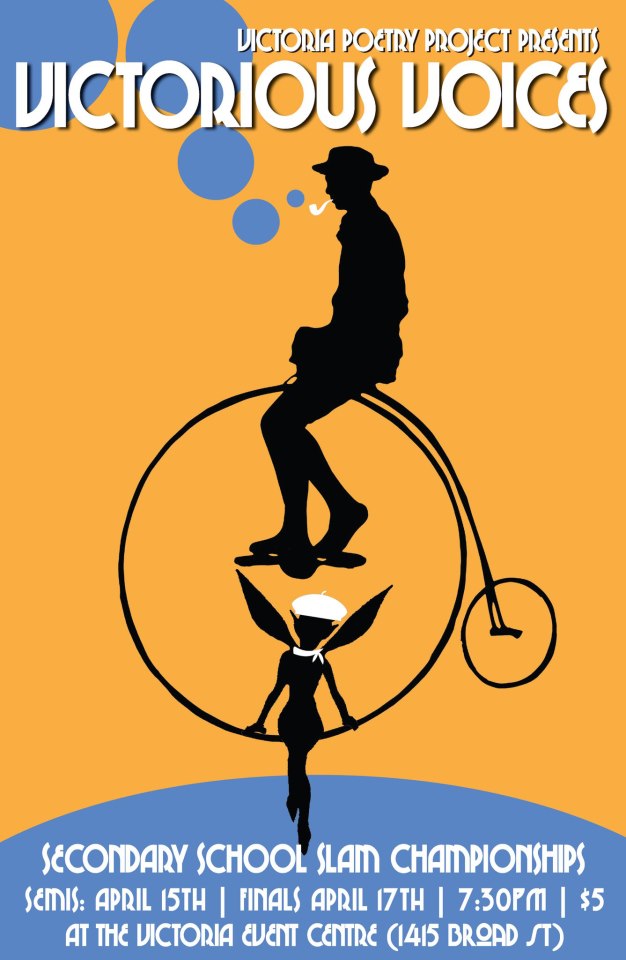 A poetry slam is a competition where poets are judged by audience members on a scale of 0-10. Poets have 3 minutes and must perform original work, without costumes, props or music. Victorious Voices is a team competition, and teams are required to perform group pieces as well as individual poems.
This year's celebrity judges include Rogers, Monday Magazine News Editor Danielle Pope, and Keenan Proud, last year's Alumnus of Honour, and the final evening will feature a performance by Victorious Voices Alumnus of Honour, Anna-Maria Landis.
Freedom of expression is a large part of the appeal for high school students. Landis explains " In high school, poetry was the only venue where I could really say what I wanted and not get in trouble, so it meant everything to me".  She has gone on to study creative writing at UVIC and she now leads weekly spoken word workshops at her alma mater Reynolds Secondary.
"Voices is life changing for young poets" Landis continues, 'it allows you to have a sense of accomplishment over the work you've produced on bus rides to school or on lunch hours, that would otherwise go unnoticed. "
Last year the winning team was from Pearson College. Here's a link to their poem Revolution.
Reynolds Secondary is a two-time championship team (2010, 2011) who went on to be the 2011 BC High School Poetry Slam Champions. They are sure to be back in force for 2013.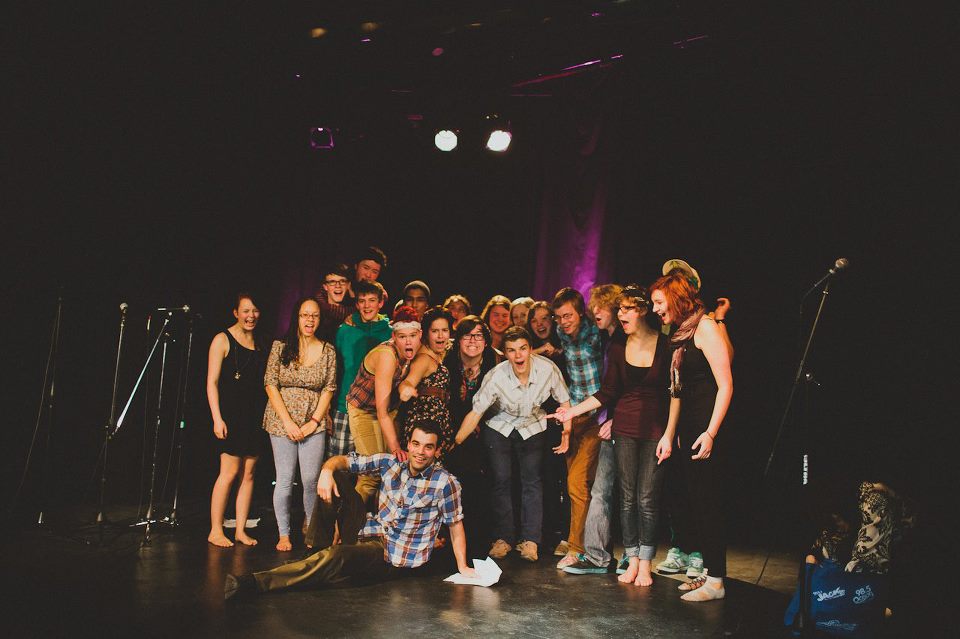 Jeremy Loveday and Victorious Voices competitors 2012. Photo: Brian van Wyk
Victorious Voices – Secondary School Slam Championships
Semi-Finals, Monday, April 15th: 8 school teams compete in 2 bouts.
Finals, Wednesday, April 17th: Top 4 teams compete for City title.
Victoria Event Centre, 1415 Broad St
$2 – students, $5 – adults
Doors @ 7pm, Show @ 7:30pm
Tickets available at the door, first come, first serve
And, new this year!
Still Victorious, Tuesday April 16th at Solstice Café. An Alumni Showcase featuring some of Victoria's most talented spoken word artists.
Facebook event: https://www.facebook.com/events/450642288337642/
This video trailer for Victorious Voices 2012 was created by a Reynolds High School student.
[vsw id="QcPmI-nK5D0″ source="youtube" width="425″ height="344″ autoplay="no"]