For the second year in a row, the Royal BC Museum has the considerable honour of being the only North American site for the prestigious Veolia Environnement Wildlife Photographer of the Year  2012 exhibit.  The competition is owned by two UK institutions that "pride themselves on revealing and championing the diversity of life on Earth" – the Natural History Museum  and BBC Worldwide.
Comprised of 100 beautifully back-lit images, chosen as winners from among the more than 48,000 submitted, it is the nec plus ultra for wildlife photographers.  Since 1965 professionals and amateurs alike have spent countless hours in the field, or close to home, waiting for that one perfect shot.
This year's Wildlife Photographer of the Year, Paul Nicklen, a Canadian and resident of Vancouver Island, won for his image of an emperor penguin about to burst through the ice, Bubble-jetting Emperors. He also has two other images (another penguin, and a Kermode bear) in this year's exhibit.
UPDATE: Hear Paul Nicklen at the University Centre, Farquhar Auditorium, Wednesday February 6th.  Tickets are FREE but you must reserve them through the Box Office.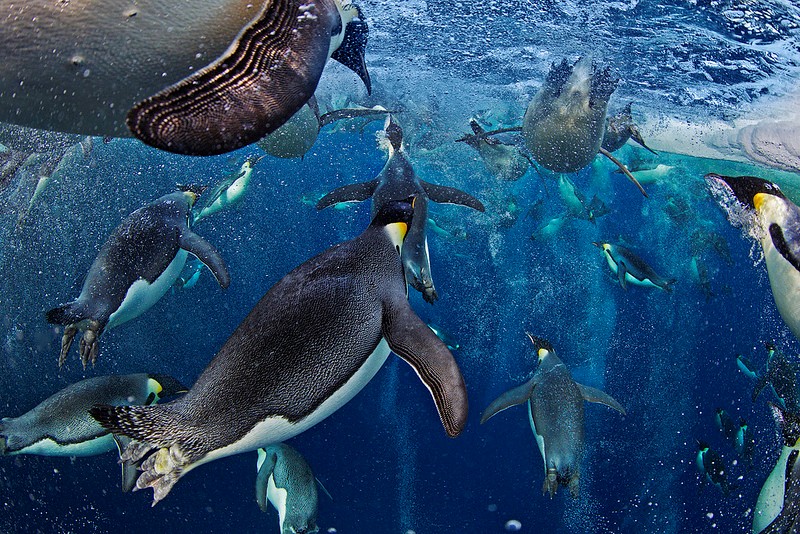 © Paul Nicklen (Canada) Overall Winner, Wildlife Photographer of the Year. Image used with permission.
Canon EOS-1D Mark IV + 8-15mm f4 lens; 1/1000 sec at f7.1; ISO 500; Seacam housing.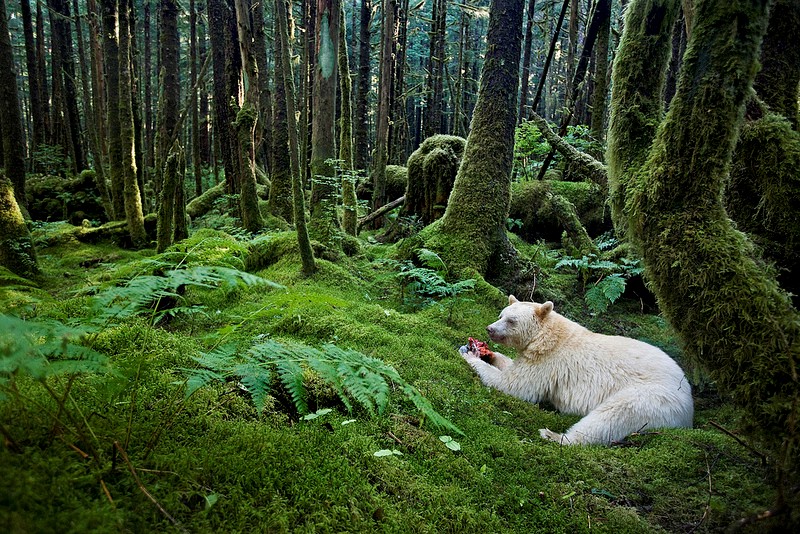 © Paul Nicklen (Canada) Animals in Their Environment, Specially Commended. Photo used with permission.
 Canon EOS-1Ds Mark III + 16-35mm f2.8 lens; 1/50 sec at f2.8; ISO 800.
Nicklen was featured at TED in 2011. Watch the video of his talk "Tales of Ice-Bound Wonderlands" below.
[vsw id="Ra-lxoAUP5c" source="youtube" width="425″ height="344″ autoplay="no"]
Adam Gibbs' image of a bonsai fir (Fairy Lake Fir) on Vancouver Island, near Port Renfrew, was commended in the Botanical Realms category.  Gibbs has been a professional photographer for over 20 years with Cornwall Publishing (known for Gardens West magazine).  Working hard through the summer growing season, he is then free to pursue his own photographic projects during the remainder of the year.  He notes the importance of the competition, remarking that many of the images are very hard to look at, particularly when they demonstrate the toll environmental degradation has taken on wildlife around the world.
To watch beautiful light on a snowbound peak or camp in an alpine meadow surrounded by wildflowers are the things that draw me to photography, not the other way around. For me, photography is an extension of the outdoor experience, nothing more, nothing less.  http://www.adamgibbs.com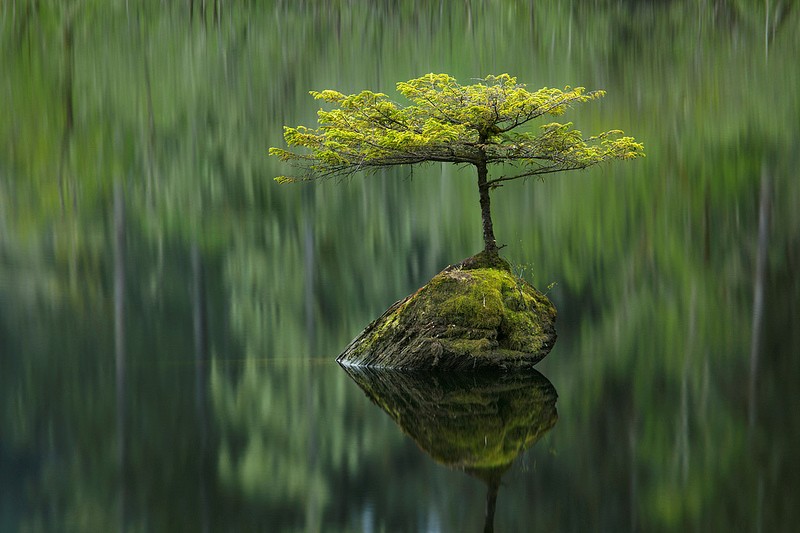 © Adam Gibbs (Canada/UK)  Botanical Realms, Commended. Photo used with permission.
 Canon EOS 5D Mark II + 100-400mm f4.5-5.6mm lens at 350mm; 20 sec at f22; ISO 50.
Once again I remark on the incredible amount of patience (and, at times, luck) the photographers display.  Young Wildlife Photographer of the Year, Owen Hearn,  winning for Flight Paths, purchased his first camera (a point and shoot) in 2009, then went on to sell all his belongings, buy his own equipment, and teach himself photography using online tutorials.
He states "it's not unusual for me to leave the house at 5 am to try and find a hare in the sunrise" and you'll still find him at "9: 30 pm lying quietly in a hedge".
One of my favourite images of the show is "Sands of Time" by David Maitland, a runner up in the Creative Visions category of the competition.  He used microscopic photography to capture the spicules (calcareous skeletal remains of tiny, soft-bodied marine invertebrates such as sea fans and sea whips (corals), sea cucumbers and sponges) on an old Victorian slide.  The resulting photo bears a resemblance to an avant-garde abstract painting.
55 of the images are available as prints and may be ordered from the Natural History Museum's site.  They would make fantastic gifts for the nature-lover in your life, and are very reasonably priced.
The 2013 Wildlife Photographer of the Year competition opens December 17th, 2012.
Wildlife Photographer of the Year 2012 at the Royal BC Museum
November 30, 2012 to April 1, 2013
On loan from the National History Museum, London
(included in the regular price of admission or with membership)
During the exhibit, take in some of the following:
Royal BC Museum "Staff Picks"

A rotating series of "staff picks" will be posted in the exhibition. Carpenters, curators, cashiers and our CEO are all invited to share thoughts about their favourite image from the exhibition. It's another way to find out more about the people behind the scenes at your museum.

The F-Stop

F is for Fun in our Wildlife Photographer of the Year activity hub. Change your point of view, engage your imagination and ignite your sense of discovery as you look closely at selected photographs from the exhibition.

Young Photographer Contest

Enter to win an exclusive and truly unique Photography Gift Pack by submitting photographs of BC wildlife. Contest open February 4 – March 25, 2013.

Spring Break Day Camp: Focus on Nature

Aspiring shutterbugs can develop their skills by participation in a photography-inspired day camp. Campers will learn about photo composition and storytelling, venture toBeacon HillParkto capture dynamic nature shots, and have their work included in a mini-Wildlife Photographer of the Year inspired display. No fancy camera needed, but campers need to be familiar with how their own camera works. Lunch and snacks not provided.

Ages 8-12. 9am – 4pm.
March 19, 20, 21 and 26, 27, 28, 2013
$40 per participant per day. 10% member discount.

Wonder Sunday: Dancing the Wild Life

Did you ever wonder what kind of movement happened just before or after that photo was taken? Wiggle like a wolf and boogie like a bear while watching innovative dancers bring wildlife photographs to life. Family activities.

1-3pm Sunday March 31, 2013
included with admission or membership
Please note:
Veolia Environnement Wildlife Photographer of the Year is co-owned by the Natural History Museum and BBC Worldwide.
All intellectual property rights in the Veolia Environnement Wildlife Photographer of the Year competition images are retained by the photographer. Any reproduction of the images without prior written consent will constitute an actionable infringement. For information regarding permission to use competition images please email us.
I attended the opening of the Wildlife Photographer of the Year 2012 exhibition as a guest of the Royal BC Museum, and use the images provided here on my blog with prior permission.