From the moment we arrived, to leaving, our experience at the Oak Bay Beach Hotel for Will Millar's Ireland: Where the Song & Dance Began in the David Foster Foundation Theatre was like being wrapped in a long hug from a dear friend.
At street level the new Oak Bay Beach Hotel is grand, even imposing, but inside, a warm sense of hospitality and hominess permeates.
Impressions are built on the small details – free parking, easy access to elevators, a welcome from the very first staff member to see us, honest conversation, a large lobby area for the pre-show cocktail hour, people to escort us to our beautifully-set table.
The David Foster Foundation Theatre is richly appointed with tapestried walls, and deep-coloured draperies and carpets; it seats 125 for the dinner theatre, and up to 180 for functions (and will soon be hosting regular movie nights). Couples and larger parties were handily accommodated – we enjoyed an intimate evening while being part of a much larger group.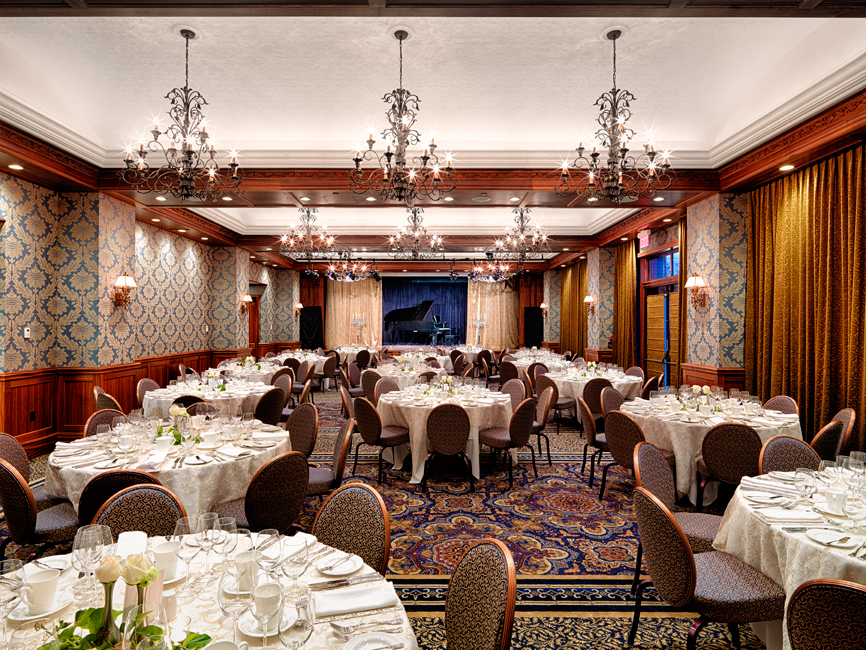 Photo provided
It's been a long time since dinner theatre was a common occurrence in Victoria – the one staple provider had been the "old" Oak Bay Beach Hotel, with performances of Broadway hits, and Christmas specials – and there definitely seems to be pent-up demand for an evening of fine food, gracious service, and lively entertainment.
If Kevin Walker, head of Walker Hospitality, the owners and operators of the Oak Bay Beach Hotel and Discovery Club, ever decides to leave hotels, he could easily get a job in the entertainment industry.  Early in the evening, he took the stage to welcome guests, and introduce the banquet team.  His speech was polished, funny, and very obviously well-rehearsed.  From the get-go, there was a sense of shared effort, and appreciation for both guests and the people about to serve us.  I couldn't help but feel that we were in the most capable and competent of hands.  Interactions over the course of our experience only heightened that original impression – people were genuinely happy to have us there!
Our three course plated dinner, as befitted the theme, was Irish-inspired, to the great delight of my husband who spent many months in Ireland every year as a young boy.
Portion sizes were perfect and allowed us to appreciate the various tastes and textures.
We enjoyed traditional soda bread, smoked salmon, lamb loin and a very tasty trio of desserts before the music began.  Service was unobtrusive and wait staff, engaging; our requests were quickly accommodated.

Will Millar is an icon in Canada – rising to fame with the original Irish Rovers, and hits like The Unicorn and Black Velvet Band.  Since 1995 he's toured independently with his own group of hand-picked musicians and performers (which includes, for this production, well-known local fiddler Daniel Lapp, former Riverdancer Joel Hanna, sweet-voiced Mary Murphy, and guitarist and musical director Paul Keim).
Many would not realize that he is also an author (Children of the Unicorn and Messing About in Boats) and painter of tradition Irish scenes.  Millar's art is currently on display at the hotel and is used extensively throughout Ireland, displayed on large video screens.
Millar is an accomplished show man, a seasoned weaver of stories and jokes, who had the assembled crowd in the palm of his hand from the get-go.  He promised us a kitchen party and took us for a tour through sad songs, and rousing choruses which included his signature tunes.  Dublin-based singer-songwriter Mary Murphy, added an authentic note with several original songs in Gaelic, and high-stepping dancer Joel Hanna finished the evening off with impressive high kicks and fancy footwork.
Along the way, we learned more about the tragic diaspora of the Irish people from a land they continue to long for, and the history of the Irish in North America.
For us, the evening contained a moment of felicitous serendipity and inter-connectedness as we realized that we know Will Millar's son and future daughter-in-law (who were present).  It definitely added to the sense of "coming home" – home to a well-loved classic in the hospitality industry, home to a beloved country, home to a simpler time of family and friends gathered in fellowship around food and song.
Kevin Walker closed the evening by inviting guests to stop a moment in the lobby for an Oak Bay Beach Hotel tradition – hot chocolate and cookies (actually a wide array of baked treats and assorted hot beverages).
It was the perfect way to end.  Humming Black Velvet Band all the way to the car, I know we'll be back soon for a drink at the Snug, or coffee in Kate's Café.
Will Millar's Ireland: Where the Song & Dance Began
David Foster Foundation Theatre at the Oak Bay Beach Hotel
March 16 – April 20th, 2013. Every Friday and Saturday
Reservations by phone at 250.598.4556.
$109 per person + tax 
Disclaimer: We attended Will Millar's Ireland as guests of the Oak Bay Beach Hotel. I was not asked, nor was I expected, to write a review.  As always, I retain complete editorial control of all content published on my blog.
Ireland marks the end of the dinner theatre season, but movie nights will continue.  Dinner theatre resumes in the fall.