If you're a fan of Alfred Hitchcock and physical comedy, then the fast-paced, witty and irreverent retelling of The 39 Steps, currently at Langham Court Theatre (until March 23rd) is sure to appeal.
Written in 2005 by Patrick Barlow as an adaptation of Hitchcock's classic thriller (itself adapted from the 1910 novel by John Buchan) it is a veritable tour-de-force for the small group of four actors who play over 100 roles between them. Only Alan Penty (Richard Hannay) plays a single character.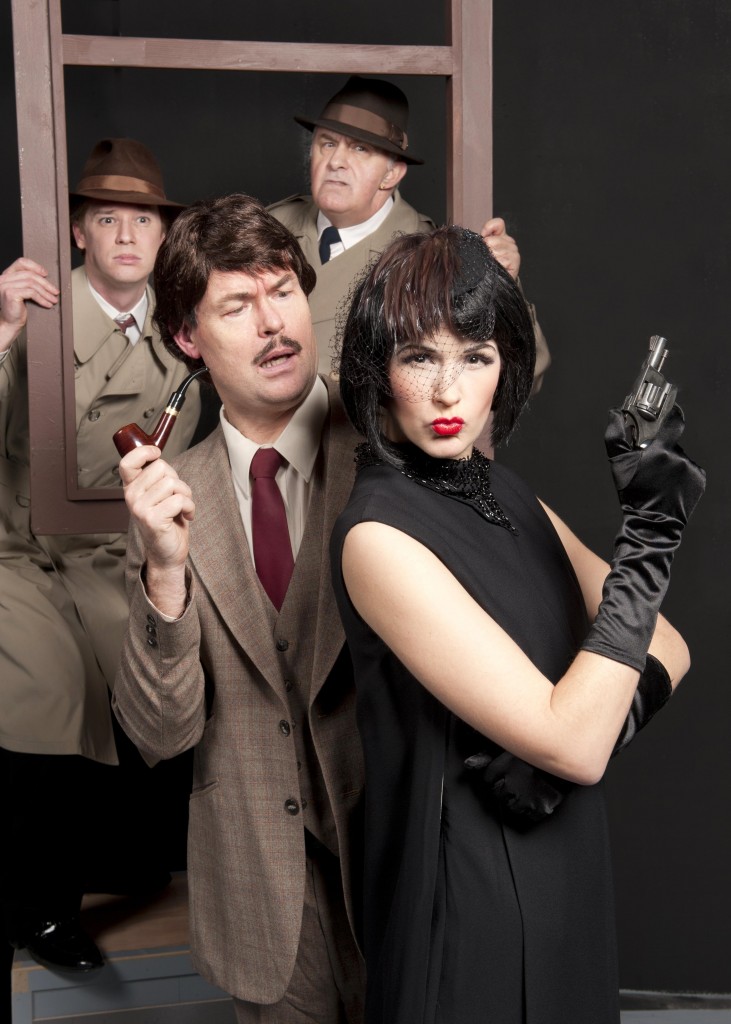 Back: Nick Sepi, Toshik Bukowiecki, Front: Alan Penty, Karen Brelsford  Photo: David Lowes
Theatre-goers accustomed to the rich and lavish productions staged at Langham will initially be surprised by the stark stage, and minimal props, employed to suggest everything from a box at the Palladium to a moving train, a hotel on the moors to a lavish country home. Projections (Kevin Stinson) add significantly to creating the ambiance of the many environments.
It takes considerable talent to be zany without tipping into sheer foolishness – a tightrope these actors negotiate with care.
Alan Penty (Richard Hannay) and Karen Brelsford (Annabella/Margaret/Pamela) have appeared together for the past three seasons in Sin City, the Live Improvised Serial – the synergy and comedic timing they have honed is evident in every one of their scenes together. From murder to encounters on the train – the faultless transitions will have you gasping with laughter.
Toshik Bukowiecki (Clown 1) was coaxed out of "retirement"; in the past few years he's directed and designed shows, but his last appearance as an actor at Langham was in 2005 as Harry in Timothy Findley's The Stillborn Lover. What a return it is – of particular note were scenes as Mrs McBates, owner of the afore-mentioned hotel, and the chase scenes (with Nick Sepi – Clown 2) where the two actors alternated, with seconds between character changes, as the cops and the villains.
Sepi (last seen in The Foreigner) shines in his cross-dressing role as Mrs Jordan.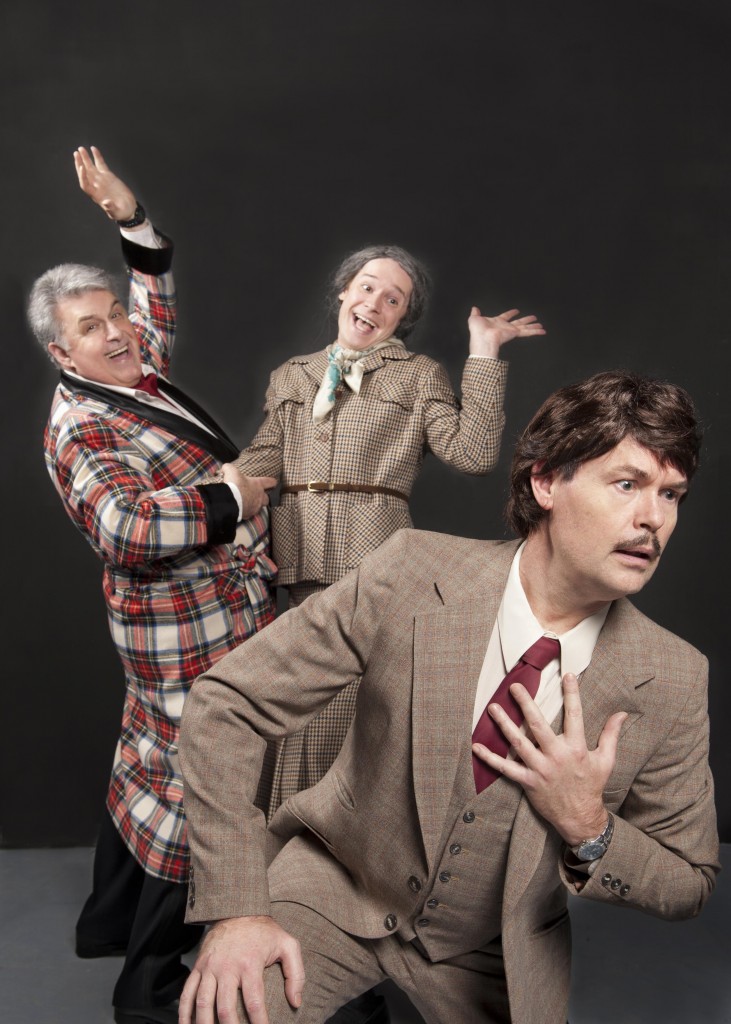 Back: Toshik Bukowiecki and Nick Sepi Front: Alan Penty Photo: David Lowes
In addition to rapid-fire costume and scene changes, the actors must differentiate dialects – everything from London English, Cockney, broad Scots and even German.  I was most impressed by this work – there is no mention of a dialects coach in the program, but if there was one, they deserve kudos.
Special mention must be made of the large complement of dressers, six in total, who are an integral part of this show, as well as the stage crew who were kept equally busy with the many props (Rosemary Henry – Properties, Janine Metcalfe – Costume Design))
Look for Hannay being chased through the crowd of kilt-wearing pipers, and his daring escape from the train on the Fourth Bridge for fine examples of low-tech special effects employed to their utmost.
Bill Adams, in his final set design for Langham Court, will be missed!  He's employed the turning stage for some of the most outrageous scenes.
The script is full of winks and nudges, not the least of all to Hitchcock's many hit thrillers: Psycho, North by Northwest, Vertigo – but it is not essential to be familiar with his work.
The 39 Steps takes the best of British music-hall, vaudeville, and farce and combines it for an evening of over-the-top old-fashioned fun; all this, and laughs galore.  What great entertainment.  Let your cares slide away and indulge in some merriment.
Ticket sales are very brisk – the run may be extended. More details will be provided as they are available.
The 39 Steps, adapted by Patrick Barlow, from the novel by John Buchan, from the movie by Alfred Hitchcock
Langham Court Theatre, March 6th – 23rd
Tickets: $21/$19
2 for $30 Tuesdays – March 12 & March 19
Performance Schedule (March 6 – March 23, 2013)
March 6 to 9          – Wednesday thru Saturday nightly show time 8:00pm
March 12 to 16      – Tuesday thru Saturday nightly show time 8:00pm
March 19 to 23      – Tuesday thru Saturday nightly show time 8:00pm
Saturday matinees March 16 and March 23 – show time 2:00pm
Cast:
Alan Penty – Richard Hannay
Karen Brelsford – Annabella/Margaret/Pamela
Nick Sepi – Clown
Toshik Bukowiecki – Clown
Keith Digby – Pilot # 1
Morgan McLeod – BBC Announcer & Pilot # 2
Creative Team
Directors: Keith Digby and Cynthia Pronick
Producer: Andrea Pite
Lighting Designer: Karrie Wolfe
Projection & Sound Designer: Kevin Stinson
Costume Designer: Janine Metcalfe
Properties Manager: Rosemary Henry
Set Designer: Bill Adams
Stage Manager: Sylvia Lindstrom
 Disclaimer: I was provided with tickets to the opening night of That Face, and asked to provide a review. As always, I retain full editorial control over all content published on my blog.