Thanks to the remarkable physical theatre duo of James and Jamesy, I am thrilled to announce another ticket contest.  Win tickets to their critically-acclaimed and award-winning Canadian Fringe hit "2 for Tea" coming to the Metro Theatre November 28th – 30th.
I was fortunate to meet James and Jamesy while volunteering at the Victoria Fringe, and lucky indeed to secure a ticket to the first performance of what proved to be a most solidly booked run.
There are shenanigans a-plenty onstage in their clever farce – I have never seen two performers so successfully incorporate a multitude of audience members in an entire story arc.  "2 For Tea" appeals to a broad demographic including children.  If you delight in being drawn into a well-executed story, you'll want to attend this show. And remember – bring a teacup!
To be entered in the draw for two tickets you can either:
Comment on this blog post with your favourite way to enjoy tea.
Tweet the following:
Share w/ @lacouvee your favourite way to enjoy tea to enter to win tickets to "2 for Tea" by @JamesandJamesy. I shared mine here. http://ow.ly/quvmf #yyj
I'll draw for the tickets on Monday November 25thth at 4pm, and will contact you by email or Twitter.  You have 24 hours to contact me and let me know if you can make use of the tickets.  If you can't redeem the giveaway, or I haven't heard from you within 24 hours, I will re-draw the tickets.
The tickets are for opening night Thursday November 28th.  Your name will be placed on the guest list.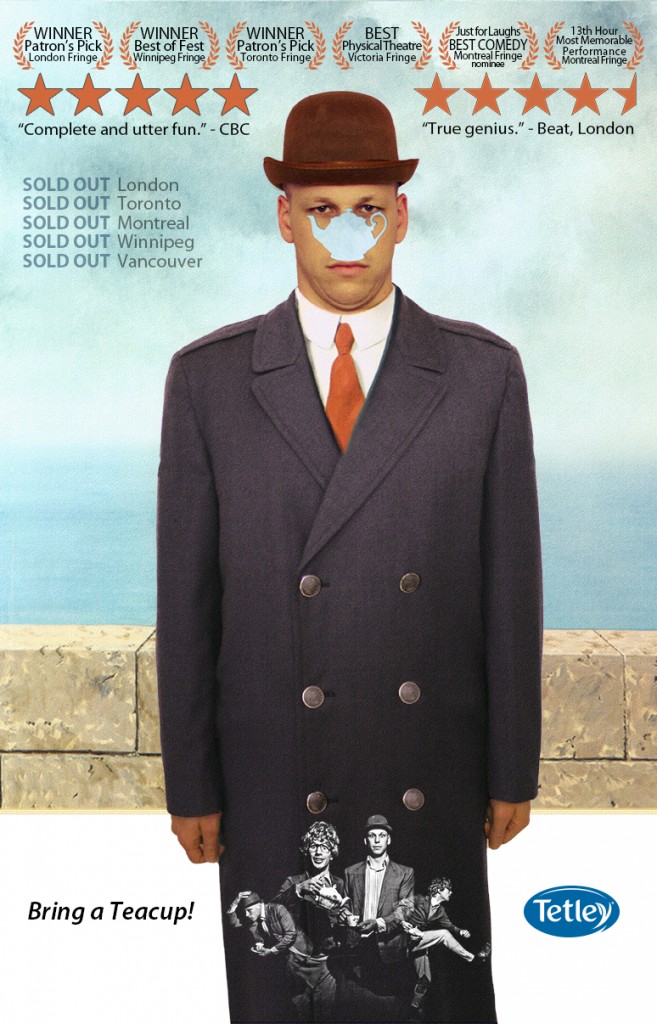 Six fully costumed characters. Four of whom are selected from the audience.
Tea is served. Bring a Teacup. 

England's critically acclaimed surreal physical comedy duo lures you into their "delightfully bizarre" world with their innocence and "endearing chemistry." Their respective idiosyncrasies and the peculiar formalities of their tea rituals bring vitality to the mundane, turning an ordinary tea party into a fantastic wonderland of stimulation and play.

Since debuting at the London Fringe Festival in June 2013, 2 for Tea has quickly "blossomed as a bona fide hit on the Canadian Fringe theatre circuit" (Times Colonist), attracting sold out audiences, standing ovations, and winning theatre awards in every city.

Performance (75 minutes)
At the Metro Studio Theatre, 1411 Quadra at Johnson, Victoria

Thu, Nov 28, 7:30pm
Fri, Nov 29, 7:30pm
Sat,      Nov 30, 6:00pm
Sat,      Nov 30, 9:00pm

Tickets: $20 adult / $15 student & senior
Online: ticketrocket.org/2-for-tea,
In Person: Ticket Rocket, 2-1609 Blanshard,
By Phone: 250.590.6291

Follow us on Twitter @JamesandJamesy | #2forTea
Like us on Facebook facebook.com/jamesandjamesy
More info at James andJamesy.com

Awards & Distinctions
Patrons' Pick – London, Toronto
Best of Fest – Winnipeg
Best Physical Theatre – Victoria
Most Memorable Performance, 13th Hour, Montreal Fringe
Just for Laughs Best Comedy nominee
Sold OutVancouver, Lon don, Montreal, Toronto, Winnipeg
Disclaimer: I will be attending 2 For Tea as a guest of the artists.