I'm a bit of a Fringe fanatic, seeing between 30 and 40 shows in any given year. For my "away" picks, I rely heavily on research, knowledge of past performances, and a network of fellow-Fringers (including Ottawa's Brian M Carroll who has greatly informed this year's picks).
As always though, I encourage you to step outside your comfort zone, and take chances on shows you might not normally see – don't depend only on my picks; my tastes might not be yours. I've listed the shows as they appear in the printed Fringe program, by venue.
Venue 1, Victoria Event Centre, 1415 Broad Street
Assassinating Thomson, Bruce Horak, Monster Theatre
Winner of Outstanding Concept at the Ottawa Fringe, and highly  recommended by my fellow Fringe-fanatic, Brian M Carroll.  Horak is well-known for his previous show "This is Cancer" presented by Intrepid Theatre in 2009.
Critically acclaimed Visually Impaired visual artist Bruce Horak lives with 9% of his vision and has, over the last two years, painted a series of over 400 unique portraits which attempt to capture the way that he sees, aptly named The Way I See It.
The Birdmann in Momentous Timing
"Hitchock Meets the Muppets", as described by the Birdmann himself, or, as I like to say "If Vaudeville and the circus side-show had a baby, it would be The Birdmann". After last night's opening night, you can now add "burlesque" to the above description.
Pick of the Fringe at the Victoria Fringe in 2011 and a triumphant return to UnoFest in 2012 prove his wide-ranging appeal.  Expect dry one-liners, cheesy jokes, and some incredible juggling of unusual or even downright weird objects. The Birdmann ranks high of the Fringy metre.  His popular show sells out. Get tickets early.  
Venue 2, Downtown Activity Centre, 755 Pandora Avenue
Confessions of a Fairy's Daughter
Alison Wearing has a novel approach to marketing her book – she's doing a Fringe tour.  A 2011 Pick of the Fringe for her previous show Giving Into Light, Wearing is a kinetic and captivating storyteller. Her tale of growing up with a gay dad in the 1980s has already garnered significant attention.
Best of Fest: Stratford Springworks Festival, Wakefield Fringe Patron's Pick, Winnipeg Fringe 2013
Richard Tyrone Jones's Big Heart
Ah, the power of the Fringe Preview night. This show wasn't even on my radar screen, but who can argue with "medical comedy poetry" and a powerful spoken word presentation. Jones recounts the story of heart failure on his 30th  birthday through cardiomyopoetry, anecdosage (and jokes).  The show has since become a BBC Radio 4 mini-series.  
Venue 3, Metro Studio, 1411 Quadra Street
The Twelfth Night in KABUKI Style, Ryuzanji Company – Rakujuku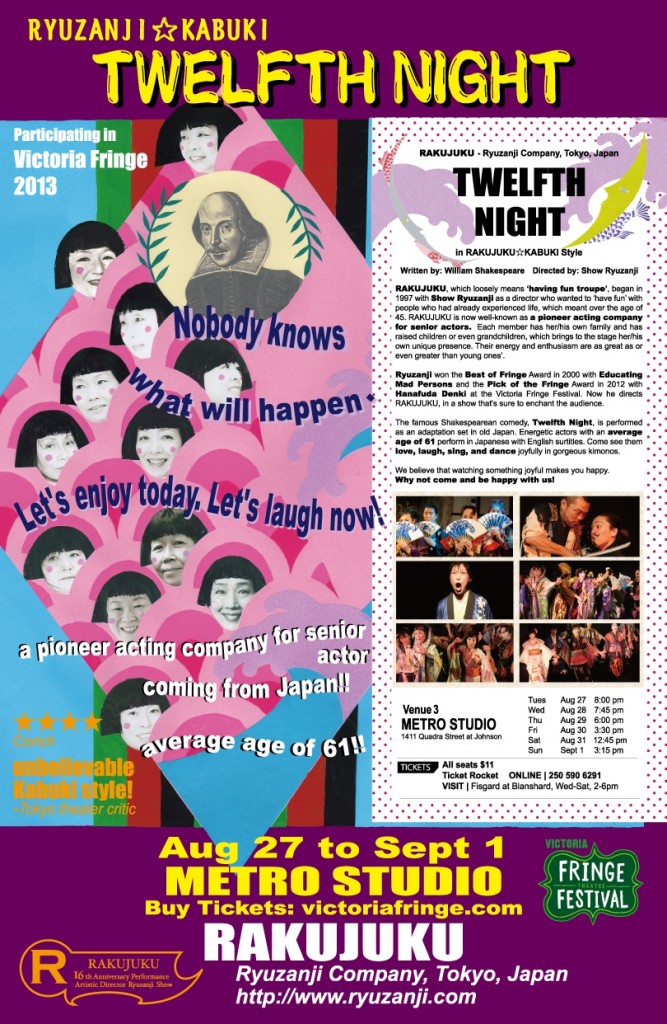 Japanese company Ryuzanji presented "Hanafuda Denki" at last year's Fringe. It was one of my top theatre (not just Fringe) experiences of 2012. They return this year with their senior company, Rakujuku, a group of actors whose average age is 61. Most of them only began acting in their 50s.
A cast member messaged me to say "Though our "Twelfth Night" is acted in Japanese style, the story is mostly based on the original, so it wouldn't be hard to understand the story. I hope you'll enjoy Japanese names called in a Shakespeare play and also, some of the Japanese music." I expect that this show, like last year's, will sell out.  
Venue 4, VCM Wood Hall, 907 Pandora Avenue Melody Moore, Stumblebum Productions
Partnering with fellow Fringe performers to promote your show (always one of my recommendations) does work.
Actor Richard Hanna was not able to be at this year's Fringe preview, but received a shout-out from Shoshinz (Little Miss Hiccup).  I paid attention and attended his show on opening night.  The crowd was appreciable.
This historical drama set to beautiful, lyrical harp music, is truly a solo tour-de-force.  Hanna created over 12 characters in this tale of Irish poet and patriot Thomas Moore.  I learned about an unknown era, and closed my eyes to the lilting ballads, carried away to green hills and cliffs. If you have any Irish connection at all, love the harp, or appreciate a fully-fledged production, you will want to see Melody Moore.
Best of Fest, Calgary Fringe 2013. Best Male Performer, Atlantic Fringe 2012.  
Venue 5, Langham Court Theatre, 805 Langham Court
Fools for Love, Small Matters Productions
In today's environment, artists can use all available means to connect with their audience, and for Christine  Lesiak of Small Matters Productions, it meant finding Fringe fans via Facebook and Twitter (which is where we connected). Fools for Love promises adult physical comedy, and hilarious  clowning. I'm in!
Best of Fest, Winnipeg  Fringe 2012 Official  Holdover (offered to the most popular shows) Edmonton Fringe 2013
Promise and Promiscuity:A New Musical by Jane Austen and Penny Ashton
I'm a fan of Jane Austen, and of mash-ups. Penny Ashton promises both with a historical, musical comedy. Highly  recommended by fellow Ottawa-based Fringe fan, Brian M Carroll, who says
This show was a triumph for Penny Ashton at the Winnipeg Fringe. Her combination of Jane Austen plot with her own double entendres brought big audiences from day one. The popular show won a Festival Patrons' Pick award as well as CBC Manitoba's Outstanding Out-of-Town Production.
Best Performer, Auckland Fringe 2013 Patrons' Pick, Winnipeg Fringe 2013
Venue 6, Fairfield Hall,1303 Fairfield Road
2 for Tea, Life & Depth
Adding to sold-out runs in multiple Canadian Fringe cities, followed by Patrons' Picks at each of them, 2 for Tea arrived to a sold-out first show at this year's Victoria Fringe. Surreal physical comedy will have you tittering from the get-go.  Imagine an expanded Mad Hatter's Tea Party à  la Alice in Wonderland, and you'll have a glimpse  of what awaits you.
Never have I seen actors incorporate audience participation so successfully into the arc of a story. Bravo!
Bring a tea cup.
Patron's Pick in London, Toronto, & Winnipeg Most Memorable Performance, 13th Hour Award, Montreal Just for Laughs, Best Comedy Award nominee Centaur Theatre, Best English Production Award nominee
Bursting into Flames, by Martin Dockery
Dockery arrived on the Fringe circuit in 2009 with Wunderlust, a masterful display of  storytelling.  Based on my memories of this show alone (from the 2010 Victoria Fringe), I'll be attending Bursting into Flames. A winner of multiple awards for all his shows at many fringe and solo festivals.
The gonzo tale of a darkly hilarious romp through the afterlife.Told in Dockery's unique storytelling style, Bursting Into Flames is the story of one man's tenuous grasp on reality  as he endures an eternity of paradise in Heaven.
La Cravate bleue, Jean-François Plante-Tan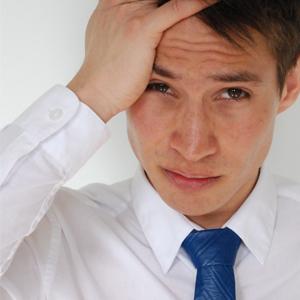 A musical monologue entirely in French. Plante-Tan has toured the Canadian Fringe circuit this summer as the only French act outside the Montreal Fringe.  He promises you can follow the story even if you don't speak French.
The protagonist swaps his computer keyboard for a piano, and embarks on a creative and spiritual journey.  Suitable for a general audience, exploring a universal experience:the choices and sacrifices we make for the things we love doing and the people we love.
The Pit, Concrete Drops
Created by Martin Dockery with Vanessa Quesnelle (last year's Abyss at the Victoria Fringe), this is a surreal send-up of domestic bliss. I expect sparks! Patron's Pick, Winnipeg Fringe 2013
Venue 7, St Ann's Academy, 835 Humboldt
A Day in the Life of Miss Hiccup
One of my favourite performers returns! Appealing to our inner child, and suitable for kids of all ages, follow this wacky and wonderful  clown on her daily adventures.  A funny and physical show.  Kids under 6 free!
Director's Award, Capital Fringe 2012 Audience Choice, Frigid NY 2013 Best International Show, Orlando Fringe 2013
Forget Me Not, Rob Gee
Another very popular performer, spoken word artist Rob Gee has taken his former life as a psychiatric nurse and turned it into side-splitting tales (Fruit Cake, SmartArse) for our viewing pleasure.  I expect no less from Forget Me Not. He's what Brian M Carroll has to say about the show.
Rob Gee's second in his psychiatric nursing trilogy is his best show yet. Lots of sellouts at the Winnipeg Fringe Festival, resulting in a Patrons' Pick. The performance poetry is there, but now it serves a plot with an arc: a murder mystery set in an Alzheimer's ward. One of the detectives has incipient Alzheimer's, and he knows it. A humourous, clever, and highly sympathetic look at a condition that some of us will face in our future. "Forget Me Not is by turns sad and funny, and just plain fun. This one-man triumph is equal parts mystery, comedy, storytelling, social commentary — and 100 per cent entertaining." Janice Sawka, Winnipeg Free Press. "the best way to draw attention to an issue is make it as funny -and heartbreaking – as hell." Sara Tate, CBC Manitoba
Patron's Pick, Winnipeg Fringe 2013
The Big Bang Query: A Dirk Darrow Investigation, Tim Motley Last year's show (Dirk Darrow: NCSSI) was a phenomenal display of prestidigitation and magic, remarkable for performer Tim Motley's ability to coax the most obstreperous audience member I've ever seen into submission. He's back with a new stand-alone prequel.  Extremely popular with sell-outs for last year's run, I anticipate more of the same this year.
I really enjoyed Dirk Darrow's new show – he channels Phillip T Marlowe, and every film noir you've ever seen with some incredible prestidigitation, mentalism and cheesy one-liners. Add to that, the fact he had me truly flummoxed at his feats of prescience.
Patrons' Pick, Winnipeg Fringe 2013