A Quiet Season by Enigmatic Events at the Victoria Fringe Festival 2016. Interview with Chris Rudram.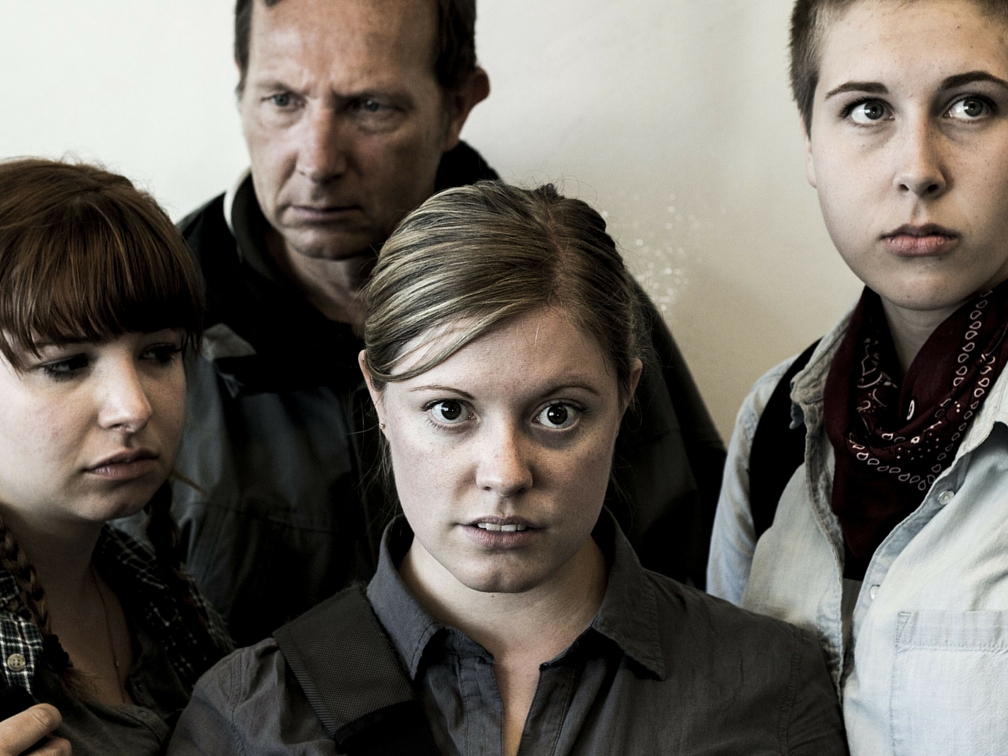 How long have you been producing work on the Fringe circuit?  As an artist/company?
This is my first time doing anything for Fringe beyond going to shows or billeting a performer. It's also my first time writing or directing a theatre production.  Luckily the cast has a lot of experience with Bill Nance and Amy Culliford having experience at the fringe, and Emily Bamlett and Natasha Guerra having done work at UVic's Phoenix.  So working with a great cast is making life much easier to collaborate and build the show and avoid too many newcomer mistakes.
Is your show a new work, or has it been performed elsewhere?
Brand new, but loosely based on a narrative game called 'The Quiet Year'.
Significant awards or accolades? (not just on the Fringe circuit)
I was award a 10 to Watch from the Douglas Magazine, which is more for future potential of Enigmatic Events rather than any quality of previous productions.
Can you speak to the creation process of this work?
Sure… the concept was inspired by a Theatre Studies lecture course at UVic by Dr Anthony Vickery that I helped out with.  The course covered various types of performance beyond straight theatre, and used games as learning methods… something I am very keen on, and why Dr Vickery had asked me along.  I've always been interested in free-form role playing games… games where storytelling as a group is important, and not the traditional 'Dungeons and Dragons' games (which are also a lot of fun). In my reading, I wondered if a good freeform game could be something that an audience would watch and enjoy.  And so the idea was born, and I thought that the fringe would be a good environment to try this out in.  I didn't realize quite how lucky I was to win a slot in the lottery until afterwards when I saw the long waiting list.
So, I then had several conversations with Natasha to work out how to make something on the boundary between theatre, role-playing and improv, took inspiration from 'The Quiet Year', and came up with this show.  I'm grateful to her for helping me build out the process, and avoid several pitfalls.  She's got a background in both theatre and roleplaying, so understood quickly the concept and helped me build upon it.
After casting, I wrote character outlines, and we workshopped as a cast through those backgrounds, as well as playing some games and watching films to get a feel for the style we wanted. My experience watching the development of Murder By Midnight with Vanessa B Baylen also helped here, and she knows I took a lot from her methods.
So now we have a game that's a show.  Each night, the same four characters will be introduced into a ruined and abandoned Victoria.  Each have their own motivation for being there.  Each show we'll be taking some ideas from the audience before the curtain up to give the cast a set of challenges and problems to resolve.   They won't know in advance what each one will be, and they're game is trying to resolve them, and seeing how their characters would progress.
Each night will be different, starting from the same point.  I expect the tensions between each character to change, as the cast explores different possibilities.  This relies heavily on improv, but with some constraints on the character backgrounds, and they will have a few seconds before each scene to work out a very general direction.  Hopefully this builds a story line through the 45 minute show that's interesting to the audience, and explores at least some of what it feels like to be in a city during apocalyptic events.
Who will your show appeal to? 
Role-players and gamers, for sure. People who want to see a gritty (think HBO drama) depiction of a future possibility.  People who enjoy improv and want to see a bit of a different style.  People who like to see drama about human interaction.
What would you say to entice a potential audience member to come?
Come see an experiment to see if people playing a story-telling game on stage is compelling drama!  Come and see what Victoria might be like if it was destroyed tomorrow!
What do you hope to inspire in your audience?
Thinking about what we might miss if we lost everything.  Thinking about what might be important to us, and how we might cope relying on others we don't know and don't know how to trust.
After a series of global tragedies, four survivors are trying to exist in a near-abandoned Victoria. Can they go from mere survival, to building a new life? With each performance, a new series of trials will be faced down… challenges chosen by the audience. Mixing improv, traditional theater and role-playing, A Quiet Season is story-telling game on stage.
www.aQuietSeason.com www.enigmaticevents.com
A Quiet Season by Enigmatic Events, Victoria BC
Location: Langham Court Theatre (Fringe Venue 5), 805 Langham Court, Victoria BC
Created: Chris Rudram
Advance price: All Seats $11 + s/c*
Door price: All Seats $11
Duration: 50 mins
Rating: PG 14+: Coarse Language/ Adult Themes
Genre: Improv and Role-playing
Fri Aug 26 – 4:30pm
Sat Aug 27 – 2:30pm
Mon Aug 29 – 8:30pm
Tue Aug 30 – 5:00pm
Fri Sep 2 – 5:45pm
Sat Sep 3 – 1:00pm