An interview with Alanna Mitchell. Sea Sick at UNO Fest 2015 in Victoria BC.
Alanna Mitchell is an award-winning Canadian journalist and author (New York Times, CBC's Quirks & Quarks, Globe and Mail, and more) who writes about science and social trends specializing in investigative reporting. Sea Sick is inspired by her international bestseller and award-winning book of the same name.
I had the opportunity to speak with her before her appearance at Intrepid Theatre's UNO Fest (May 13/14 at the Metro Theatre).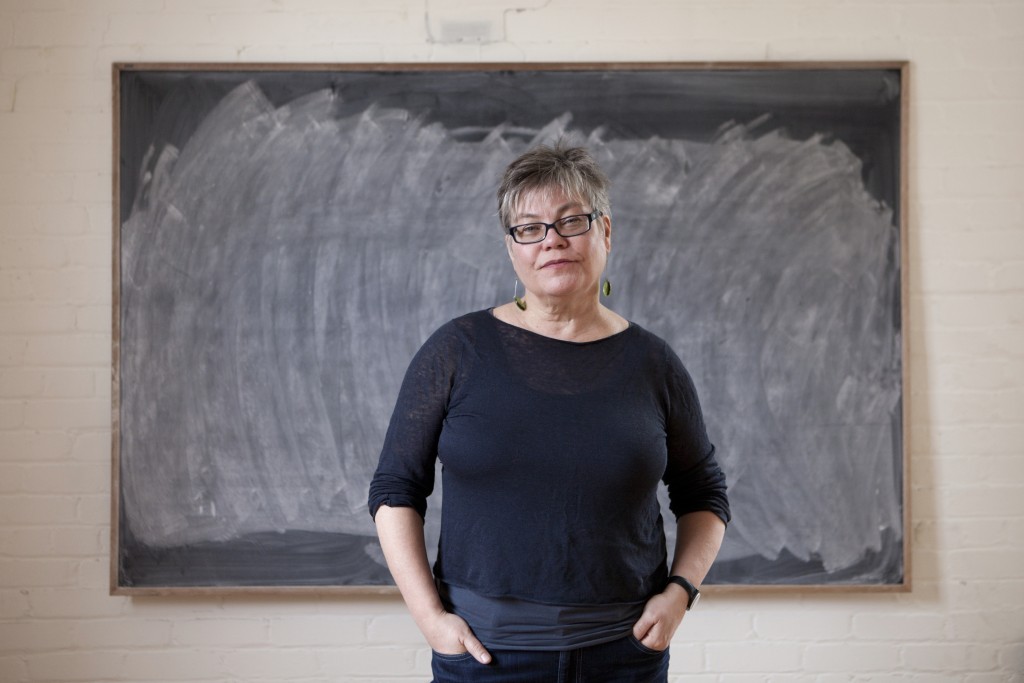 Alanna  Mitchell. Photo: Chloe Ellingson
How can we consider Sea Sick to be theatre, and how does it differ from, say, a presentation by David Suzuki or local film maker Bill Weaver on the state of the oceans?
I suppose it depends on your idea of theatre. Recently I presented the show in Ottawa and was stopped in the street by an audience member who said 'I just came from seeing your play"—so, people experience it as theatre. Sea Sick has emotional resonance and a narrative arc; it's staged with lighting, costumes and a story. It's classical theatre in some ways. I'm not a performer and the play is not fiction, in the same vein as Eve Ensler's The Vagina Monologues, although those performers are mostly professionals.
What do you hope that people take away from your performance? If there were one action they would take—what would it be?
It's not my main goal to have people come away from Sea Sick with an action plan. It's an intensely personal play, pretty individual, and there isn't a single message—that was quite deliberate. We are not trying to proselytize. We are trying to democratize science. What people do with their experience of seeing Sea Sick is up to them. They will take it in different ways. And their responses will be very individual.
Do you think our closeness to the ocean makes us blasé about the state of the ocean—that is to say, we live on the edge of the water, but we are no longer fishermen making a living from the ocean, so, it becomes something "beautiful" in an aesthetic way. We can post pictures on Instagram and revel in the fact that we live here but remain completely disassociated from the impact of our lives on the ocean.
People who live by the ocean (like in Victoria) are drawn to it and connected in ways that are more intimate and intense than people living, for example, on the Prairies—they have more invested in it. But, many of the problems are invisible. If you are a fisher(man) you might be aware, but the most dangerous issues are not being talked about, and they are not part of a big public discourse in Canada like they are in Europe and in parts of Asia.

Sea Sick involves big ideas and explores, for people who are not familiar with the ocean, the differences that are happening to the global oceans. In my life I have been committed to democratizing science, trying to grasp the big ideas and translating them to the public domain.
Why should people come?
They'll enjoy it—it's pretty intense and a fun theatre experience.
Do you get asked all the time about how you became a performer?
I stumbled into it. I had started giving talks after my book—also called Sea Sick—was published. The two directors (Franco Boni and Ravi Jain of The Theatre Company) came to me and said "what about making this a play?" It's long been my dream to be part of the arts but I didn't imagine it would be a play, I thought I might write a novel. It was an intoxicating opportunity. Really, it's telling stories and that's a very ancient form of communication, a pretty old-fashioned way. I also have a sense of responsibility. Sure, it's scary but I decided to conquer the fear. I realized that the quality of the audience's experience would lie in my ability to tell the stories to the best of my ability.

There are talk backs after the show, and I invite people to come and introduce themselves.
Sea Sick has played to audiences across the country, been nominated for awards, and is now touring. Come and find out what all the buzz is about, and come away with a different appreciation for the waters that surround us.
Critics call it: "Shockingly honest". "Passionate". "Unconventional theatre". "A thrilling, yet highly disturbing cautionary tale". "Riveting and mentally stimulating". "Unsettling information aimed at provoking change". "Life-changing".
Sea Sick by Alanna Mitchell
Intrepid Theatre UNO Fest
May 13 8pm * and May 14 7pm at the Metro Studio
Tickets $20 via Ticket Rocket.
All shows marked * are Pay-What-You-Can for tickets at the door. Advance tickets for these shows are regular price.