Celebrated Canadian actor Nicola Cavendish has played Shirley Valentine more than 600 times, but the upcoming shows in Victoria May 15th – 20th may be her last in this role.
After recent triumphant runs in Winnipeg and Calgary, she generously made time out of a full schedule to talk to me about the significance of the role and play (25 years after its creation by Willy Russell) not only for the audience, but to her personally.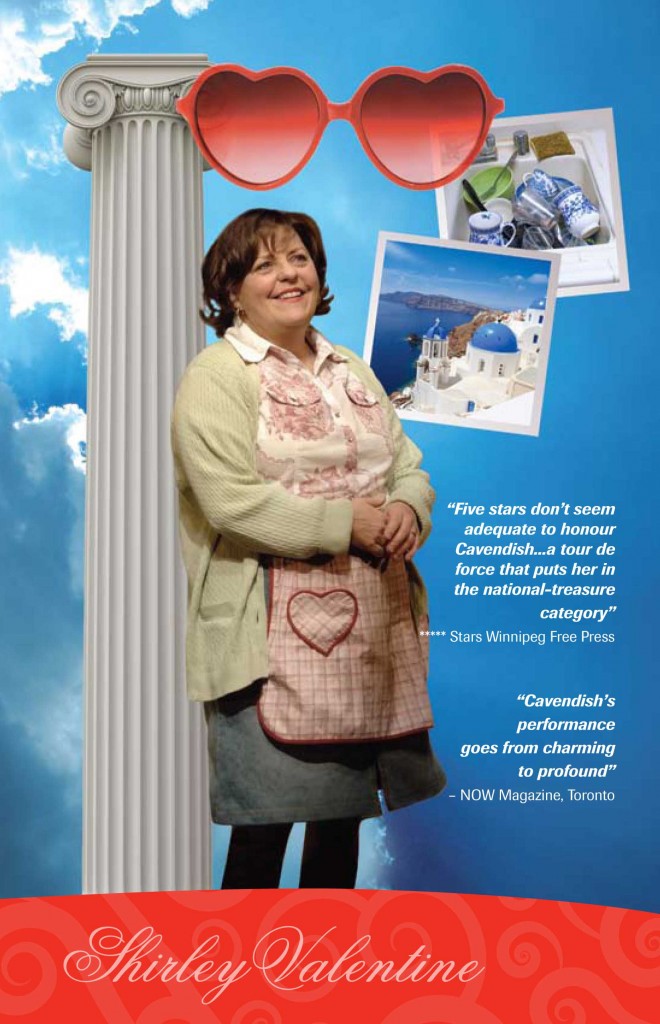 In particular I wanted to know how Shirley is relevant – this middle-class English, stay-at-home housewife of another era – to today's audience.
For Cavendish, Shirley Valentine is universal. The play talks about marriage, and the role of people in marriage. We may not be married, but we know married people.
It crosses all international boundaries, all economic boundaries, because it's a play about marriage, and how you're spending your life within a marriage whether you're a man or a woman.

The power of the play is that it causes every single person who sits in the audience whether they're the daughter or the son of a married couple, or a husband or a wife, to look at their own marriages, be they 6 months old or 6 years old,

It's done artfully, on the personal level.
Even after 22 years of being Shirley Valentine on stage, the role does not grow old to Cavendish. Indeed, she admits that her personal life circumstances in 2011 (her brain haemorrhage and the death of her husband) bring her closer than ever to her character.
Prior to my husband's death last year, she and I were separated, her character – my world. I took on her world but there was a distance between us. Now there is no distance. I'm a single woman now, setting out on my own. Just like Shirley did. She found the courage. I have to, need to, find the courage. She finds the courage to examine her life; what it doesn't hold, what she needs to discover for herself.

That's my story now, therefore my performance of the character called Shirley is infused with Nicola's vulnerability, Nicola's fear, Nicola's hope – above all, her hope. The performance doesn't come sharper than this.

The honesty is intensified.

She's given me so much over the last 22 years; in these last 8 months since my husband died she's given me even more.

I never in a million years thought this play would become my own medicine.
Cavendish has appeared on stages around the world, and performed in some of the greatest works of the theatrical canon, yet she is convinced this works remains unique in its ability to impact people – regardless of age, gender, or marital status.
I love knowing there are so many scenarios in the audience, and that the play lands honestly and squarely in their heart, their intellect.

It's made me so much more a skilled actor.  The audience is my acting partner, they're my listener; they respond with laughter, I can hear the tissues coming out.
Young men still in their teens have come to see her after the show with their reflections or comments, and older married men often stay behind to talk about their marriages.
Willy Russell has written a character that actually extends the benefit of the doubt to the man; there is the belief they can change if they just try harder – it can still happen. It's a play that is so generous to men.
One of the central themes in Shirley Valentine is the question of living your life, being alive.  It's something Cavendish realized during her own physical crises.
Shirley says "Isn't it funny – when you're with someone who likes you, who sort of approves of you – you start to grow again, you move in the right way, you say the right thing at the right time. You're not 19 or 64 or 105, you're just alive."

Suddenly – the whole world changes.  You see what's missing. You know, above all, you must seek it.

We each and every one of us are in a process of reinventing ourselves.

Eleanor Roosevelt said "Make sure every day you live has one thing in it that scares you!"
 Nicola Cavendish last appeared as Shirley Valentine in Victoria at the Belfry Theatre in 1991.  She will have come almost full circle with the current run, having originated the role in 1990 at the now-closed Vancouver Playhouse.  It's clear she has a great love of, and respect for, the character, and that her performance has grown deeper over time.
I can't wait for this incarnation of Shirley Valentine – a powerful play, by an accomplished performer, in a beautiful theatre.  Thank you Blue Bridge Repertory Theatre for arranging these shows for us!
Shirley Valentine by Willy Russell with Nicola Cavendish, directed by Roy Surette
Blue Bridge Repertory Theatre
MacPherson Playhouse
May 15th – 19th, 8pm and May 19-20th, 2pm.
May 15 Preview sold out, but still good availability for all other shows.
Early Bird Ticket Vouchers: preview ($24.50), adult ($49), senior ($43.75).
Price goes up by $6 on April 16. Buy in advance and save!
Blue Bridge Office or by phone 250 385 4462 (M-F, 9:30am – 5:30pm)