Atomic Vaudeville presents Rocky Horror Show: Live and the Hallowe'en Cabaret October 2016 in Victoria BC
Atomic Vaudeville, the creator of the New York bound Ride the Cyclone, brings back popular cult-hit Rocky Horror Show: Live to satiate audiences brimming with both long-time fans and the newly initiated. Rocky Horror Show (playing at the Metro Studio Theatre) runs alongside another Halloween staple, Atomic Vaudeville's Cabaret Series at the Victoria Events Centre. These two shows will once again offer evenings out that will thrill, chill and thoroughly fulfill.
The Rocky Horror Picture Show has been a longstanding tradition at the old Roxy Theatre. Now, the live show is building its own legend as a stand-out experience during the Hallowe'en season. For two years, Rocky Horror has been bringing sold out crowds to their feet to do the Time Warp… AGAIN!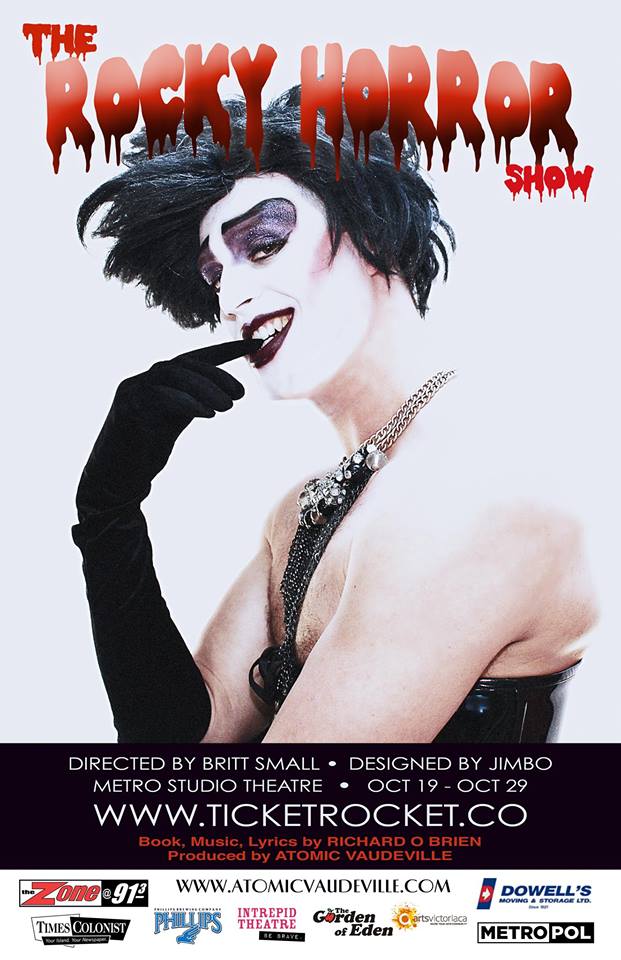 An outstanding gender-bending performance by Griffin Lea (Dr. Frank N' Furter), will tickle new and returning audiences. Returning are RJ Peters (Brad) and Sarah Murphy (Janet) and stepping into their roles for the first time are the tremendously talented Jane Gaudet (Columbia), Gabriel MacDonald (Rocky), Ingrid Moore (Magenta) and Vaughn Naylor (Riff Raff). This timeless cult classic will be directed once again by Britt Small, with arrangement and musical directing by John Han and choreography by Sarah Murphy

Audience participation is encouraged and Rocky Horror themed prop kits are available both with online purchase and at the door. Grab a drink at our locally sourced bar and lose yourself in the pop and rock riffing of our five-piece rock band. Come with us on this strange journey and surrender yourself to toe tapping rock numbers, heart plucking ballads, and titillating pillow talk in Dr. Frank N' Furter's wild and wonderous world of absolute pleasure.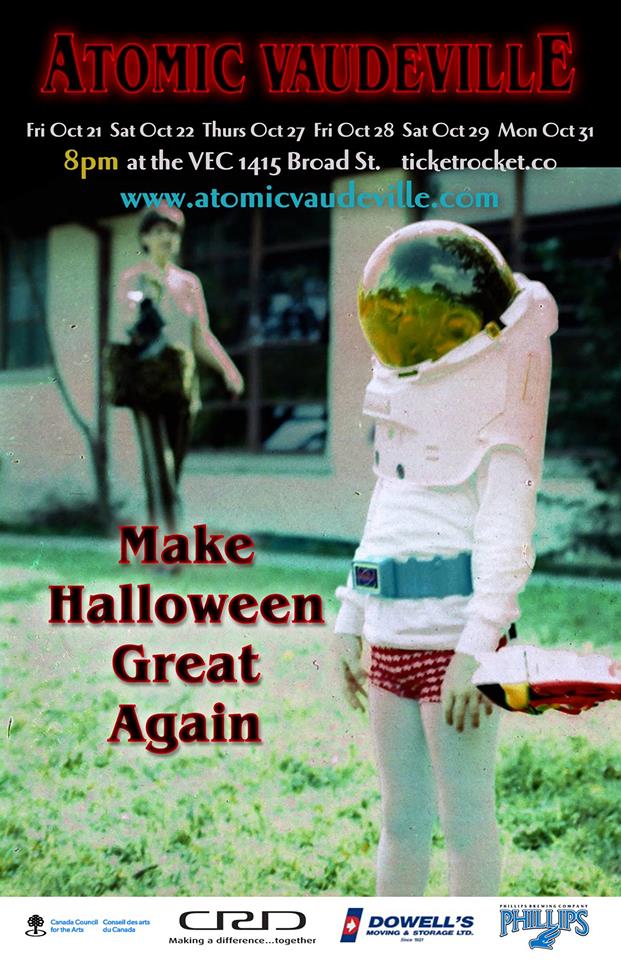 Atomic Vaudeville Presents:
The Rocky Horror Show: Live
The Metro Studio Theatre – 1141 Quadra St.
Oct 19-23 and 26/27 at 8 pm
Oct 28/29 at 7 pm and 10 pm
Atomic Vaudeville Cabaret Series #73
Make Halloween Great Again
Victoria Event Centre – 1415 Broad St.
October 21/22 and 28-31 at 8 pm
Info: www.atomicvaudeville.com