Atomic Vaudeville celebrates 10 years May 8-10 2014. Preview.
I was not an early adopter of Atomic Vaudeville, and only became acquainted with their cabarets shortly after my return to theatre-viewing in the latter part of the 2000s.  It was most definitely unlike more traditional theatre or even shows at the Victoria Fringe Festival.  Since then, I've become a volunteer, and follow closely the careers of many artists who have been, or continue to be involved.  One a personal note, my son Elliott Loran has performed with Atomic Vaudeville not only in cabarets, but also as Ricky Potts in Ride the Cyclone, their Dora award-winning musical.
Atomic Vaudeville's collective impact can be felt far and wide in the Canadian theatre scene with alumni performing at the Stratford Festival, in major theatres across Canada, and on the Fringe circuit (this is not an exhaustive list).  Many have gone on to form their own companies or troupes.  One—Meg Braem—is a Governor General nominated playwright; several have been nominated or won Canadian Comedy Awards.
Here's to the first 10 years! And, to another 10!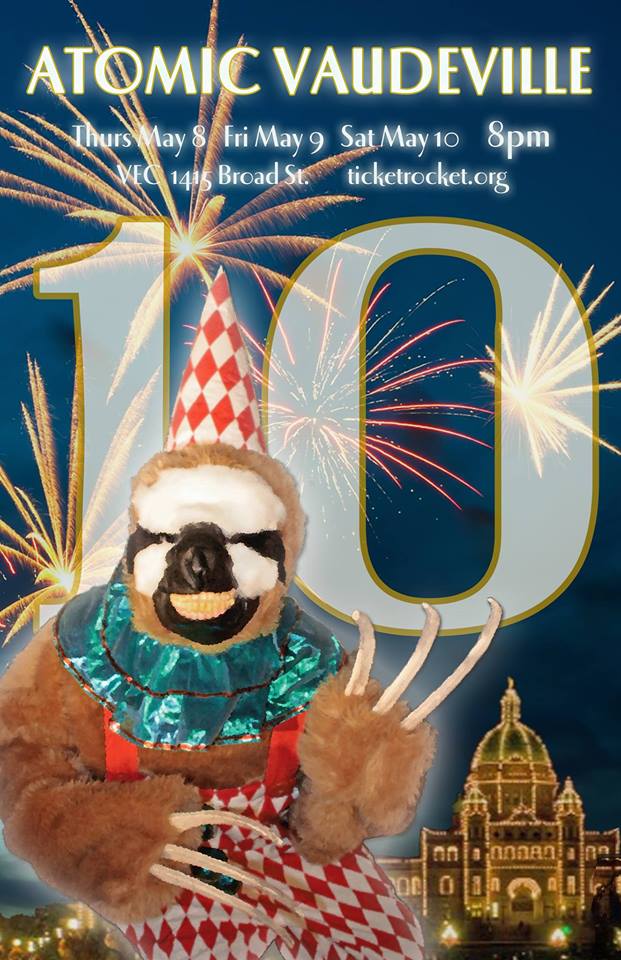 Atomic Vaudeville is a decade old this spring—and, like all precocious 10-year-olds, they're celebrating with skits, jokes, dance numbers and some of their very best (and oldest) friends.

Vaudeville alumni from across the country are coming back to town to hit the stage for a special anniversary cabaret running May 8, 9 and 10 at the Victoria Event Centre. Company veterans Victor Dolhai, Katie-Ellen Humphries, Amitai Marmorstien and Amanda Lisman are just a few of the 30+ cast members who are coming home to put a new twist on classic bits from the popular troupe's repertoire, reviving characters that haven't been seen on stage in years.

Starting as a monthly cabaret in 2004, Atomic Vaudeville has provided a unique performance opportunity for hundreds of actors and has entertained thousands of audience members across North America with song-and-dance numbers, comedic sketches and thought-provoking observations on current events and popular culture.

In the proper spirit of a birthday celebration, Atomic Vaudeville will also be hosting a FREE anniversary party at the Victoria Event Centre on Wednesday, April 30 from 7:30-10:30PM.

Come mingle with the Vaudeville cast and crew, pick up a free commemorative booklet filled with behind-the-scenes anecdotes from the performers and listen to some of Victoria's best musicians in a relaxed atmosphere over drinks.

SHOW INFORMATION

Tickets are $15-$35 (plus applicable fees) and are available through www.ticketrocket.org.

This cabaret runs on May 8, 9 and 10 at the Victoria Event Centre (1415 Broad Street). Doors open at 7:30PM and the show begins promptly at 8PM.