Boys With Cars and Let Me Borrow That Top by Anita Majumdar at the Belfry Theatre SPARK Festival March 10-15, 2015. A review.
Majumdar's Fish Eyes (performed at the Belfry Theatre SPARK Festival in 2012) first introduced us to the interactions of a group of teenagers at a fictional Port Moody high school through the eyes of Meena, a young Indo-Canadian straddling two worlds.  Majumdar's classical kathak dance training comes to the fore in performances that blend dance and theatre, and introduce audiences to the complexities of growing up as an outsider simply wanting to fit in.
Boys With Cars and Let Me Borrow That Top tell the stories of two other girls in the group—Naz, a sulky young woman with a tough exterior and Candice, her nemesis.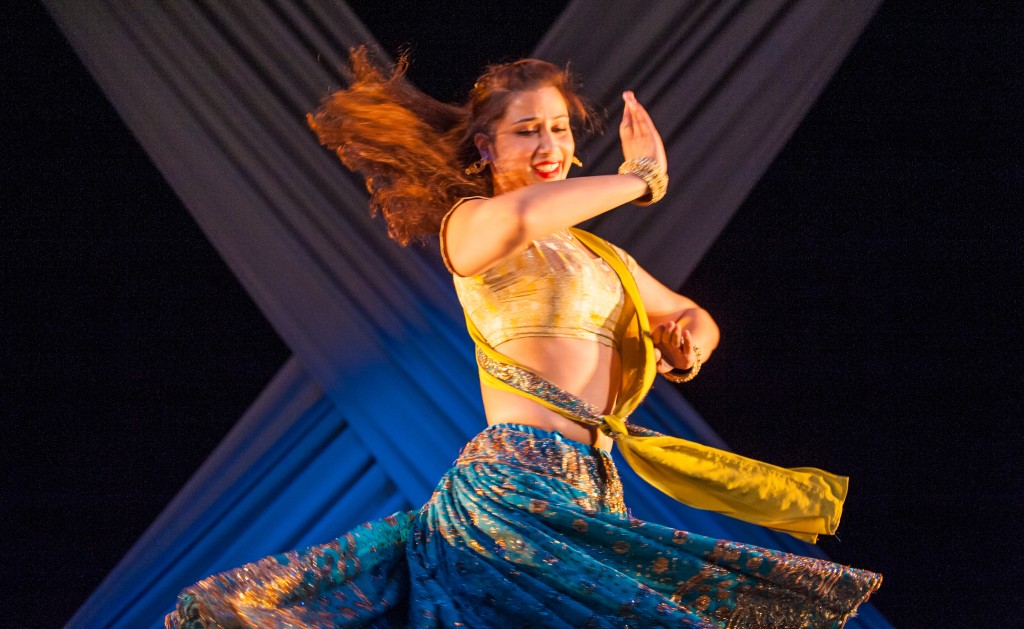 Photo: Andrew Alexander
Majumdar's great skill lies in her ability to wordlessly portray mood via dance. It's evident from the opening sequences of Boys With Cars that Naz is a very conflicted and unhappy young woman—there is the profound sense she is operating out of a place of coercion (perhaps self-inflicted) rather than desire as she waits to perform at a white wedding.
The back story reveals itself slowly—spurned and bullied by classmates and forced to abandon school before graduation, rejected by her boyfriend, left behind rather than moving forward to university, Naz seeks revenge for wrongs perpetrated. This is a dark coming-of-age tale with no real resolution, made more powerful for this very fact.
Many will be able to relate to the particular hell that high school can be—not fitting in and wanting to be loved with teachers who are clueless or abusive and classmates all too eager to single out the socially inept. As audience many will have lived this experience.
What separates and elevates Boys With Cars (as in Fish Eyes) are the startling and harrowing revelations of the older "aunty" characters—in this case Gustakhi, with whom Naz is forced to live when her parents leave town.  I can only think of a thin knife blade slipping in under the ribs as Naz stumbles and recoils in horror.
Fish Eyes introduced theatre-goers to Indian classical music and dance styles. Boys With Cars is a showcase of bhangra (traditionally a male dance) danced to contemporary songs by artists like Chris Brown. Majumdar is by turns Naz, her Irish-Indian boyfriend Lucky Punjabi (who founded the Coventry School of Banghra), Candice and Buddy.
Let Me Borrow That Top is a hilarious send-up of a YouTube obsessed demographic.  Majumdar arrives onstage and begins the transformation into Candice, complete with blue contact lenses and blond wig, her every move transferred to the video screen above.  Expertly dabbing on makeup, Candice converses with her online audience as she shills for her favourite products.
At times the mask of niceness cracks as Candice delivers wicked jabs at her sisters and friends.  Here is the other side of the story—an antagonist who has her own problems: keeping her boyfriend in check, taking care of a younger sister, fighting with an older one, yearning to be a famous dancer.
Life seems to be taking a turn for the better, and Candice is set to depart for the Coventry School of Bhangra, when her situation implodes.
Boys With Cars and Let Me Borrow That Top present characters with faults and foibles. By telling the story from multiple points of view, Majumdar forces us to come to terms with our own preconceived notions and prejudices, and confronts the ideas of bully and victim.  Ultimately, each young woman depends on a flawed young man for validation, and must live with the consequences.  The outcomes are devastating.
In Boys With Cars and Let Me Borrow That Top, dance, theatre and social commentary combine with expert choreography, glittering costumes and a dark underbelly to reveal a different, and necessary, side of the Canadian multi-cultural dialogue.  Majumdar possesses an incisive and distinct voice and style.  I look forward to further episodes in this ongoing story.
Boys With Cars and Let Me Borrow That Top by Anita Majumdar
Belfry Theatre SPARK Festival
March 10-15, 2015 (with a performance of the complete trilogy March 15)
Tickets: $26
Written, choreographed and performed by Anita Majumdar
Director Brian Quirt
Producer Rupall Shah
Set, Costume and Properties Designer Jackie Chau
Lighting Designer & Technical Director Rebecca Picherack
Sound & Projection Designer Christopher Stanton
Stage Manager Sandy Plunkett
Associate Lighting Designer & Technical Director Rebekah Johnson
 
Boys Wiith Cars is 75 minutes. Let Me Borrow That Top is 35 minutes. There is one 15  minute intermission.
For the complete trilogy (March 15) Fish Eyes is 65 minutes and there are two 15 minute intermissions.
More info: fisheyestrilogy.ca
Disclaimer: I was graciously provided with a complimentary ticket to attend Boys With Cars and Let Me Borrow That Top.