Castle in the Sky by Castlereigh Theatre Project April 23-29, 2016. A review.
It's the tenth anniversary year of a horrific triple murder of father, mother and son that rocked the small Alberta city of Medicine Hat—the accused the 12 year-old daughter J.R., and her 23 year-old boyfriend Jeremy Steinke.  In the carefully constructed Castle in the Sky, writers Francesca Albright and Jude Thaddeus Allen, of Castlereigh Theatre Project, bring to light a town under extreme duress and in the national spotlight.  Venturing to The Gas City in the year following the murder, they were granted unprecedented access to family and friends of the victims and the accused, as well as townspeople, politicians and media.  From hundreds of hours of material, the researchers have culled and woven a mesmerizing docu-drama told with great detail, and—above all—compassion and restraint.
When tragedy strikes, it rips a hole in the very fabric of society, and in a small community with its close-knit cliques and groups, the rent appears even wider. Finger-pointing, soul-searching, self-interest, animosity and quiet blame emerge.
Albright and Allen are masterful in reconciling the many plot points, conversations and points of view into a compelling narrative that is absorbing, gripping and frightening in its complete matter-of-fact normalcy.
Director Britt Small and a talented cast, aided by excellent production elements, create an elegiac and moving testimonial–one full of reflection and thought rather than lurid sensationalism, and faithful to the shock and disbelief prevalent in all strata of Medicine Hat's society.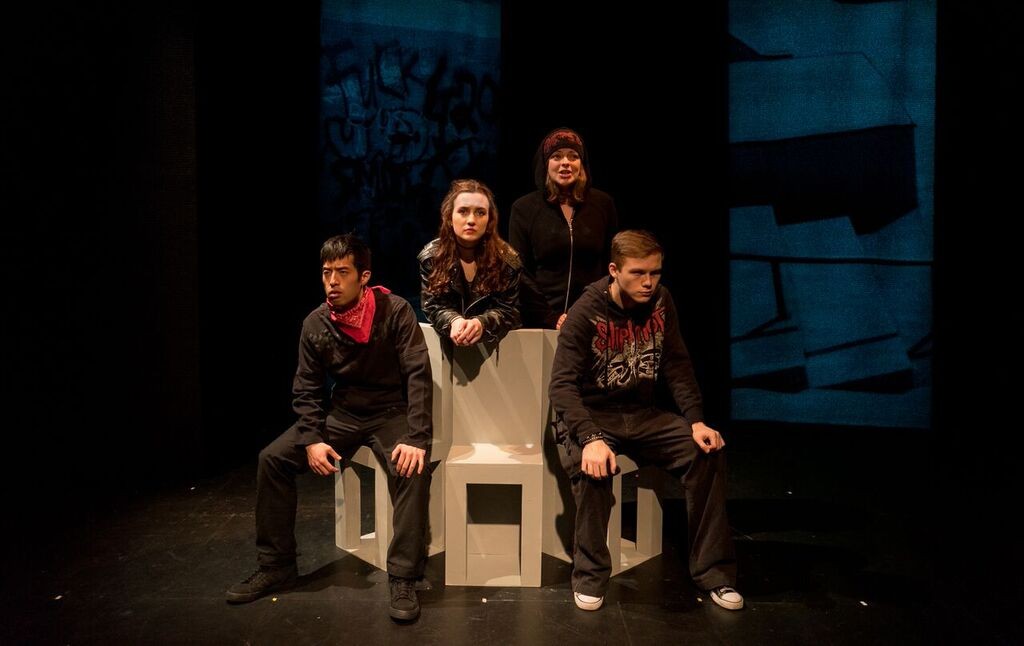 John Han, Ellen Law, Cate Richardson, Vaughn Naylor. Photo: Naomi Devine
Rather than concerning a specific incident and a specific family, Castle in the Sky becomes verbatim meta-theatre and collective tragedy—along-side the protagonists, audiences will ask the same unanswerable questions and feel the same range of emotions—regret, anger, betrayal, bewilderment.
Lit often in silhouette or from above (Ben Burrow), in gritty scenes reflecting the midnight hour prized by the goth subculture, or in full daylight under the glare of national media attention, the actors transition easily through a range of characters (almost 30 in all), each with a distinct posture, voice and motive.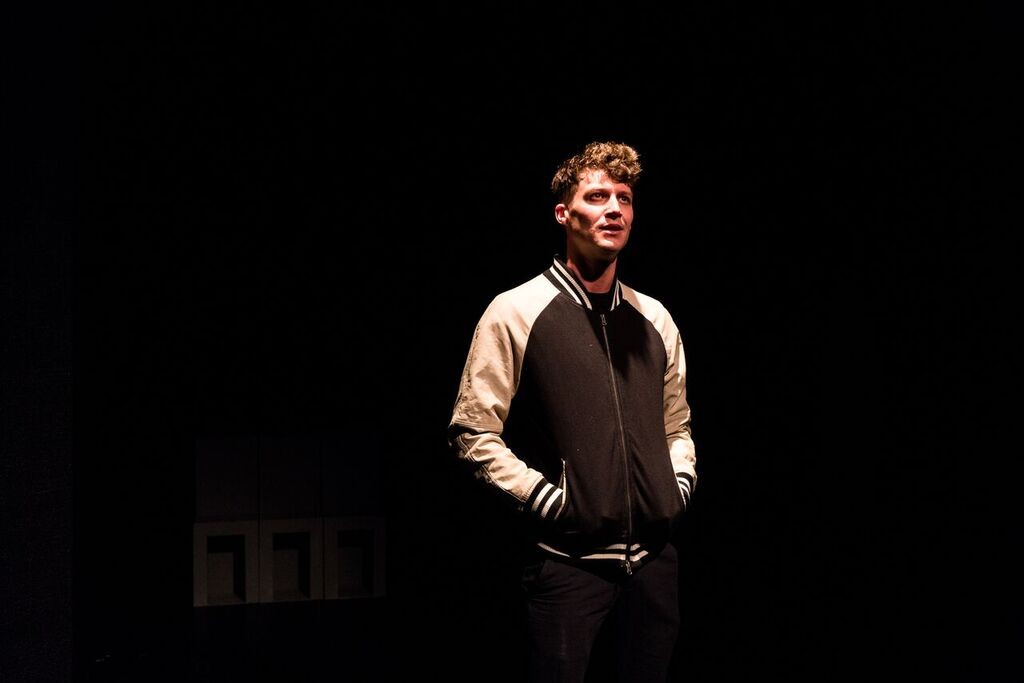 Griffin Lea. Photo: Naomi Devine
Accompanied by archival photographs and captions (projection design Guy Segal) displayed on moveable screens (production design James Insell) they take us deep into the heart of the unspeakable.  What emerges is a portrait of loyal friendship (Sarah Murphy as Jeremy's friend Mary-Ellen Amero is haunting in her fierce defence, while Ellen Law as Cara (JR's best friend) is child-like fragility); anguish (Cate Richardson as Nathalie Pepin, one of the mother Debra's friends, is touching as she describes planting a tree in her memory—its branches free to move in the wind); righteousness (John Han as Jordan Attfield, a friend who provided evidence to the Crown); justification (Vaughn Naylor as Justin Carter defends Jeremy to the end) and vindication (Griffin Lea is brilliantly bitter as Dolly Renard—embedded deep in goth culture, dishing all the dirty, he's convinced he'll be the one to write the tell-all memoir).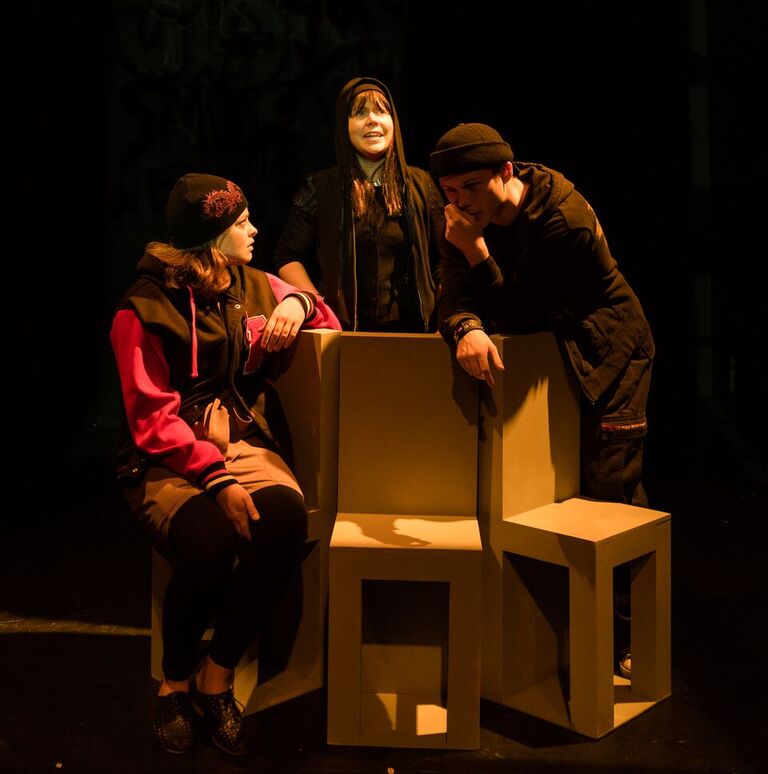 Cate Richardson, Sarah Murphy, Vaughn Naylor. Photo: Naomi Devine
I have been waiting to see Castle in the Sky since I was first introduced to the work of Castlereigh Theatre Project in 2012 (Ocean Fox); Castle in the Sky exceeded all my expectations. Gratitude to everyone involved for bringing these words to life–it's hard work.
Castle in the Sky by Castlereigh Theatre Project
written by Francesca Albright and Jude Thaddeus Allen
directed by Britt Small
April 23-29, 2016 at the Belfry Studio A, 1291 Gladstone Avenue
Tickets $25 and $10 for students available through the Belfry Box Office (250) 385-6815 or online
Production Team
Director Britt Small
Production Design James Insell
Lighting Design Ben Burrow
Stage Manager Jaymee Sidel
Cast
John Han
Ellen Law
Griffin Lea
Sarah Murphy
Vaughn Naylor
Cate Richardson
Disclaimer: I was offered a complimentary ticket to see Castle in the Sky.