Company C presents Cabaret at the Canadian College of Performing Arts. A review.
The 2017 Company C of the Canadian College of Performing Arts (CCPA) caps off two years of training, and a solid 5 months of ensemble work, with the quintessential musical Cabaret. Packed with gravitas and grit, and featuring both bold ensemble numbers and punchy solos, this production whisks the audience away to the heady time between wars, when life in Berlin was filled with possibility and adventure.
Director Ron Jenkins (last seen at CCPA with Gatsby) conveys the tawdriness and lasciviousness of the Kit Kat Club, apparent in spite of its pretensions of class, and builds an undercurrent of the danger found throughout the city in those troubling years.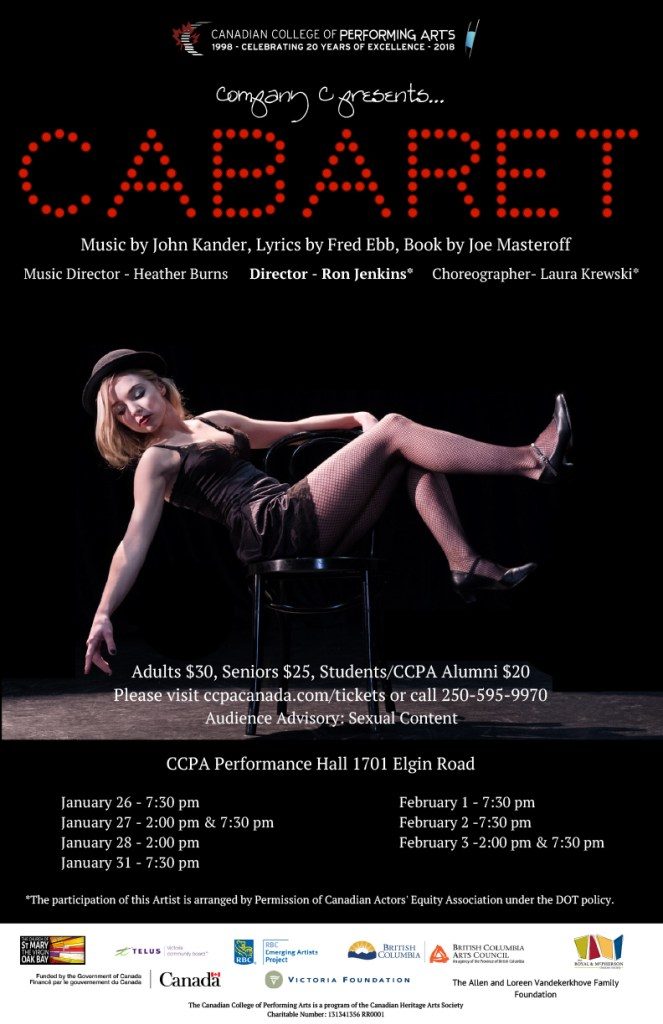 Kristina Roberts baits and teases as the Emcee of the club, backed by the untameable Kit Kat Girls (Nicole Bartosinski, Kendra Bidwell, Danielle Campagne, Megan Littlejohn, Amy Martin, Raissa Soto, Lauren Welchner) and Boys (Darren Ngai, Willie Knauff).  Each brings their unique personality to the stage, and is further differentiated by the costume design of Shannon Carmichael and Megan Littlejohn.
Choreographer Laura Krewski (dance captain Nicole Bartosinski) has capitalized on the fact that this year's Company C ensemble is comprised of many highly trained dancers, employing them in a wide range of styles, from the emphatic opening number Wilkommen, to a cheeky Don't Tell Mama, ferocious chair dance in Mein Herr and the absolutely chilling kick-line cum goosestep in Tomorrow Belongs To Me.
Colin Milne as Cliff, the young American writer, is earnest and sincere, wonderfully wide-eyed and naïve—he definitely gives the impression of how easy it is to be caught off-guard by the sheer novelty of a different city, let alone the ebullient nature of a charmer like Sally Bowles (Keelin O'Hara)—so aptly sung in the idyllic Perfectly Marvellous. O'Hara surmounts an enormous challenge in this role—forever belonging for most audiences to Liza Minelli in the film version; it's one she side-steps handily by presenting a slim, endearing, cultivated wisp of a young girl, headstrong and fancy free, playing at the dilettante life. Her carefully controlled rage in Mein Herr is powerful. Her accent (Dr Iris MacGregor-Bannerman) owes more to Mayfair than Cockney, making her presence in Berlin and her ultimate downfall all the more tragic.
As the older lovers Herr Schultz and Fraulein Schneider, Vinnie Keats and Jasmine Toombs rely on body language and vocal intonations to portray characters many decades older than they are—there is an honest sweetness and admiration to the attraction developing between the two that has no need for extraneous makeup. Their duo It Couldn't Please Me More is filled with mutual tenderness. When their relationship falters due to a rising tide of hatred, Toombs' solo on Imagine You Were Me is tinged with matter-of-fact resolve and pain, while Keats manages despite it all to hold on to his optimism to the very end. Knowing the consequences of decisions like these is devastating.
The set design (RJ Peters, Willie Knauff and Morgan Thornley) employs a wall with three doors, and a second story above from which the band plays (musical director Heather Burns with Jon Eng, Joey Smith, Jacqui Sullivan, Dave Flello, Scott MacInnes). Projections by Jarrod Crockett add an often grainy layer of old archival photos and videos to enrich the scene while lighting (Peters with Nicole Bartosinski and Darian Ngai) provides smoky moodiness. Paul Tedeschini's sound design (assistants Raissa Souto and Vinny Keats) is front and centre for an innovative treatment of Tomorrow Belongs to Me using a scratchy phonographic recording; featuring ensemble members in gas masks, the effect is frightening.
Throughout, the band, comprised of stalwarts of Victoria's musical community, imbues the music with flourishes and nuance—as particularly noted in Maybe This Time, and It Couldn't Please Me More. There's a big orchestral feeling to Married complete with accordion by Kendra Bidwell and a sophisticated cameo by Amy Martin as chanteuse.
Humour finds its way onstage in the character of Fraulein Kost (Morgan Thorley) and her revolving door of beaux, in a gender bent Two Ladies and the riotous Money.  The seamy side of life shows up in the intolerance of If You Could See Her and the violence of I Don't Care Much as Cliff is pummelled mercilessly by Max and his thugs (fight choreography Darian Ng).
Rising above sheer razzmatazz, Company C's version of Cabaret digs deep to present a morally ambiguous and conflicted tale with uncomfortable resonance for a modern audience.  Congratulations on a strong finish!
Cabaret by Company C
Music by John Kander. Lyrics by Fred Ebb. Book by Joe Masteroff
Canadian College of Performing Arts Performance Hall, 1701 Elgin
January 26-February 3, 2018
Tickets: $20-30 ccpacanada.com/tickets
Cast
Keelin O'Hara – Sally Bowles – Marketing/Front Of House
Kristina Roberts –  Emcee – Props
Colin Milne – Cliff Bradshaw – Props
Jasmine Toombs – Fraulein Schneider – Business Manager
Vinny Keats – Herr Schultz/Max- Sound Design
Willie Knauff – Ernst Ludwig – Set Design
Morgan Thorley – Fraulein Kost – Set Design
Darian Ngai – Bobby/Ensemble – Lighting
Amy Martin – Chanteuse/Helga – Marketing/Front Of House
Nicole Bartosinski – Texas/Gorilla – Assistant Choreographer & Lighting
Kendra Bidwell – Frenchie – Assistant Musical Director
Danielle Campagnaro – Gerta – Assistant Stage Manager
Megan Littlejohn – Lulu – Costume Design
Raíssa Souto – Rosie – Assistant Stage Manager & Costume Design
Lauren Welchner – Fritzie – Marketing/Front Of House
Veronica Harland – Stage Manager
Disclaimer: I received a complimentary ticket to attend the opening of Cabaret.