Ruddigore by Company C, the Canadian College of Performing Arts, January 27-February 4, 2017. A review.
Ruddigore has it all—a sweet young thing abandoned at birth (Rose Maybud–Charlotte Thompson) , her swain—noble and true (Robin Oakwood—Forrest Elliot), an ancient curse, a traitorous foster brother (Richard (Dick) Dauntless—Derry Oshust), a maiden aunt (Dame Hannah-Victoria Stolting), a dastardly baronet (Despard Murgatrody-Devin Arams), a madwoman (Mad Margaret—Julie Mombourquette), faithful retainers (Old Adam—Chase Sander, Igor—Will Carr)  and unrequited love and secrets aplenty. Fear not, under the precise and saucy direction of Glynis Leyshon all will be well in the end.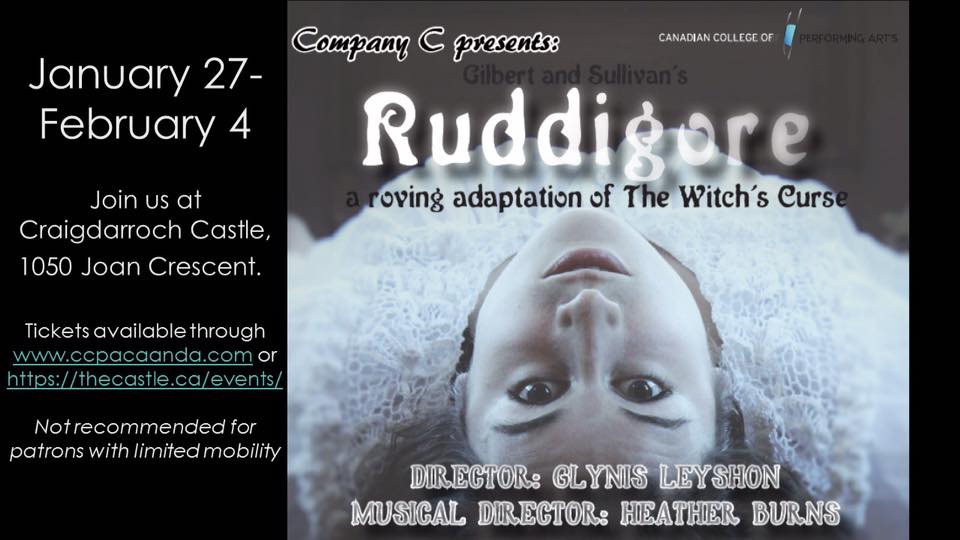 The students of the 2016-2017 Company C Studio Ensemble, in their last production at the Canadian College of Performing Arts, throw themselves with bravado and panache into this seldom-performed Gilbert and Sullivan parody of the Victorian melodrama. Playing to type they posture and pose, leer and cavort, titter and tease as they fill the rooms of stately Craigdarroch Castle with song and dance.
The two choruses of the original are astutely cut to one–the chittering, chattering bridesmaids (Amber Landry, Ainsley Harrington, Kira Renee, Miranda Sheepwash, Hannah Ockenden, Madeleine Humeny).
Music director Heather Burns (keyboard) accompanied by Shima Takeda (violin), Chris Newstead (pipes and whistles) and Dwayne Gordon (bodhran) gallantly take up the challenge of moving from place to place within the castle—appearing first on the landing, then in a second floor room, to finish finally in an alcove of the fourth floor ballroom.  Chase Sander also performs on guitar.  The result is a very naturalistic sound that allows the lyrics to be easily understood, and places the operetta firmly in the re-imagined setting of the Scottish Highlands.
Leyshon reveals her intentions early as lights flicker and the heavy inimitable opening tones of Beethoven's Fifth–"Da, da, da, da"–sound (repeatedly) when the words "bad baronet of Ruddigore" are pronounced. Puppets figure in unexpected places—as the witch of the title, and a bevy of baronets re-imagined as finger puppets in Act II.
The audience promenades through the sumptuous drawing room for Rose and Robin's yearning duet "I know a youth" then, following Richard's arrival "From the briny sea" race to a second floor room where his treachery is revealed, and the bad baronet is introduced. Playing to type Devin Arams is only missing the twirl of a moustache while Derry Oshust is suitably sly, Thompson wide-eyed and priggish, and Elliot full of "gosh-shucks" charm.  Julie Momborquette is positively demented and her scene, "cheerily carols the lark", viewed by the audience from multiple levels of the staircase, unnerving.
Choreography (Hannah Ockenden assisted by mentor Jessica Hickman) is constrained and carefully executed—with highlights being Oshust's hornpipe and Mombourquette and Arams' slow hiphop-like dance for "I once was a very abandoned person".  Stolting, abducted to fulfill the requirement for the baronet to perform a daily crime, pluckily defends herself armed with multiple small knives (fight choreography Jacques Lemay).
Shannon Carmichael's costume design features tartan accents, beautiful Victorian gowns and elegant jackets and breeches.  Inspired by the surroundings of the castle, one of the props blurs the line between real and imaginary with projections inside a gilded frame.
Throughout Leyshon plays with local references to the great amusement of the audience.
Serious attention to craft is evident—the accents (dialect coach Dr. Iris MacGregor Bannerman) are splendid, lyrics crisp and clear, characters fully realized.  Underpinned by commitment and hard work, fun and frivolity reign in this spirited adaptation.
Ruddigore, by Gilbert and Sullivan, directed by Glynis Leyson with musical direction by Heather Burns
Company C Studio Ensemble, Canadian College of Performing Arts
January 27-February 4, 2017 at 6:30pm and 8:30pm
Craigdarroch Castle
Tickets: https://thecastle.ca/events/
$28 general
$24 for Castle Members ***Please call 250-592-5323 to book if you are a Castle Member***
$20 for students ***Please note student ID will be required at door when picking up tickets***
Please note:  This performance involves moving throughout the Castle, including staircases to the fourth floor (85 steps).  There is no elevator. The venue is not wheelchair accessible.
Cast (alphabetical)
Devin Arams Despard Murgatroyd
Will Carr Igor/Ghosts
Jesse Deutscher Tour Guide/ASM
Forrest Elliot Robin Oakapple
Ainsley Harrington Ruth
Madeleine Humeny Bridesmaid
Amber Landry Zorah
Julie Mombourquette Mad Margaret
Derry Oshust Richard Dauntless
Kira Renee Bridesmaid
Chase Sander Old Adam Goodheart
Miranda Sheepwash Bridesmaid
Victoria Stolting Dame Hannah
Charlotte Thompson Rose Maybud
Creative Team 
Director Glynis Leyshon
Music Director Heather Burns
Choreographer/Assistant Director Hannah Ockenden
Costume Designer Shannon Carmichael
Stage Manager Frankie Mulder
Assistant Music Director Chase Sander
Voice/Dialect Coach Dr. Iris Macgregor Bannerman
Disclaimer: I received a complimentary ticket to attend Ruddigore.