Fear No Opera and Braden Young present Strauss: First and Last April 28 2018 in Victoria BC (media release)
After the success of Fear No Opera's first art song concert (An Interior Life: The Complete Songs of Henri DuParc), we combine forces once again with Braden Young to present an evening of works by Richard Strauss.
Richard Strauss (1864-1949) composed songs and operas over the better part of an 85-year lifetime.  His first known work is the Weihnachtslied (Christmas Song), written when he was just six years old.  His last song was not in fact September from his popular Vier Letzte Lieder (Four Last Songs), but Malven (Mallow), composed in 1948 for soprano Maria Jeritza.
Strauss: First and Last will present both Weihnachtslied and Malven as bookends to a musical tour through some of his best-known songs such as Morgen!, Allerseelen, Zueignung, plus a surprise or two!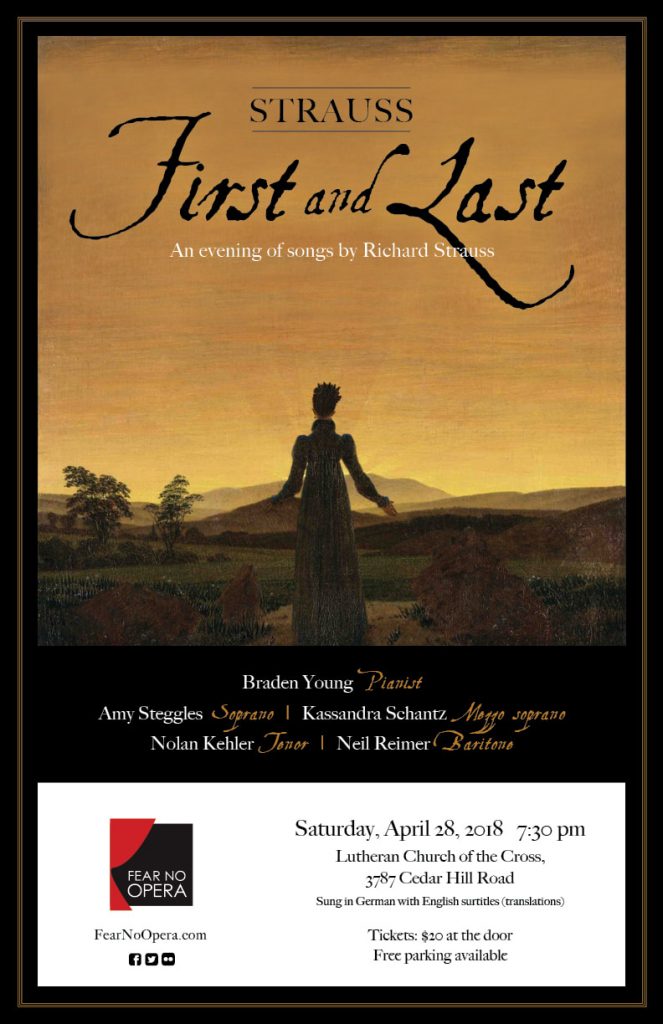 "Strauss' lush harmonies and poignant melodies give life to the poetry in colours that German lieder hadn't previously seen.  He embodies the Post-Romantic era." says Amy Steggles, Soprano and Fear No Opera Founder.
Founded in 2012 by Neil Reimer and Amy Steggles, FNO began as an opera company for emerging artists.  We believe that opera is for everyone.  It's an exciting and passionate art form that uses beautiful music to tell meaningful human stories.  We offer opera that's up-close and accessible, brought to life by talented and vibrant performers.  Our goal is to develop a love of opera in new audiences and a deeper love in those who are already fans.
In Fall of 2017, FNO expanded our mandate to bring not just the power of opera, but also the serenity of art song, to Victoria audiences.
Fear No Opera's artists have all completed music degrees and have extensive experience.  The purpose of an emerging artists' company is to provide professional-level performance opportunities as a bridge from formal studies to the professional world of singing.
Saturday, April 28, 2018 at 7:30 p.m. Doors at 7:00
Lutheran Church of the Cross, 3787 Cedar Hill Rd. Victoria
Sung in German with English surtitles (translations)
Free parking available in lot next to church
Tickets: $20 available at the door
Musicians:
Braden Young, pianist
Amy Steggles, soprano
Kassandra Schantz, mezzo soprano
Nolan Kehler, tenor
Neil Reimer, baritone
Learn More:
For more info: www.FearNoOpera.com
For photos: http://www.flickr.com/photos/fearnoopera
Facebook: https://www.facebook.com/groups/174593516011364/
Twitter: @FearNoOpera