Flotsam and Jetsam: Life on the West Coast by the Other Guys Theatre Company. A review.
Reviving a formula honed in their last revue, Good Timber, and with a number of the same collaborators (Colleeen Eccleston, Kelt Eccleston and Mark Hellman), joined by newcomer Rachel Capon (most notably on bass), Ross Desprez and Tobin Stokes of The Other Guys Theatre Company bring to life, in spirited and succinct fashion, what it means to live on Canada's West Coast.
I'm an islander born and bred, and have always been within sniffing distance of the ocean.  Flotsam and Jetsam stirs powerful memories and emotions of the coast, both "old" (Cougar Annie, Fred Tibbs, canneries and coal mines) and "new" (the War in the Woods, the condo boom).
In story, song and image (John Carswell), Flotsam and Jetsam travels from metro Vancouver (Concrete Condo), up the coast to Bella Bella (Heiltsuk Sal), the ghost town of Swanson Bay and on to Haida Gwaii (Village of Skedans) while making forays to Hesquiat (Cougar Annie), Tofino (Tofino's Only Bugle Boy), Nanaimo and Victoria.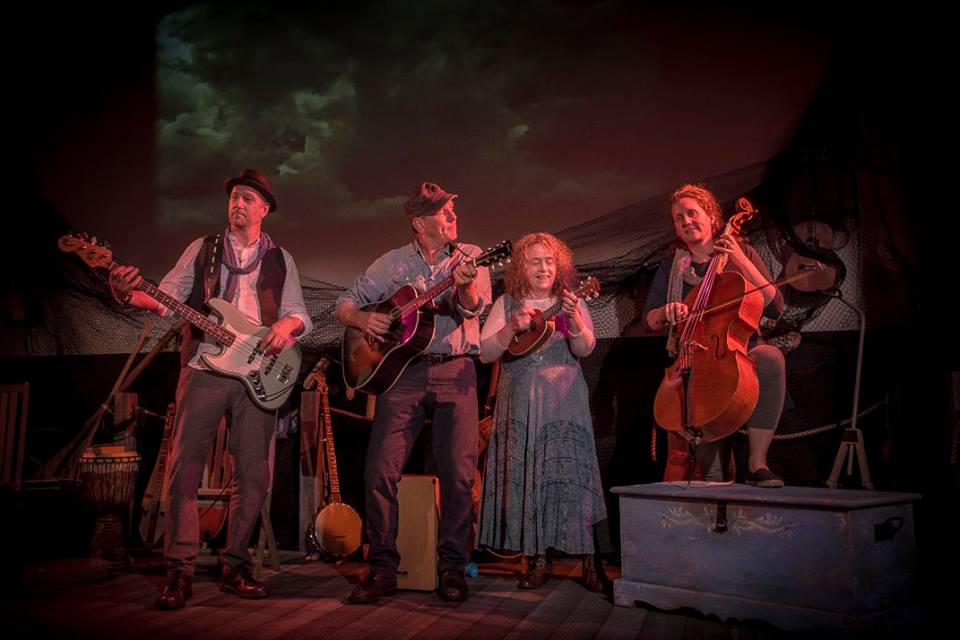 Kelt Eccleston, Mark Hellman, Colleen Eccleston, Rachel Capon. Photo: Peter Pokorny
Exploring shared experiences, Desprez and Stokes recount what it means to live here (On the BC Coast), where the pace is slower (Island Style—a Hawaii-inspired tune with ukulele) and people are always at the mercy of the next ship (Ferries of BC).  Resource extraction (lumber, coal, fish) plays an integral part in any definition of the coast as told in Herring Song and Clayoquot Sound. Major historic moments are covered in Ripple Rock and The Wreck of the Valencia (an eerie tone poem recital by Mark Hellman and Colleen Eccleston backed with keening improvisations on bass by Rachel Capon and the rain sound effects of Kelt Eccleston).
Shameful moments in our collective history are related in Boat People–which touches upon the Komagata Maru incident (recent focus of an apology by Prime Minister Justin Trudeau)—Foreign Workers Lament and D'Arcy Island (site of Victoria's leper colony).
Ultimately water defines the coast (Blue Green Water) and when the winds howl out of the south-east, the only thing to do is Hunker Down.
Musical styles vary considerably, from soft refrains to rousing sea shanties, bluesy numbers to old English folk songs, and rework numbers from artists like Jacques Brel–Village of Skedans borrows the frenetic energy of  In the Port of Amsterdam to create a dirge to  lost First Nations culture that induces shivers–, the Andrews Sisters–the melody of Boogie Woogie Boy of Company B runs through the retelling of Fred Gibb's life in Tofino's Only Bugle Boy–, Stan Rogers (Clayoquot Sound where 853 where hauled away for civil disobedience) and Stomping Tom Connors (Heiltsuk Sal).
The company's talented musicians utilize more unusual instruments like saws (Kelt Eccleston produces theremin-like tones for Herring Song), bells (Colleen Eccleston sounds haunting notes in Swanson Bay), aboriginal  hand drum (backing the wail of Village of Skedans) and glockenspiel (Blue Green Water) in addition to an array of mandolin, guitars, auto-harp and banjo.  Their harmonies ring true on the acapella On the BC Coast and remind us of the particular nature of coastal inhabitants—where "rubber boots and Gortex suits" are de rigueur fashion.
Costumes by Laurin Kelsey re-affirm the relaxed esthetic of the coast and Peter Pokorny's set design features nets, crates, floats and tools common on ships and in the woods. Lighting by Rebekah Johnson reflects the often muted tones common to fog-shrouded shores and sun-dappled woods.
John Carswell scoured every available resource to craft the film-like and heart-swelling visuals that complete the production.
Flotsam and Jetsam is a achingly beautiful ode that will leave audiences with a renewed and profound appreciation of the west coast.
The Other Guys Theatre Company proudly presents:
Flotsam and Jetsam: Life on the West Coast created by Ross Desprez and Tobin Stokes
May 19-29, 2016 at the Vic Theatre (corner of Humboldt and Douglas)
Tickets: Advance: $20 • Students/Seniors: $15 • At the door: $25
Featuring:
Rachel Capon
Colleen Eccleston
Kelt Eccleston
Mark Hellman

Director Ross Desprez
Musical Director Tobin Stokes
Visual Design John Carswell
Set Design Peter Pokorny
Lighting Design Rebekah Johnson
Costume Design Laurin Kelsey
Stage Manage Jennifer Austin
Technical Director Robin Boxwell
Audio Technician Roger Kemble
Media Ovation PR
Disclaimer: I was provided with a complimentary ticket to attend Flotsam and Jetsam: Life on the West Coast