True West, by Sam Shepard, currently playing at Blue Bridge Repertory's Roxy Theatre until December 1st, is a searing tension-filled drama of sibling rivalry that crackles and sparks with male energy and disdain.
Shepard was only 37, and already a Pulitzer Prize winner for Buried Child, when he penned True West, considered to be the final play in his Family Trilogy (Curse of the Starving Class 1976, Buried Child 1979).
The structure is straight forward – a play about two estranged brothers with very different lives; Austin (Jacob Richmond) a successful, Ivy League-educated, buttoned-down screenwriter and Lee (Paul Fauteux) a rambunctious and charismatic drifter and thief.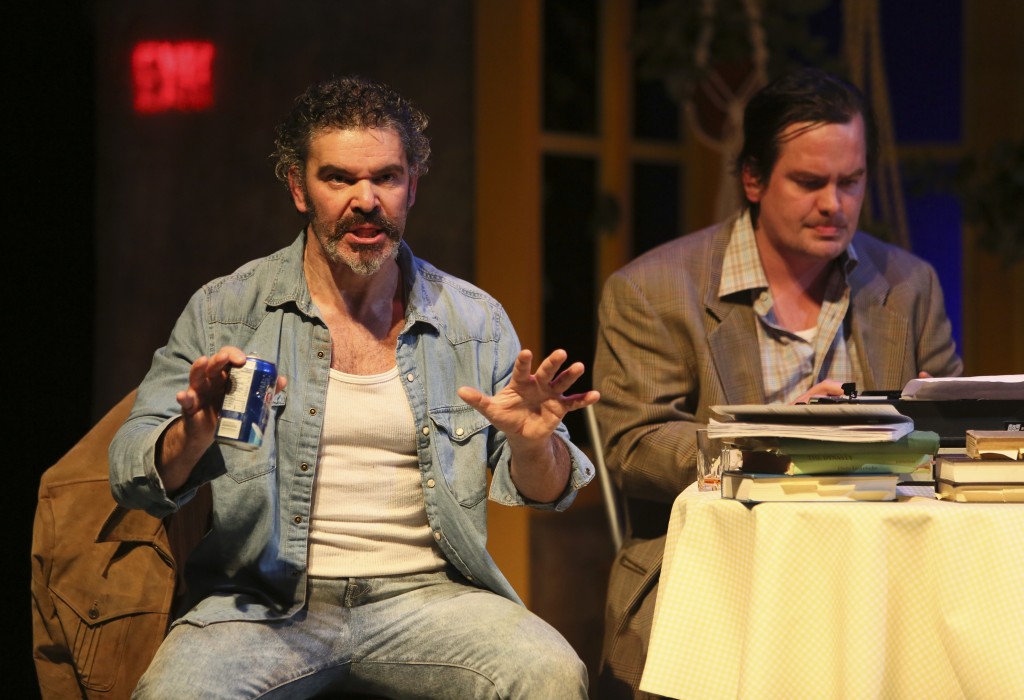 Paul Fauteux (Lee) and Jacob Richmond (Austin). Photo: Tim Matheson
Their paths cross when Lee arrives unexpectedly at their mother's as Austin is house-sitting.
"I wanted to write a play about double nature, one that wouldn't be symbolic or metaphorical or any of that stuff. I just wanted to give a taste of what it feels like to be two-sided. It's a real thing, double nature. I think we're split in a much more devastating way than psychology can ever reveal. It's not so cute. Not some little thing we can get over. It's something we've got to live with."

Sam Shepard quoted on his website
Shepard's genius lies in his ability to take this basic story and up-end it.
Director Britt Small (aided by fight choreographer Trevor Hinton) dances an equally paired Richmond and Fauteux with almost ballet-like precision around the stage, as if they were cocks about to engage in battle, or matador and bull in the ring. Scene changes and seminal moments are indicated with stylistic slow motion.
Over the past five seasons artistic director Brian Richmond has been building a talented pool of designers and creatives from which to draw; the company has been rewarded with multiple awards over its relatively young history.
Audiences will be happy to see the results once again as Patrick Du Wors (set and costumes) pairs with Rebekah Johnson (lighting).  In the smaller space of the Roxy, (renovated to include a lighting grid) they capture the feel of a middle-class mid-West American home on the edge of the desert – awash with light, bathed in heat, rigid in its conventionalism.
Composer/musician Kiaran McMillan hides in plain sight, through the semi-sheer backdrop, his mournful tunes setting the tone for the madness that is sure to come. His age belies the depth of suffering apparent in the music.
The actors walk a tight rope, for there is a farcical side to this seeming straight forward family drama.  Comedy abounds in the brothers' interactions, and Hollywood producer Saul Kimmel (Brian Linds) and Mom (Naomi Simpson) provide similar light touches with Simpson in particular tipping the piece to the side of farce.
It takes skill to play drunk, the slow disinhibition as all good sense and previous moral grounding disappears; Jacob Richmond has perfected it in all its shades as his character begins to trade places with his brother.  This is not the careful dignified tipsiness of Uncle Vanya, but rather an all-out "sloshed until I almost die".  In the madness, Lee struggles (and we laugh at the turned tables) to regain control of the situation.
In the end, there is no real answer – the brothers are still locked in standstill with ages-old conflict.  We're left to reflect on our own families of origin, and the emotions that often lie, just below the surface, waiting for an unexpected reunion to spring, once again, to the forefront.
True West is the first production at Blue Bridge Repertory Theatre's renovated Roxy Theatre in QuadraVillage.  For the previous five seasons shows have been staged, mainly in the summer, in the much larger McPherson Theatre. In February 2013 the society, with generous assistance from lead donors Shauna Baird and Michael Salomon, purchased the Roxy and began a 30 month capital campaign.
The Roxy has a liquor license and the venue is slightly sloped with great sight lines and ample leg room; at 239 seats it is warm and intimate.
As a resident of the neighbourhood, and a long-time supporter of Blue Bridge Repertory Theatre, I couldn't be more thrilled to have them here. This production of True West proves that high artistic standards and excellence transcend budget. Thanks Blue Bridge for bringing another performing arts venue to life.
True West by Sam Shepard
November 19 – December 1, 2013
Blue Bridge at the Roxy, 2657 Quadra St, Victoria, BC
Phone:(250) 382-3370
Tickets $20 – $40 through TicketRocket.
Cast and Creative Team
Austin   Jacob Richmond
Lee  Paul Fauteux
Saul Kimmel Brian Linds
Mom Naomi Simpson
Director Britt Small
Set and Costume Designer Patrick Du Wors
Lighting Designer Rebekah Johnson
Compeoser/Musician Kiaran McMillan
Stage Manager Sandy Halliday
Assistant Stage Manager Chad Laidlaw
Dialect Coach Iris MacGregor Bannerman
Fight Director Trevor Hinton

Disclaimer: I was provided complimentary tickets to attend the opening of True West for the purpose of providing a review. As always, I retain complete editorial control over all the content published on my website.