Greater Victoria Shakespeare Festival 2014. The Taming of the Shrew a review.
And now for something completely different—a romantic comedy—The Taming of the Shrew.
Having viewed both shows, it becomes evident how the repertory model is reaping benefits—for the actors as they stretch their creative muscles, and for the festival in the quality of the work produced.
Deft of speech and swift of feet
These players most assurèd be.
The troupe of players in The Taming of the Shrew comes to us from the 18th century, and enters pulling a large wagon.  They're here to entertain Christopher Sly (Alex Judd)—who has just awoken from a drunken stupor and is fooled into believing he is a lord—and his "pretend" wife (Candace Woodland).  The entertainment constitutes the bulk of The Taming of the Shrew—we will only see Sly again at the very end.
Setting aside all modern and feminist considerations—The Taming of the Shrew is a witty, highly entertaining battle between two head-strong individuals—Petruchio (Cam Culham) and Katarina (Adrienne Smook), with a sub-plot of switched identities as nobles become servants, servants become nobles and everyone aspires to win the woman of their dreams.
The men—young and old—pine for fair Bianca (Ursina Luther) but her father Baptista (Justin Guthrie) will not give her in marriage before peevish Katarina is wed.  To get close to the object of their affection Hortensio (Julian Cervello) and Lucentio (Adam Holroyd) pretend to be tutors, and Lucentio's servant (Candace Woodland) takes on his identity.  An older suitor Gremio (Susie Mullen) must bide his time.
The suitors' hopes are fanned when a young gentleman of Verona, Petruchio, insists that is able to tame the head-strong Kate.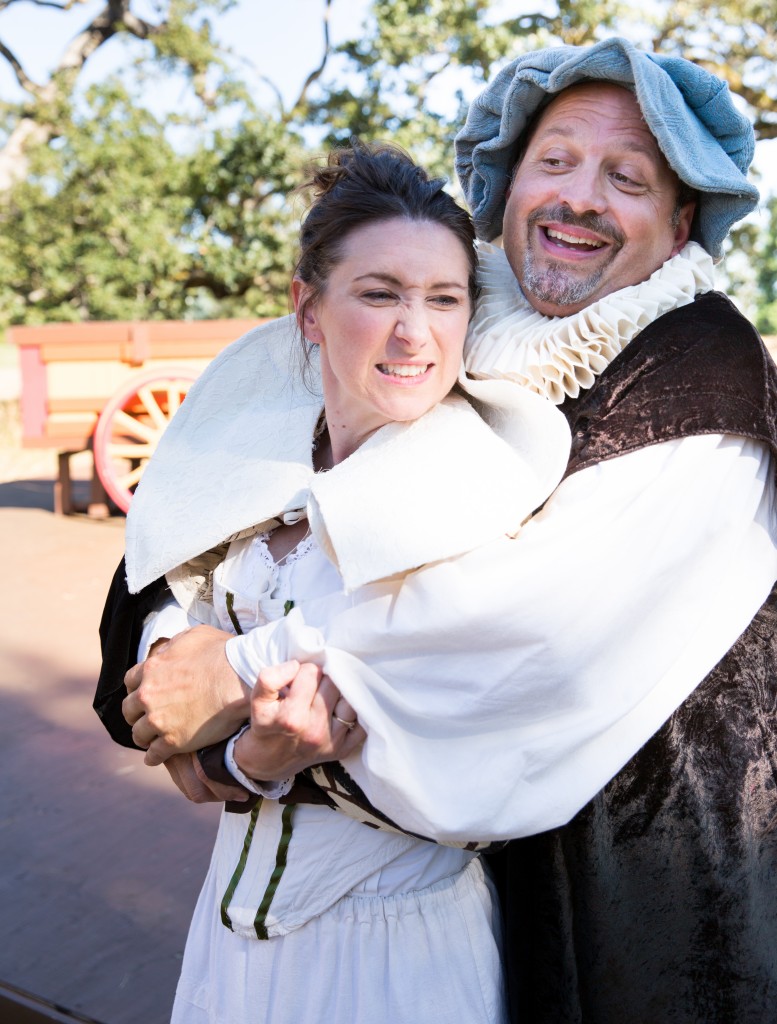 Adrienne Smook (Katarina) and Cam Culham (Petruchio). Photo: David Bukach
What follows is tom-foolery and one-upmanship of the highest order. From their initial meeting, the sparks fly between Petruchio and Katarina.  Culham and Smook engage in a fiery battle of wits and wills that appears evenly matched. There's an apparent sense of pleasure at finding an equal for one's verbal prowess as the two throw down quips, and turn one another's words.  Jevne has highlighted the vulgar insults they sling in a delicate fashion that had adults smiling yet left the many children in attendance oblivious.
Meanwhile, Bianca's suitors try to outdo themselves in an effort to win her favour.  The gentle comedy serves as a fine counterpoint to the more uproarious fight.
Costumes (Kat Jeffery) are elaborate, with a base palette of cream, white and earth tones, upon which are fit pantaloons, skirts, elaborate ruffs, doublets, collars and ribbons. The nobles wear rich velvets and hats with feathers.
The wagon (designed by Clayton Jevne) serves variously as a table or bar, a doorway (when upended) and other furniture.
Verbal jousting provides light, lively and amusing entertainment for the full length of this ambitious production.  It's quite an accomplishment to maintain the attention of younger patrons (many under 12) while satisfying the tastes of veteran Shakespeare lovers.  The ensemble is tight and strong with excellent pacing thanks to the direction of Clayton Jevne and the assistance of actor mentors Julian Cervello and Adrienne Smook. They have mastered the requirements of a three-sided stage and play easily to the audience, no matter where you sit—a feat of judicious blocking that definitely demands more movement and choreography onstage.
The "fight" scenes between Petruchio and Katarina are extremely realistic—there is none of the ridiculous or cartoonish that is often added here—these two mean business and while Petruchio is clearly the stronger, Katarina is determined to throw herself (literally) into the battle.  Culham and Smook have great energy as a couple; the final submission becomes understandable.
Supporting actors all have their moments to shine—Alex Judd's Pedant (an old scholar who plays at being Lucentio's son) is the epitome of the testy, precise old man; Susie Mullen's older suitor Gremio is quick of tongue in sparring with his young rivals.  Elder statesmen Baptista (Justin Guthrie) and Vicentio (Claude von Hebertz) are regal yet bear an enormous love for their children.  Servants Tranio (Candace Woodland), Biondello (Nicola Whitney-Griffiths), Grumio (Alexa MacDougall) and Curtis (Chloë Mumford) kept us smiling with their antics. The trio of Bianca (Ursina Luther), Lucentio (Adam Holroyd) and Hortensio (Julian Cervello) provided a fine counterpoint to the fiery main couple.
Kudos to the Greater Victoria Shakespeare Festival for taking a leap of faith this year. The results are fine proof that hard work bears excellent rewards.
The Taming of the Shrew, directed by Clayton Jevne
The Greater Victoria Shakespeare Festival
July 14-August 16, 2014
Tuesdays, Thursdays and Saturdays
July 16 through August 15
Preview: July 15
Opening: July 17
Tickets available through Ticket Rocket
Single Tickets:
Adult $24 Student/Senior $19
Children 12 and under are free! (tickets at door)
Passes (both shows):
Adult $42 Student/Senior $33
Cast (in order of appearance)
Christopher Sly Alex Judd
Hostess Adrienne Smook
A Lord Adam Holroyd
Huntsman Alexa MacDougall
Player Lady Candace Woodland
Lucentio, suitor to Bianca Adam Holroyd
Tranio, servant to Lucentio Candace Woodland
Baptista, a rich Gentleman of Padua Justin Guthrie
Katharina, daughter to Baptista Adrienne Smook
Bianca, daughter to Baptista Ursina Luther
Gremio, suitor to Bianca Susie Mullen 
Hortensio, suitor to Bianca Julian Cervello
Biondello, servant to Lucentio Nicola Whitney-Griffiths
Petruchio, gentleman of Verona Cam Culham
Grumio, servant to Petruchio Alexa MacDougall
Servant Chloë Mumford
Curtis, servant to Petruchio Chloë Mumford
Pedant, an elderly man Alex Judd
Vincentio, father to Lucentio Claude von Hebertz
Production Crew:
Clayton Jevne Director
Kirsten Iversen Stage Manager
Rowan Hébert Assistant Stage Manager
Kat Jeffery Costume Designer
Kristen Iverson Lighting Design
Clayton Jevne Sound Design

Additional credits:
Cart and wagon design and construction Clayton Jevne
Cart and wagon painting Steven Aleck

Disclaimer: I was offered a complimentary ticket to attend The Taming of the Shrew. As always, I retain complete editorial control over all content published on my website.