Happiness at the Victoria Fringe Festival 2016. Interview with Tony Adams & Cory Thibert of May Can Theatre.
Also at the Vancouver Fringe September 8-18, 2016.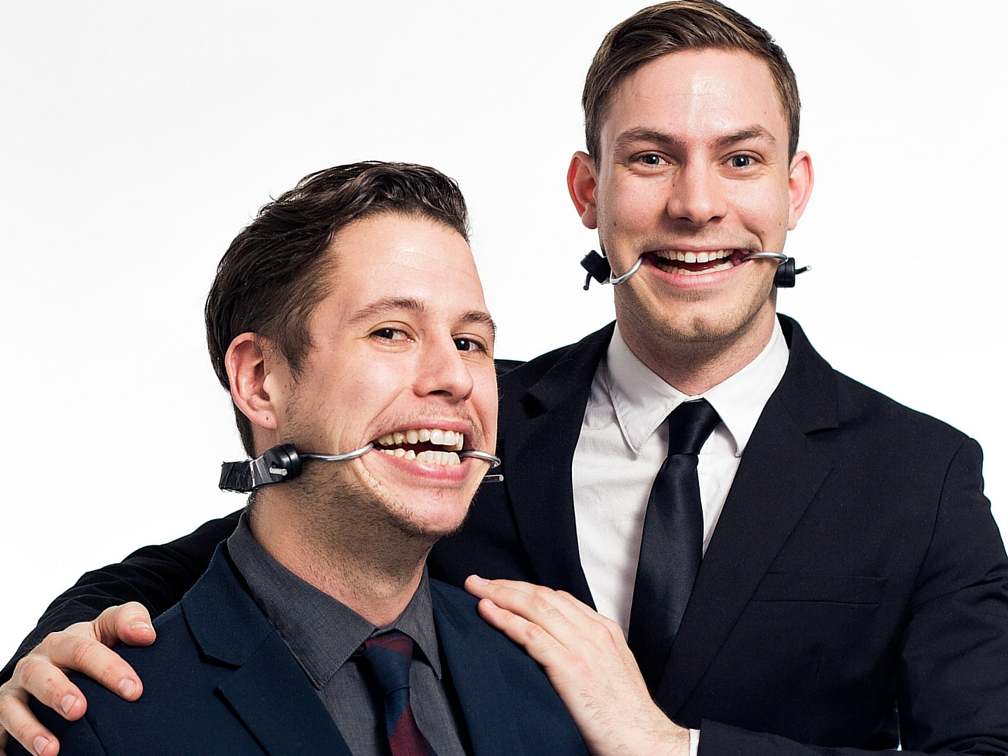 How long have you been producing work on the Fringe circuit? As an artist/company?

TONY – The company was founded in 2009 when we were just 19 years old and finishing our first year of College. We found a script we both loved (A Boys Life by Howard Korder) and we produced in our theatre programs studio. Our first fringe show though was in 2011. It was a self-declared "reject musical" called Sounds From the Turtle Shell. We had no idea what we were doing, but people noticed us and seemed to like what we were doing. Re-reading the script now, I still think it's hilarious, particularly the appendix joke, but it's nice to see how much we have grown since then.
CORY – May Can Theatre has been producing original work on the fringe circuit since 2011. We started out doing Ottawa fringe and two inaugural east coast fringes (the island fringe festival – PEI, and Fundy Fringe – St.John, New Brunswick Fringe) In 2014 we started doing the full tour and are now fully hooked. This summer is our biggest tour with 7 cities between two different shows.
Is your show a new work, or has it been performed elsewhere?

This version of Happiness™, besides the fringe this year and the Winnipeg fringe last year Happiness™, has been produced during the TACTICS series in Ottawa for its original production. We have also performed it in two curated festivals: the Centaur Theatre's WILDSIDE Theatre festival in Montreal and Vancouver's rEvolver festival. This summer fringe tour is made its way to Toronto, Winnipeg for a second time, Calgary, Edmonton, Victoria and then back to Vancouver.
Significant awards or accolades? (not just on the Fringe circuit)
May Can Theatre has won a few fringe awards for past productions, Happiness™ specifically was nominated for 4 Prix Rideau Awards from its original production in Ottawa. It was nominated for Outstanding Production, Outstanding Male Performance (Cory Thibert), Outstanding Director (Madeleine Boyes-Manseau) and won for Outstanding Design (lighting design by Seth Gerry).
Happiness™ was short listed for Best of Fest at the Toronto Fringe Festival this summer.
We have received ????? (2015) ????1/2 (2016)- Winnipeg Free Press, ????? – On Stage Ottawa,  ???? – CBC Manitoba.
In other works Tony and I have created/performed in together we have won Outstanding Duo Award (2012), Future of the Fringe Award (2013) and Outstanding Ensemble Award (2016) all by the Ottawa Fringe Festival.
Can you speak to the creation process of this work?
TONY – This has been our longest and most intensive creation process to date. The idea initially was inspired by me. I was walking home one night and realized I hadn't thought of a new play in a while. It was further inspired when Cory and I attended an open call for a talent scout agency.
Without getting into too much detail I will say it was completely bogus. If they saw something in you after a one-on-one minute and half meeting you were invited to stay and listen to their pitch. "Come to Boston, pay $900, we coach you and put you in front of Hollywood agents and blah blah yada yada." Needless to say neither of us went. However! Both of us had a lingering feeling of "what if". We didn't talk about it at first, probably because we were both embarrassed to even consider it. It was so farfetched, regardless though, the idea of it being that easy was tantalizing.
Anyway, the first iteration came in 2013 at the Ottawa Fringe. It was a shabby production done in the back of a café. We knew it was a workshop performance run, and we got a lot out of it. In the summer of 2014 we applied for funding and received our total ask! We assembled a large team of designers (which we had never done before) and the 3 of us, myself, Cory, and Mado were going to write the script collaboratively (which, the three of us together, had never really done in this capacity). We were set to premier it in March 2015 as part of an indie theatre season in Ottawa. We spent the fall each writing pieces, assembled that into a hodge-podge sort of script, then wrote, and re-wrote, and re-wrote, annnnnnd re-wrote December through January. There must have been 14 drafts of the script, each getting shorter and more aggressive, which I think was a reflection of how we were feeling with each other. 3 people writing a script can be quite tedious. We hit a break through though, and the end result proved to be worthwhile and is something we are all very proud of.
CORY – The creation process was our most collaborative to date as a company. Tony Adams, our director Madeleine Boyes-Manseau and myself produced and all wrote this show together. It comes from a very unique and personal place from all three of us. We spent months and month rewriting the show, our dramaturg Brad Long was essential to the process being an outside eye.
The three of us were all going through stuff personally in our lives and also we spent months together creating and producing this show, it was hard at some points to take a step back from the work, but it in the end it made the work more rich and personal. Also we focused heavily on the design of the show and the world of the fictional company HPL™. We worked with a design firm in Ottawa: LOG Creative Bureau, they designed the look of the world HPL™ – the fictional company that the two characters work for. They designed everything from all the press materials, the products, videos within the show etc. On our website there are videos of the company's history, testimonials and interactive happiness quizzes. We really spend time building up and creating the world that the show is set it in, to make in a more immersive world.
Who will your show appeal to?
CORY -I think the show is 14+, it deals with mature and at points dark subject matter. Off the top there is some coarse language and violence.
TONY – If you have ever been strangely attracted to your own sadness, or have spent time contemplating why you're not happy or satisfied, this show would be right up your alley. If you like fast paced comedy balanced with poignancy and drama, this is also for you. Just as this company is selling universal happiness, I think it is universally appealing. We suggest being at least 14 plus though…
What would you say to entice a potential audience member to come?
CORY – HPL™ has found the universal answer to Happiness. If you've ever felt sad you need to come to the HPL™ product launch, we have what you need.
In the hour lead up to the biggest product launch of their careers we see Peter Barrell and James Lemon dealing with their own relentless pursuit of happiness.
Happiness™ is a dark satirical high energy comedy – being a comedy and drama the show presents both the humour and tragedy in striving for true happiness.
What do you hope to inspire in your audience?
CORY – With this show I hope people leave asking themselves what it means to be truly happy, whatever that means to each individual person. It sounds like either a very obvious question or a very vague one, but it is hard to answer. Or I at least hope to explore how people avoid their sadness, and in the end, are those two the same thing?
TONY – I hope people leave re-evaluating their idea of what it is to be happy, and also the flip side, what it is to be sad. And how to sit with that. I would ideally want conversations to be spurred and people to appreciate all that they have.
Happiness is the immersive self-help seminar for anyone who's ever wanted it all and is willing to pay for it! Experience HPL's answer to universal unhappiness hosted by spokesmen: James Lemon and Peter Barrel. A glimpse backstage threatens to undermine their shiny exteriors: Can two men who really don't know happiness sell it? ***** – Winnipeg Free Press http://www.happinesstm.ca
Happiness TM by May Can Theatre, Ottawa ON
Location: Downtown Activity Centre (Fringe Venue 2), 755 Pandora Ave, Victoria BC
Created: Tony Adams, Cory Thibert, Madeleine Boyes-Manseau
Advance price: Regular $11/ St & Sr $9 + s/c
Door price: Regular $11/ St & Sr $9
Duration: 60 mins
Rating: PG 14+: Coarse Language/Adult Themes
Genre: Comedy, Drama
Th Aug 25 – 10:00pm
Mon Aug 29 – 7:45pm
Tue Aug 33 – 6:00pm
Thu Sep 1 – 9:30pm
Fri Sep 2 – 4:45pm
Sun Sep 4 – 7:30pm