Ideas Bobert at the Victoria Fringe Festival 2016. Interview with Candice Roberts.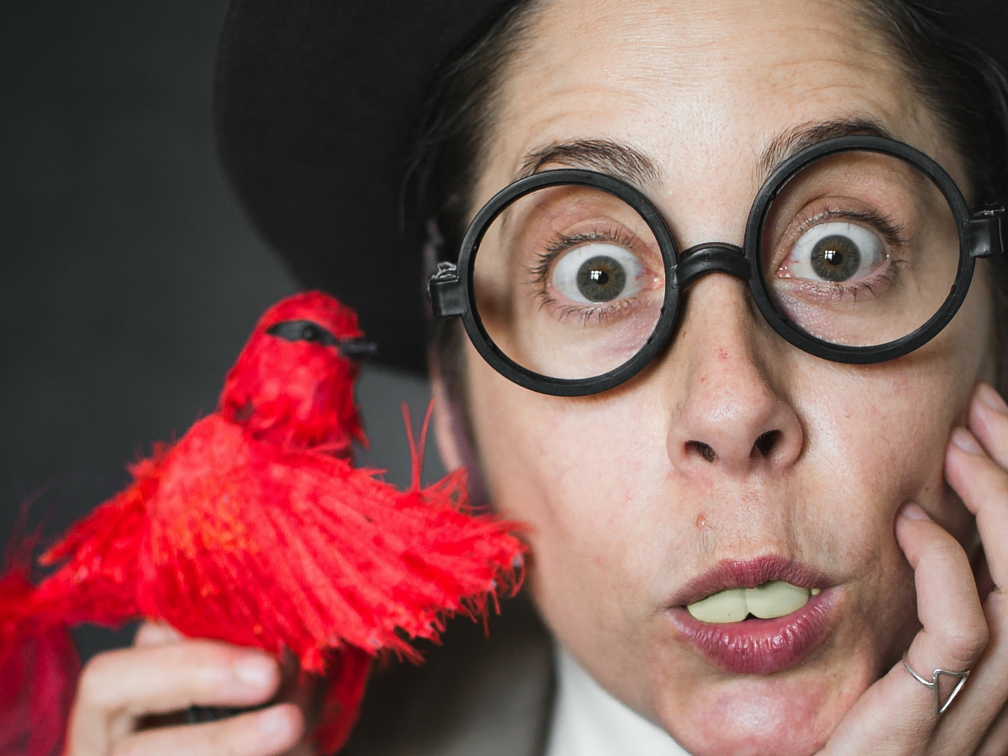 How long have you been producing work on the Fringe circuit?  As an artist/company?
After 10 years plus of community arts programming, professional inter-arts ensemble work with the Dusty Flowerpot Cabaret, and band leading and playing with the Myrtle Family Band in Vancouver I am stepping up and out with a one woman show.  I am being produced by Ragmop Theatre Co. who is currently touring another Hit show called "Falling Awake".  Although new to the fringe circuit as a solo performer, we had a successful run of an ensemble show at the Montreal Fringe some years back that included members of  Mind of A Snail and Ragmop Theatre Co.
Is this your first visit to Victoria?  Have you been (or will you be) taking the show to other Fringes?
I am a native of Vancouver Island and currently live in Vancouver however I do not make it over to Victoria very often.  I am excited to catch up with some long-time friends and do some "naturing" on my down time!
I am also enthusiastic about the touring potential of Ideas Bobert and am planning a free-range fringe frolic for next year.
Is your show a new work, or has it been performed elsewhere?
Ideas Bobert is a new show that presented to its first official audience in Campbell River on JULY 30th of this summer.
Significant awards or accolades? (not just Fringe-related)
Creativity and Art is a powerful way to find connection to one's own self and the people around us.  In 2014 I received a Mayor's Arts Award for this work in community engagement through the ARTS.
Can you speak to the creation process of this work?
Through the creation process I have learned that it takes an entire community to raise a solo show. The creative community in Vancouver is astounding and I am so grateful for the people that have come to witness, give feedback, encouragement and mentorship along the way.  It has been incredibly satisfying to create a framework that helps hone my skills and passions in tap-dance, puppetry, clowning and crafting. In clown work, we often find something absurd within ourselves or society to expand and comment on.  Bobert's character came out of a personal exploration of my own social anxieties, complicated emotions and the ability to listen to my heart. I built the set, all of the props, created the stop-motion animation pieces, designed the tech, story and choreography.  Now is the fun part; the playing and the engaging of Bobert and his world with an audience.
Who will your show appeal to?  If it's an "all ages show" what is the age range you think it is most appropriate for?
Ideas Bobert really is an "all ages show".  I have tested it out with the 5 years old to grown-up range with much success. I didn't initially set out to create a family show, but Bobert is playful and innocent in nature, though his character is deep and complex. There are many levels of meaning, and cycles within cycles played out in Bobert's relationship with his neurosis, which on the surface is played with a delightful silliness.  One could take Ideas Bobert at face value as simply fun, dancing and puppets, or… search a little deeper and find a lil guy trapped within' his own social anxiety.
What would you say to entice a potential audience member to come?
Bring your kids (including the one that lives inside yourself)! The show is is heartfelt, delightful and full of creativity.  Bobert himself is a lovable and quirky guy but he's afraid to go outside so he would love it if you could come over!
"That was the best show I've ever seen"-  my 5 year old niece.
What do you hope to inspire in your audience?
I hope to inspire sparks of creativity.  That folks will remember that we all have the ability to be expressive and creative.  At my first showing in Campbell River, I had an audience member tell me that it reminded them that they needed to listen to their own heart.  What more could I ask for?
Ridiculous and preposterous. Teetering on the brink of absolute failure, love-sick Bobert discovers his heart to be more than he knew. From award-winning creator Candy Roberts comes a whimsical brew of physical comedy and conundrum. Like Ginger Rogers meets Mr. Bean, Ideas Bobert! dances with the absurd. www.curlypawscandice.com

Ideas Bobert! By Ragmop Theatre Co
Written/Created by Candice Roberts, Vancouver BC
Location: The Roxy Theatre (Fringe Venue 7), 2657 Quadra Street, Victoria BC
Advance price: All seats $11 + s/c*
Door price: All seats $11
Duration: 50 mins
Rating: All Ages
Thu Aug 25 – 6:00pm
Sun Aug 28 – 4:00pm
Tue Aug 30 – 7:45pm
Fri Sep 2 – 6:00pm
Sat Sep 3 – 9:45pm
Sun Sep 4 – 1:00pm