Inside/Out at Uno Fest 2016.  Interview with Patrick Keating.
Inside/Out is part of Intrepid Theatre's Uno Fest 2016.  I had the opportunity to interview Patrick Keating.

What sparked the creation of this show?
I had been thinking of writing the story for over a decade but I was reluctant to because most of the people in the theatre community (Keating is an actor with an impressive list of film, television and stage credits to his name) didn't know (that I had been in prison).  I was worried that people would judge me on that, so I kept it to myself.  And I didn't want my family, particularly my mother, to get hurt.  When she passed away it opened things up for me.
I was working with people from Main Street Theatre—we'd go out after the shows and I'd tell them the story.  They kept telling me "you've got to write this down; if you do we'll stage it as a fundraiser".  We did a reading at Little Mountain Gallery—a space for about 55 people, and over 70 crammed in.  I got amazing feedback—from writers, theatre people, audience members.  I then applied for some grants for development and went from there.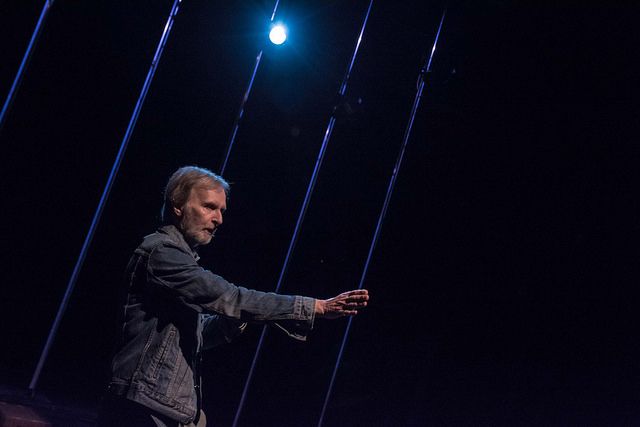 Patrick Keating. Photo: Intrepid Theatre.
How did you become an actor?
When I was in the penitentiary, I knew nothing about theatre.  I saw my first play, Happy Days performed by Tamanhous Theatre, and it was like something hit me in the chest.  Ronnie Gilbert's voice completely captured me (she sang with The Weavers).
After the show, people in the company said "if anybody wants to know more, when you get out, come and see us", so I did.  I was mentored by the company and did whatever needed to be done.
Then, I went back inside.  When I got out again, I decided to apply to SFU and graduated in 1992 with a BA in theatre.  At the time there was lots of work in Vancouver with film and television.  I  also did set decorating and worked with a number of small theatre companies.
Who will be interested in this work?  What would you say to entice someone to come?
I'm always amazed at people's stories, particularly the people who you might disregard.  When you sit down to listen, you always come away with something.
People don't generally know about the criminal justice system, and without giving excuses, I'm trying to make people human, without disregarding what they did to get there.
What do you hope to inspire in your audience?
Everybody inside is somebody's brother, father, daughter, mother.
The reception from your family?
We're a family of staunch Irish Catholics where you don't air your dirty laundry, so I didn't really know what to expect.  Every one of my siblings has come to see it and they are proud of me for putting in the work to create this show.
Where does Inside/Out go from here?
I hope to be able to go to William Head while I'm here, and at the very least talk to the guys—we're still working on whether or not I will be able to perform Inside/Out.  In July I'm in Prince Edward County in a small festival and then later this summer in Nelson and Vernon.
What else should I know?

People have amazing lives and experiences.  We often tell ourselves "that old story, who would want to hear that?" but as I've learned from attending The Flame, produced by my friend Deborah Williams, our stories are powerful.  I always come away with a heart that is full from people opening up and sharing their personal stories.
Inside/Out, created and performed by Patrick Keating.
Neworld Theatre in association with Main Street Theatre and Urban Crawl
Tuesday May 24, 8:30pm and Wednesday May 25, 8:30pm
Tickets $20
Tuesday May 24 is Pay What You Can
Unless otherwise noted, tickets available at Ticket Rocket, 1609 Blanshard Street (at Fisgard) or by phone 250.590.6291, Monday to Friday 10am to 5pm