Interview with Dave Morris, Artistic Director of Paper Street Theatre Company in Victoria BC.  Coming up—the final show of Paper Street's fourth season—A Fistful of Improv: An Improvised Western.
Paper Street creates improvised theatre in the style of….. Some people may wonder how you prepare for an improvised show. Can you describe the process, and the amount of work that goes into crafting a show of this nature? Was there anything specific to creating A Fistful of Improv?
D: There is a lot of preparation and research that goes into our shows. We spend the first part of our rehearsal process doing nothing but studying the genre, watching movies and essentially giving each other "book reports". Then we start putting the show on its feet in stages.
We start with the verbal qualities of the style – the language, the vocabulary, etc… – and then move onto the physical aspects and start embodying it – the way they move, the way the scenes look. Once we've got that down, then we start working on how to improvise in the style.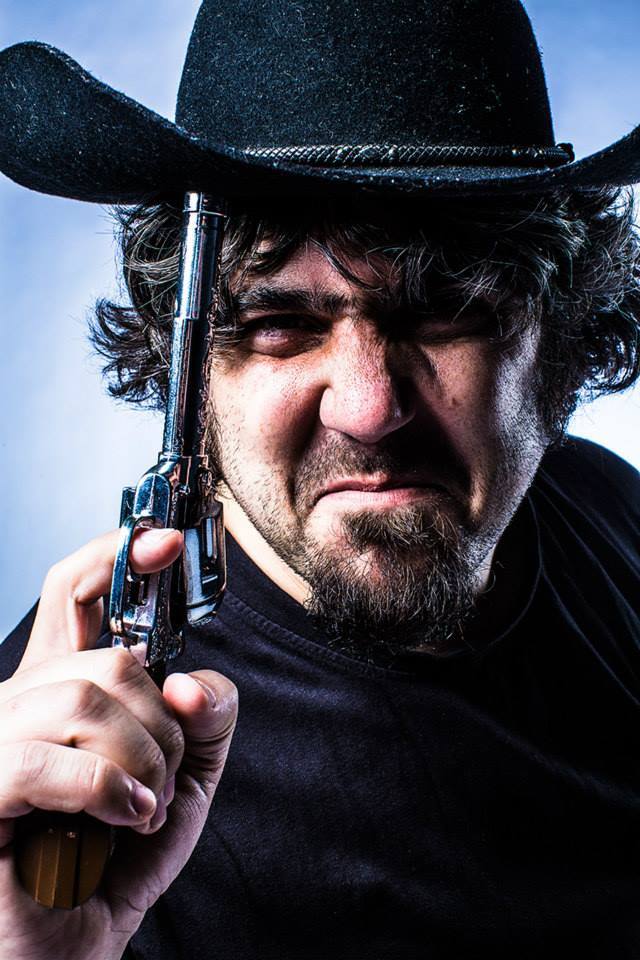 Photo: Derek Ford Photography
A Fistful of Improv marks the end of your 4th season and your 12th show. What are some of the important lessons you've learned as an ensemble this year?
D: This year has been a lot about getting back into the importance of storytelling in improvisation. We've been working on breaking down stories into their beats, learning to recognize act breaks, and how to discover themes… all while improvising.
For the 2014/2015 season, you've had a few long-time members of the ensemble leave, and you've incorporated new members. How many people are part of the ensemble now, (I think it's the largest number—am I correct?). What are the challenges and benefits to having an ensemble of this size?
D: We did lose Steven Ray Orr and his absence has been noticed, but are new members Shahin Mohammadi and Andrew Brimmell have stepped up to the challenge. Our ensemble is the largest it's ever been with 12 members (including our lighting designer Emma Dickerson, and our sound designer Dan Godlovitch).
Having this large of an ensemble has given us the experience and knowledge of many talented people, but trying to get 12 people to come together on a specific day is a lot harder than when we used to only have 5 people to worry about. Everyone in the cast is so important to what we do though, so I wouldn't want it any other way.
Can you speak to the design elements—for instance I know that Missie makes the original costumes (and they've been getting more and more elaborate) and Dan Godlovitch creates tracks and imports sounds to be able to improvise the sound. Lighting is also improvised—what does lighting technician Emma Dickerson do to prepare. And scenery & props—they've changed with each show although there are a few elements that remain constant or re-occur.
D: Wow. Where to start. Well, Emma is involved with the process from the beginning. Watching movies with us, and asking questions about what looks we want, or colours we'd like to see on stage. Her work helps immensely and forces us to look at the style from a different perspective. For this show Dan Godlovitch will be playing live instruments instead of his modular synthesizer, which is new and exciting. The scenery and props are handled in a large part by Byron Kjeldsen (he made are guns and cacti) and to Theodore Sherman (who's designed set pieces in the past and this year is building us saloon doors!). We will re-use certain set pieces that fit the genre. Wooden crates are an often used piece, or nice old chairs and tables. Most of the time we start the set decorations from scratch though… it's part of the fun.
Is there one moment this year that stands out for you?
D: Many moments. I think one of my favourite moments this year was when Paper Street was our Christmas Party where we had invited not only our cast, but also some of my students and other people who've helped us become what we are today. At the party I had a moment where I realize that Paper Street Theatre isn't just a company, but a community of people. Are family, friends, fans, partners, supporters, students, are all a part of what we are. Which is what makes the new studio we opened even more important to the company: It's our home, and the home of our community.
What is the one thing you are most proud of as a company?
D: I'm most proud of our audience. We have a more sophisticated audience than improv shows usually attract. Our audience will come and watch us do a Western, but they'll also come and watch us mount Kafka, or Beckett. As we learn and grow and push ourselves, so does our audience. I feel blessed to have such a smart and savvy fan base.
What do you (and can the audience) look forward to for the fifth season in 2015-2016? When will you announce the season?
D: You can expect a season that gets back to our roots. We're planning a Spring Celebration for our 5th anniversary which will involve a remount of every show we've ever put on, as well as possible special guests, and maybe even some genre mash-ups… Can you imagine a Quentin Tarantino meets Jane Austen?
Summer plans?
D: This summer is going to be focused on our new studio. Running classes, small intimate shows, and I'll be travelling down to the Seattle Improv Festival once again.
Paper Street Theatre's next show is A Fistful of Improv, April 8-11th at the Intrepid Theatre Studio. Space is limited so be sure to get advance tickets to avoid disappointment. In addition there is a family matinée and an improv workshop scheduled.
Stick 'em up! Paper Street Theatre brings the majesty and the grit of the Old West to life in this fully improvised play inspired by the great Western films of John Wayne, Clint Eastwood and John Ford.

A Fistful of Improv is the final show in Paper Street's fourth season. Full of the slow tension of cowboys staring each other down, the show explores classic western themes of honour, revenge and the conflict between the Wild West and encroaching civilization. The show will be different every night, based on audience suggestions.

"The Western is such a classic genre – yet when people try to improvise in this style they often get it wrong. We wanted to do it right," explains Dave Morris, artistic director. "There's this slow, deliberate samurai-like patience to the great Westerns that we want to bring to the stage."

In addition to nightly shows, Paper Street Theatre is offering a workshop in improvising in the style of The Western. The workshop will take place at Paper Street Theatre's new studio, 1109 Fort St. And on Saturday afternoon Paper Street presents a very special family-friendly matinee – a good time for all the little cowpokes!

A Fistful of Improv: An Improvised Western
April 8-11 | 8pm
Intrepid Theatre, 1609 Blanshard
Tickets $15 at the door or at www.ticketrocket.org

Western Workshop
Saturday, April 11 | 11-1pm
Paper Street Studio, 1109 Fort St
Class Fee: $25
Register: dave@davemorris.tv

Family Matinee
Saturday, April 11 | 2:30-3:30pm
Intrepid Theatre, 1609 Blanshard
Tickets at the door only – $20/family
Facebook Event: www.facebook.com/events/1560250240911794/

To find out more about Paper Street Theatre visit www.paperstreettheatre.ca
Like Paper Street Theatre on Facebook