Les Belles Soeurs at Langham Court Theatre November 15-December 2 2017. A review.
Take a trip back in time to La Belle Province with Les Belles Soeurs (currently at Langham Court Theatre November 15-December 2, 2017). It's hard to imagine the circumstances seen from our modern (especially Western Canadian) and socially relativistic time, but to put events into context, when Les Belles Soeurs was written in 1965, abortion and the pill were illegal in Canada, Duplessis ruled the province of Quebec with a tight fist and the Catholic Church, through its parish priests, heart and home—when they spoke, they spoke for God. Vatican II had not yet been completed—Mass was still in Latin, a language most church-goers did not understand.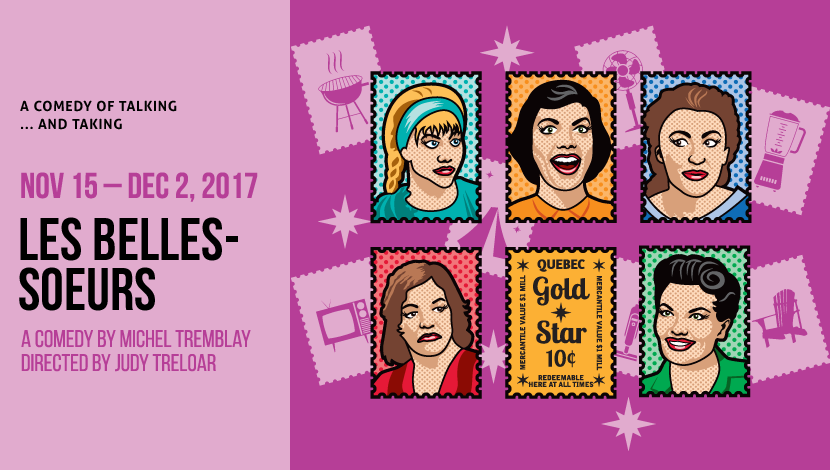 Unilingual Francophones were cut off from the rest of Canada, and none more so than people whose only vernacular was joual—a dialect that is to French what Cockney or "Newfie" are to English—incomprehensible outside a hermetic enclave.
A sea change would occur between writing and performance in 1968—Trudeau came to power, Expo 67 put the province on the world stage, and Charles De Gaulle's famous "Vive le Québec Libre" ignited the struggle for liberation and independence in the province.
No wonder "good-thinking" people were scandalized by the work of the young 23-year-old Michel Tremblay—Les Belles Soeurs upends everything they would have considered sacred and dares to poke wicked fun at convention.
In 2017, the shock has lost some of its punch and settled into a more humourous vein, a fact made all the more real by the hard-working ensemble at Langham Court Theatre under the exacting direction of Judy Treloar.  Deciding to stage Les Belles Soeurs in heavily accented Québécois English, she engaged the services of recent transplant Hélène Poitvin as dialect coach. The actors were so committed to the process some have never heard their fellow cast mates speak without an accent.  The result is a lyrical sing-song cadence that lends itself perfectly to the rapid, often overlapping, dialogue.
Bill Adams recreates Germaine Lauzon's (Pam Miller) dingy and crowded third floor walk-up down to the grime on the walls, shortening the perspective to make it appear even smaller.  Drew Waveryn (properties and set décor) has found the perfect touches—bronze flying geese plaques, a painting of the Last Supper and one of the Madonna, laundry hanging near the ceiling and vinyl upholstered kitchen chairs to further the sense of the period.  Costume Designer Colleen Maguire has been squirrelling away appropriate dresses for months, managing to convey the youthful rebellion of Linda Lauzon (a role she also plays) and Lise Paquette (Hilary Wheeler) with their short (and tight) acid hued clothes, the posh pretensions of Lisette de Courval (Sarah Heyman) and Yvette Longpré (Debbie Robinson) in their more fashionable suits, the convention of Angéline Sauvé (Geli Bartlett) and Rhéauna Bibeau (Denise Girvin) dressed in black for a funeral and the sheer outrageous nature of Germaine—dressed as if for a fancy ball in satin and crinoline.
The script features many monologues and, at times, a Greek-chorus of women, where the actors directly address the audience and action elsewhere freezes.  Lighting designer Adam Wilkinson utilizes blue hues to create an almost dream-like quality to these sequences.  Lighting also plays a role in highlighting or hiding the importance of the many conversations taking place concurrently.
In Tim Watters' sound design the neighbourhood beyond the apartment walls bustles and the radio blares music and religious prayers.
With a relatively short running time (two hours ten minutes) and a large cast of fourteen, this is a demanding script, requiring the actors to create memorable characters in swift order without resorting to caricature.  Tremblay reveals indiscretions, jealousies, guilt, shame and horrible secrets.  What begins as a joyful occasion—Germaine has won a million Gold Star stamps she can redeem for countless goods and improvements, and simply needs to have them pasted into booklets (it's why the women have all been convened)—quickly turns into drama as the tensions between them become evident, ultimately ending in heartbreak.
Sisters squabble and make up, friends admonish one another and offer advice, loyalties move back and forth as swiftly as the wind.
The cast excels at conveying the tempestuous and chaotic nature of the gathering, where each one vies for her place in the conversation, and character traits are open for ridicule.  Amanda Heffelfinger is the downtrodden and bitter neighbour Marie Brouillette—happiness eludes her.  Quiet and seemingly placid Des-Neiges Verette (Megan Bourns) carries a secret passion.  Virtuous Thérèse Dubuc (Monica Pendergast) cares for her aging mother-in-law Olivine Dubuc (Janie Woods-Morris is sublime in this wordless role) with unique methods. Despite her modern look, Gabrielle Jodoin (Leslie Sanchez) is very conservative. Rose Ouimet (Kate McCallum Pagett), the loud-mouth sister hides the reality of her situation with her "devil-may-care" attitude. McCallum Pagett's heartbreaking monologue underscores the reality of a life with limited options. Deirdre Tipping as the black-sheep sister Pierrette Guérin is the foil to the cloistered lives of the others, yet she too is at a crossroads.
Miller lords it over the others, weighing forth as if her win conveys some special regal status, oblivious to the simmering revolt.  From "queen for a day" to pathetic wretch—Miller is splendid in conveying this treacherous arc.
Outward appearances can be deceiving, as these women prove time and again; from the vantage point of half a century they are more to be pitied than censured, leaving the audience to wonder—how will our social structure be seen in fifty years? Will people laugh at how we interacted and coped in our day to day lives? Will they be sympathetic to our very real struggles?
Treloar's intuitive direction succeeds at creating a murky milieu where morals and reality sit in uneasy balance, a milieu this accomplished ensemble explores with keen gusto.  Filled with laughter, gasps and tears, Les Belles Soeurs is a cautionary reminder of a not-too-distant past.
Les Belles Soeurs
Langham Court Theatre
November 15-December 2, 2017
Tickets: $17-$23 via the Box Office 250-384-2142, online or in person, 805 Langham Court, 12 noon to 4:00 pm Monday to Friday and 6:00 to 8:00 pm on performance days

Cast
Pam Miller (Germaine Lauzon)
Kate McCallum Pagett (Rose Ouimet)
Leslie Sanchez (Gabrielle Jodoin)
Deirdre (Didi) Tipping (Pierrette Guérin)
Colleen Maguire (Linda Lauzon)
Hilary Wheeler (Lise Paquette)
Sarah Heyman (Lisette De Courval)
Amanda Heffelfinger (Marie Brouillette)
Debbie Robinson (Yvette Longpré)
Megan Bourns (Des-Neiges Verrette)
Geli Bartlett (Angéline Sauvé)
Denise Girvin (Rhéauna Bibeau)
Monica Prendergast (Thérèse Dubuc)
Janie Woods-Morris (Olivine Dubuc)
Creative Team
Judy Treloar (Director)
Nick Stull (Producer)
Sarah Innes (Stage Manager)
Bill Adams (Set Design)
Adam Wilkinson (Lighting Design)
Tim Waters (Sound Design)
Colleen Maguire (Costume Design)
Drew Waveryn (Properties/Set Decor)
NOTE this play contains mature themes and coarse language.
Further reading:
http://www.cbc.ca/news/birth-control-pill-turns-50-1.908892
https://en.wikipedia.org/wiki/Michel_Tremblay
Disclaimer: I was offered complimentary tickets to attend Les Belles Soeurs.
Langham Court Theatre is Victoria's longest running theatre in its 89th consecutive season. It is a Canadian success story of what happens when passionate, talented people work together doing something they love. With nearly 400 volunteers and members, it is also Victoria's largest volunteer-run community theatre which operates its own theatre facility in the community of Rockland.
Ticket Prices:
• $23 Adults
• $21 Seniors (ages 65+)
• $17 Students (with ID)
• $10 Student Rush (with ID, 15 mins before curtain,?subject to availability)
• $12 Previews (Wednesday, November 15 & Thursday, November 16)
• $17 Tuesdays (November 21 & 28)
Tickets can be purchased:
Online: langhamtheatre.ca
Phone: 250-384-2142
Email: boxoffice@langhamtheatre.ca
At the Theatre: 805 Langham Court, 12 noon to 4:00 pm Monday to Friday and 6:00 to 8:00 pm on performance days
Detailed Performance Schedule (November 15 to December 2, 2017):
• November 15 – Wednesday PREVIEW, 8:00 pm
• November 16 – Thursday PREVIEW, 8:00 pm
• November 17 – Friday OPENING, 8:00 pm
• November 18 – Saturday, 2:00 pm (NEW this year)
• November 21 – December 2 – Tuesday thru Saturday nightly, 8:00 pm
• November 18, 25 and December 2 – Saturday matinees, 2:00 pm