Girl in the Goldfish Bowl at Langham Court Theatre September 25-October 14 2017. A review.
Iris (Lianne Coates) joins a long line of stellar heroines (Ramona and Harriet among them), young girls with spunk and gumption, trying to get to the bottom of things, with the unique, and often skewed, perspective of a child.
The entire world is topsy-turvy—externally, relations between the US and Cuba teeter on the brink, internally, Iris' parents are on the verge of divorce, and her pet goldfish Amahl has died. What more could go wrong?  When Iris, out for a walk in the fog, discovers Mr. Lawrence on the beach, there is only one logical conclusion—he's Amahl re-incarnated.
In Girl in the Goldfish Bowl, the 2004 Governor General's Award-winning comedy by Morris Panych, loopy logic, witty banter and nonsensical reasoning combine to provoke, time and again, laughter.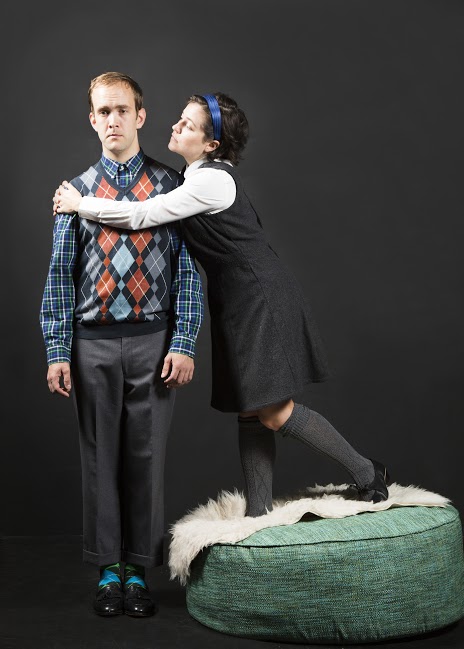 John Manson and Lianne Coates. Photo: David Lowes
Iris appears, paradoxically, to be the one reasonable individual in the household.  Her father Owen (a baffled and befuddled Wayne Yercha–in a departure from his often alpha-male roles (Dr. Jekyll & Mr Hyde, Escape from Happiness, August Osage County) shuffles around in pyjamas and a cardigan, desperately trying to make sense of life through the geometrical patterns he traces, non-stop.  Her mother Sylvia (Connie McConnell) is defeated, deflecting any attempt to get to the heart of the unease in her marriage. McConnell oozes weariness, the kind that comes from years of unrealized hopes, and briefly turns on vampish ways when a stranger shows up.  Mr. Lawrence (John Manson) is lost, utterly incapable of explaining where he's come from, in a true fog of memory.  His nonsensical interactions with Coates are all the funnier for his utter dead-pan manner. Only the sharp-tongued and perspicacious boarder, Miss Rose (Hilary F. Allan) seems to be a worthy opponent for the young termagant.  Iris may appear to rule the roost but Miss Rose is no fool—she sees right through to the heart of the youngster's insecurities.  Coates and Allan are equally matched as sparring partners—their battle of wits is delightful.  When Iris succeeds in pulling one over on the much older woman, the audience's sympathies are torn.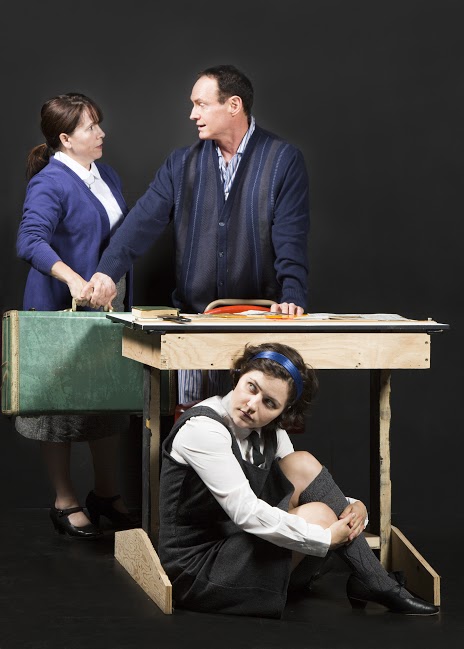 Connie McConnell, Wayne Yercha and Lianne Coates. Photo: David Lowes
Coates (in her début at Langham Court) has circumnavigated the treacherous territory of adult-playing-child without resorting to cute voices or too-youthful body language. Her delivery is imperious, her eye-rolling—impressive; it's impossible not to notice her—even when she's hiding under a table as adults argue.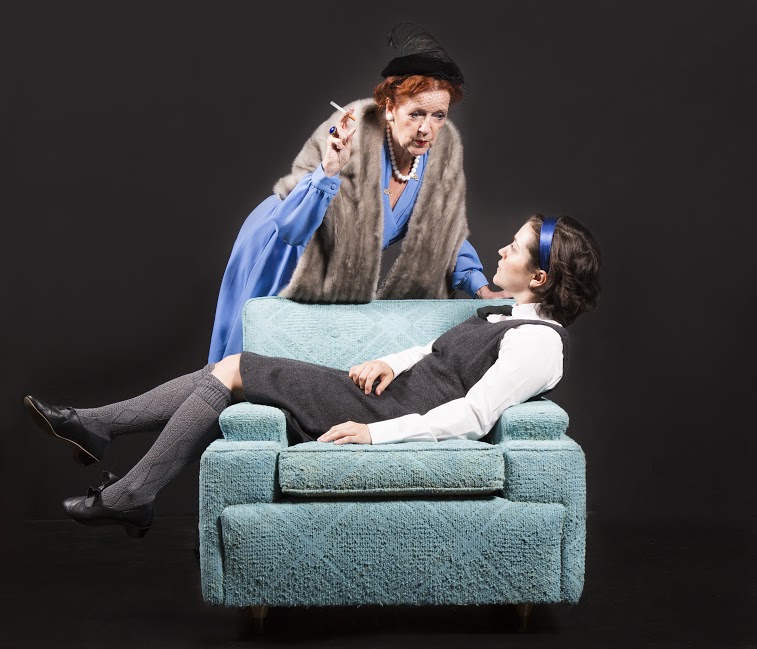 Hilary F Allan and Lianne Coates. Photo: David Lowes
Although Girl in the Goldfish Bowl is written as a comedy, the script hides terrible tragedy. Philosophically and psychologically the characters are in a dissociative state most of the time, suffering from trauma and wounds they hide in dreaminess, drugs and alcohol, or gruff and bossy behaviour.  Everyone is going through loss.
Have you ever played underwater at the lake as a kid, submerged with the sounds of people all around you, muffled, and colours taking on a particular murky translucence?
Set designer Don Keith captures that feeling entirely with a household that might be one of those tiny castles in a goldfish bowl—swirling greens and blues combine on walls and stairs, while back wall projections of the briny deep truly convey an aquatic environment.  The effect is fantastical—further distancing the action of the play from the real world.  Did events truly transpire as Iris, adult, recounts them, or was it all a dream, a way of explaining the shock she felt on being abandoned by her mother?
Other design elements (costumes Jacqueline Gilchrist and properties/set décor Linda MacNaughton) are firmly anchored in the Cold War era with school uniforms, mis-matched plaids, fur stoles, naugahyde chairs, large ottomans, and well-stocked drinks carts. Lighting by Carol-Anne Moore and Paul Hilton is at time eerie and mysterious, particularly as the play hurtles to tragedy—the disappearance of Mr. Lawrence.  Sound design by Jason King is reminiscent of music-box melodies.
Panych set Girl in the Goldfish Bowl in Steveston BC, geography where river meets the sea, an estuary rich in life and possibility, where nature exists in a liminal state; it's a perfect representation of the state in Iris' life, on the cusp of leaving her childhood behind forever. And while this geography, and even the period of the play are fixed, there is a universality here that transcends the Pacific coast and 1962.
With inquiring and intelligent direction by Janet Munsil this is a comedy that is forever delicately balancing on the edge of unease, a state the ensemble navigates with care, attention and expertise. At the end, now firmly ensconced in Iris' world, all the audience can hope for is that life will go well for this young woman who has firmly captured our hearts.
Girl in the Goldfish Bowl by Morris Panych, directed by Janet Munsil
Langham Court Theatre
September 27-October 14, 2017
Tickets $17-23 through the box office by phone 250 384 2142 or in person

Open Non-Performance Weeks: Monday – Friday, Noon – 4pm
Open Performance Weeks: Monday, Noon – 4pm, Tuesday – Saturday, Noon – 4pm and 6-8pm
Creative Team
Janet Munsil (Director)
Vinnie Chadwick (Producer)
Don Keith (Set Design)
Carol Anne Moore (Lighting Design)
Paul Hilton (Lighting Design)
Jason King (Sound Design)
Jacqueline Gilchrist (Costume Design)
Linda MacNaughton (Properties/Set Decor)
Euphemia MacMurchy (Stage Manager)
Cast (in order of appearance)
Iris Lianne Coates
Sylvia Connie McConnell
Owen Wayne Yercha
Miss Rose Hilary F. Allan
Mr. Lawrence John Manson
Disclaimer: I was provided complimentary tickets to attend opening night of Girl in the Goldfish Bowl.