Macbeth at Blue Bridge Repertory Theatre May 5-17, 2015. A review.
Macbeth at Blue Bridge Repertory Theatre (May 5-17, 2015) is quite simply astonishing–an exemplary, boundless and prodigious theatrical production that displays finesse and intricacy in all levels of design, acting and stagecraft.
In a short three week rehearsal period, working with the confines of the small stage at the Roxy Theatre, the ensemble brings this much-studied and performed Shakespeare classic to life in ways unimagined. Often, the words "text-first" or "stripped-down" signify simplicity in the design process. This is not the case here.
On entering the theatre, one is greeted by the three Weird Sisters (Iris Macgregor-Bannerman, Shauna Baird, Grace Vukovic) occupied in some strange and wondrous magic, eerily lit (Rebekah Johnson). John Mills-Cockrell's soundscape sets the tone with mysterious clicks and high-pitched keening, conjuring up images of deep space, or an as-yet-undiscovered spooky underworld.
Overhead, a large hooped-circle holds the multi-layered draperies making up the scenery and backdrop (set design Laurin Kelsey and Tamara Marie Kucheran).
Slowly fog drifts in.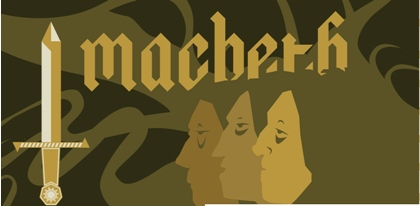 In a bold and audacious move, director Brian Richmond has reduced the cast to ten: Jacob Richmond (Macbeth), Celine Stubel (Lady Macbeth, Hecate, a murderer), Chris Mackie (Banquo and Macduff), the apparitions (Chloë Dufort, Jenson Kerr, Levi Schneider, Nicola Whitney-Griffiths) and the three Weird Sisters who between them are responsible for almost thirty roles. People will be talking about this interpretation for a long time.
Utilizing body language, accents and costumes (costume design Tamara Marie Kucheran) MacGregor-Bannerman, Baird and Vukovic cast off one character to inhabit another, in the blink of an eye. Imperious yet kindly as Duncan, king of Scotland and mere minutes later, servile as the First Murderer, Iris Macgregor-Bannerman also leaves a lasting impression with her portrayal of Scottish nobleman Lennox.
Shauna Baird elicited much laughter as the Porter, with a fine physical display, full of suggestive and lewd gestures, for those less familiar with the interpretation of the text while her Lady Macduff is profoundly moving as she resolutely pleads for her life. From lowlife scum to high-born lord, from maidservant to gentlewoman, the range and versatility displayed is impressive.
Grace Vukovic shines as the young and true prince, Malcolm, full-hearted and full of bravado all the while mourning the murder of his father, and is truly heart-wrenching as the soon-to-be murdered son of Macduff—so gruesome was this vile deed, I needed to close my eyes.
In the much-coveted role of Macbeth, Jacob Richmond is at his most dangerous—fully overcome by desire and greed, utterly overwhelmed on the path to destruction, caught up in a vast whirlwind over which he has no real control, and doomed from the fatal, portentous and unfortunate moment of meeting the three Weird Sisters. He sits, teetering on the edge of madness throughout, shape-shifting from one moment to the next—at first loyal, noble, courageous, then fearful, avid and possessed. With great sorrow, accompanied in almost operatic fashion by Mills-Cockell's elegiac score, he intones the mournful "tomorrow, and tomorrow and tomorrow" speech only to remain unrepentant and unsympathetic in the end.
Celine Stubel is ambitious and gradually unhinged as Lady Macbeth—raging impetuously as she goads on Macbeth, then plotting furiously to tie up all the loose ends and remain sovereign amid all the court intrigue. As Hecate she is fearful and mighty in her imperial reproach to the three witches—swooping in from on high.
Decades of marital arts training provide Chris Mackie with regal bearing and a cat-like sure-footedness that command attention. If Richmond's Macbeth is dangerous in his wild unpredictability, Mackie's Banquo and Macduff are also, all the more for the inevitability of their success. He is a man on whom one would stake a life, one inspiring confidence. Mackie's expertise in stage fighting is evident throughout in the battle scenes and close-at-hand knife and sword work, where he provided fight direction.
Design plays an all important role in this production. The stage curtain and backdrop consist of a stretchy fabric through which, at times, the Apparitions struggle to manifest themselves. There is a great sense of worlds colliding, of the divide or membrane between the spiritual and physical worlds being so thin as to allow the witches to appear upon the heath. Distorted faces, frozen in grimace, bring to mind The Scream by Munch—man's despair made visible.
For the banquet scene, a large parachute of red silk is employed as table, held taut by the assembled lords and the Apparitions. It floats and levitates as suddenly—the head of Banquo appears. Later, the same fabric creates a bubbling cauldron from which emerge the three apparitions—voiced here by the three witches. Visually the effects are startlingly.
The Apparitions do yeoman's work—faces invisible, they are the army of minions, shadowy denizens of history, the servants, the forgotten—helping to change costumes onstage, waving standards and swords, creating the shadows in the forest.
Treena Stubel's expertise in choreography is essential to this staging where economy of movement is absolutely necessary. Characters flow effortlessly from one to the other creating a seamless whole.
The total effect is of a magical world, unto itself, familiar yet bizarre, possible yet improbable, contained in imagination and possibility. Blue Bridge Repertory Theatre's Macbeth is a great and excellent work, with a beautiful appeal due to the many combined and varied levels of artistry. At any given moment there is something new to explore, whether in character development, the play of light on the scenery, a visual cue, or costume change. Brian Richmond is well known for the breadth of his artistic vision as a director;Macbeth is another fine example. Bravo to the company for this ingenious production.
Macbeth by William Shakespeare, directed by Brian Richmond
Blue Bridge Repertory Theatre (at the Roxy 2657 Quadra Street)
May 5-17, 2015
Tickets $28.75-44 through Ticket Rocket, in person (#2-1609 Blanshard at Fisgard), by phone (250 590 6291)or online.
Student rush seats available.