MSM men seeking men at Intrepid Theatre OUTstages 2017. An interview.
Appearing for one night only, Friday June 23, 2017, MSM men seeking men is a dance theatre piece about queer online dating culture. Creator Indrid Kasapi was kind enough to answer a few questions about MSM's genesis and esthetic and his current projects.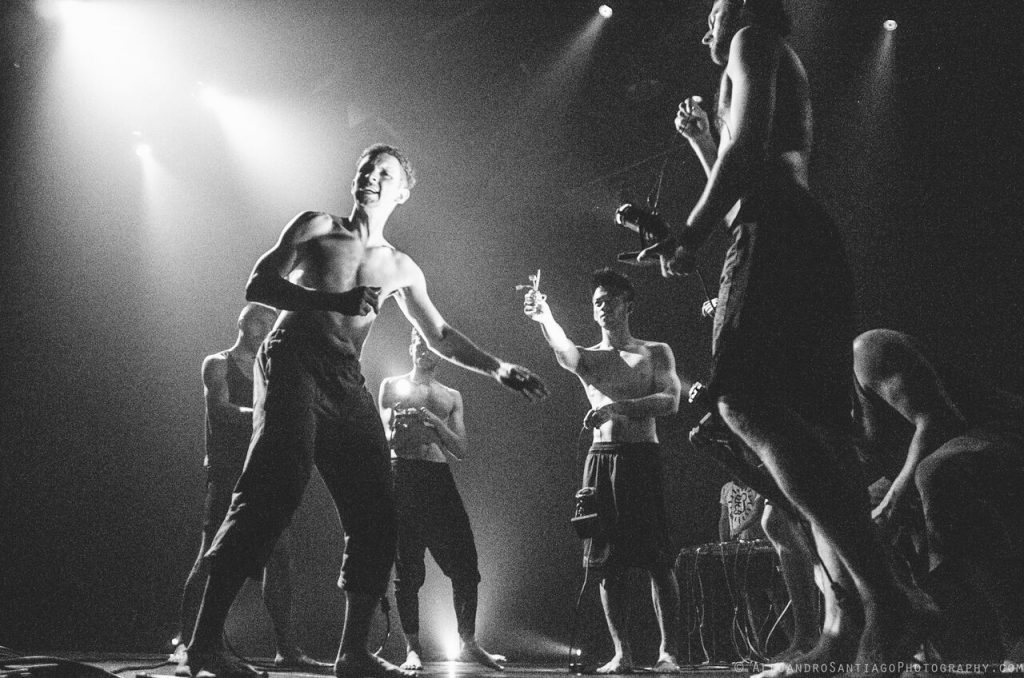 Photo: Alejandro Santiago
What sparked the creation of this show?
In 2012 I was cleaning my old computer because I was giving it to my parents and I ran into some of my own personal conversations I had had with other men I met online when I was young (16-20) and I was shocked that they had been saved. So I started reading them and then I immediately saved them. It was those transcripts that were the genesis of the piece and then I decided to pair them up with electronic beats and contemporary movement. The process I use for the creation of the work is a movement exercise that is derived from VIEWPOINTS and I call it THE GRID. Over the course of two years we workshopped the piece with a company of performers to eventually arrive at the show we premiered in 2014 and are currently taking on tour.
When did you debut the show and how has it changed since the debut?
The show was initially presented at the Toronto Fringe Festival in 2013 to much critical acclaim and then it had its World Premiere as part of the WORLD PRIDE! Festivities in Toronto in June of 2014!  It was a pleasure to have to revisit it again and take it on tour. I've tried to remain as close to the original concept of the piece as possible, however the show now features only four performers and the original had eight. I find that the show is more concentrated now. It's easier to follow stories, moments and patterns of movement. Plus it features a new ending that I hope carries within it a more complete message as to what this piece is saying.
Can you comment on the design aspect of your show, its esthetic?
MSM [men seeking men] is a dance theatre piece that features live beats spun live by a DJ (myself) throughout the entire show. It's very much a non-linear performance. There are characters, and storylines but they are not connected in the conventional way most plot driven shows are. I like to think of it more as a modern dance show. The text is all actual transcripts of conversations between men that we have collected (some of them are my own) and the movement shows us what is NOT being said in the text. The movement is guttural and instinctual and often erratic and possibly painful or annoying.
What do you hope to inspire in your audience?
This is a hard question for me to answer. I never really want to build a show that has ONE message. My intention with the show is to build a documentary ode to the world of online or app dating/hooking up. It's a world that I'm personally very familiar with and I think it has enabled us (as a queer community) to feel safe and connect with each other so easily, but it has also (possibly) created a world that is more self-driven and removed us from a sense of community. So, there are advantages and disadvantages, there are joys and annoyances, and so for those who engage in online dating I think they will easily identify parts of themselves in the show, and for those who have never even heard of online dating, the show is an opportunity to witness (in an artistic way) what it would be like if you chose to create an online account. There is an opportunity for the audience to then talk about technology and love/sex in the modern world.
Who will be interested as a potential audience member?  What would you say to entice someone to come?
I feel like this is answered above. But I can add, that this is the show where you can leave your phone on (on silence if possible) and feel free to message the performers to congratulate them or ask them out as well as audience members you think are cute and want to say hi to. The bar will be open so you can grab a drink and enjoy a voyeuristic journey inside the world of men seeking men through online dating sites.
What's next?
lemonTree creations is currently in residence at Theatre Passe Muraille developing a brand new show entitled THE BLOOD CYCLE which tells the story of three siblings (two alive and one dead) who are trying to find a way out of a 27 year old blood feud. Written by Indrit Kasapi (Albanian-Canadian) it is inspired by the current blood feuds "gjakmarrje" in the Northern parts of Albania; this show will also feature choreography by Dora award nominee William Yong. We have a few other unannounced projects also in development for 2017/2018.
Significant accolades or awards?
lemonTree creations is a DORA nominated queer theatre company based in Toronto, that develops and produces rarely told stories since 2007.
MSM [men seeking men] was nominated for 6 Broadway World Toronto awards including BEST PRODUCTION.
Is there anything I haven't asked you that it would be important to know?
Our cast features a group of very talented and diverse performers. It's important that the bodies moving on stage represent as much of a vast diversity of our world as we can.

MSM [men seeking men] is a dance theatre piece inspired by transcripts of online conversations between men seeking other men. This all-queer cast explores hook-up culture, fetishism, racism, homophobia and straight-up sex. A live DJ spins, creating a world of electronic beats where music is the omnipotent power and bodies, sweat and words mix to create an underground party where anything goes and (almost) nothing is taboo.

Presented to critical acclaim in June 2013 at Toronto Fringe Festival, the piece had its World Premiere as part of the World Pride Festivities in Toronto in June 2014 and was nominated for 6 Broadway World Toronto Awards including Best Independent Theatre Production. www.lemontreecreations.ca
MSM [men seeking men] (LemonTree Creations—Toronto)
OUTstages Theatre Festvial
June 23, 2017 at 9pm
Metro Studio Theatre (corner of Quadra and Johnson)
Created: Indrit Kasapi with the original cast; Cole Alvis, Aldrin Bundoc, Corrado Cerruto, Austin Fagan, Andrew Hartley, Ryan G Hinds, Louis Laberge-Cote, Nico Racicot.
Tickets $25 in advance through Ticket Rocket, online, by phone at 1-855-842-7575, or in person at 101-804 Broughton Street OR at the door.
Duration: 60 minutes
Rating: Adult themes, coarse language, nudity.
Genre: Dance theatre