Love with Leila at Intrepid Theatre OUTstages 2017. An interview.
I've known Izad Etemadi since his days as a student at the Canadian College of Performing Arts, and followed his career avidly since, including watching the beginning of Leila as a character.  I had a chance to chat with Izad via email about his upcoming show, Love with Leila, coming soon to Intrepid Theatre's OUTstages Theatre Festival.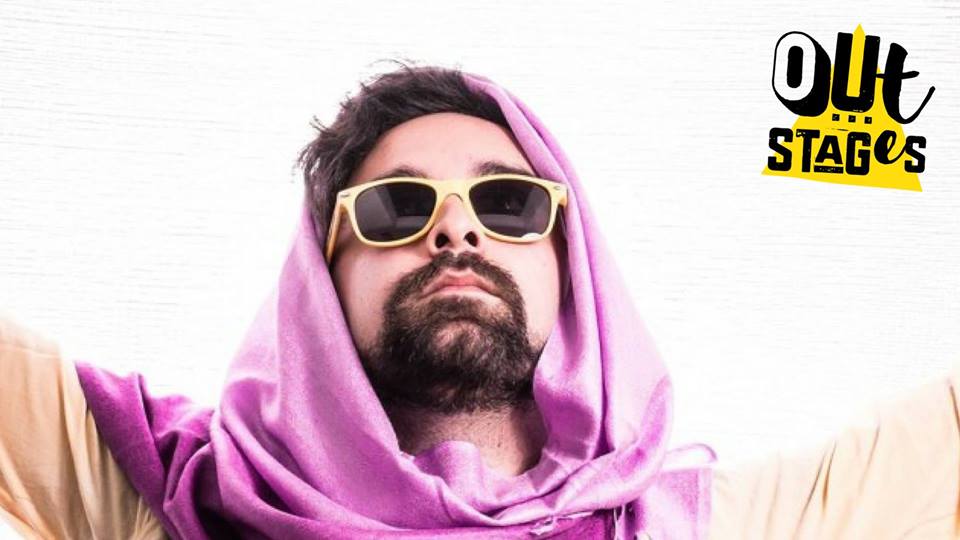 What sparked the creation of this show? Is this your first one person show?  I know it came from Borderland that you did at UNOWorks in 2013 (and then toured on the Fringe circuit). Can you explain a little how Leila came to take the preeminent role?
Leila was a character in my first solo show Borderland which premiered at UNOWorks in 2013 before a summer long fringe tour. The show explored the life of a gay man in Iran and the immigrant process for queer refugees. I wrote Leila as a very serious and dark character but the minute her scarf came on and the accent came out the audience started to laugh. Apparently Leila was a comedian! As I continued the tour, Leila became stronger and stronger in my body and resonated immensely with audiences. I felt so powerful in her voice!
People were always asking about her. They wanted to know more. When I was performing Borderland at the Hamilton Fringe Festival my front of house manager said "you should create a solo show for Leila. It should be about love!" I replied with "Sure….Love With Leila. Let's do it." I applied for Fringe the following year, got a slot, frantically wrote, rehearsed a few times in my overpriced basement apartment to a select group of supportive (yet critical) friends and the rest is history!
When did you debut the show and how has it changed since the debut?*
The show debuted at the Hamilton Fringe in July 2014. The show has changed immensely and continues to do so. After the initial production I brought on dora award winning theatre artist Liza Balkan as director/dramaturge. Our work together really brought the show to where it is now. We are constantly trying to keep the show current – finding moments that we can relate to what's going on in the real world. Liza is a fantastic dramaturge. She is always pushing me to find the honesty and truth in the storytelling. We listen to the audience very closely. Taking into account how they are responding to the material and see if changes need to be made.
Leila is also evolving as a person. One show didn't feel like enough. A holiday sequel was created – 'A Very Leila Christmas. Leila is living in Canada, working at rogers wireless, and trying to understand the true meaning of Christmas through the eyes of an immigrant.  Highlights of this show are Leila's 12 days of Christmas (including a Gucci Bag in a Maple Tree) and a group sing along of Leila's favourite Christmas song (Let It Go) while decorating her fake white Christmas tree.
One of the things I'm most proud of is a program called 'Leila's Girlfriends.' I connected with the Immigrant Women's Centre (and later the Good Shepherd) and created a storytelling workshop geared towards newcomer women. Giving them a space to practice sharing their voice and expression their experiences being immigrant to this country. The participants who felt comfortable enough to get on stage joined Leila for an unforgettable performance on International Women's Day.
Can you comment on the design aspect of your show, its esthetic?
The design aspect of the show is constantly changing depending on venue and resources. We aim to create a living room aesthetic. We want to audience to feel comfortable, like they are in Leila's home and part of her story.
Sometimes Leila performs in churches, class rooms, bars and peoples living rooms so the set is always being adapted to the space that is provided!
What do you hope to inspire in your audience?
I hope for audiences to have fun! I hope for them to interact with Leila and get up and dance with her! I hope for them to sit in the theatre and not feel like they are watching a 'play' but that they are actually a part of the story. I hope that throughout the show they can relate to Leila and see a bit of themselves in her.
Who will be interested as a potential audience member?  What would you say to entice someone to come?
Honestly, everyone! Everyone should come because the show is FUN! Part way through the show we stop to have a big Persian dance party. You learn Leila's favourite dance moves and party with her on stage. I have had a wide range of audiences members from newborn babies to 95 year old men. Everyone has been able to find something to engage with. If you are Persian, or friends with Persians, there will be some special inside jokes just for you!
What's next?
I just received some funding to create Leila's next show – LIVE! With Leila: an intimate Persian cabaret. The goal with this show is to comment on the state of racism, sexism, homophobia and other types of oppression in our country through fun upbeat pop covers and original songs. I have experimented with some of this through Leila's YouTube videos and will now be exploring how this content works on stage in a cabaret setting.
Significant accolades or awards?
In 2014 Love With Leila won Critics Choice at the Hamilton Fringe Festival and 'Anything Leila' was named Best of Theatre for 2014 by View Magazine.
In 2016 Love With Leila won the Broadway World Award for Best Independent Production.
Have you had any pushback from the Muslim community?
I have personally not experienced pushback from the Muslim community in my time doing this show. The story is not about being a Muslim, or a woman, or Persian…it's about being a human and how we learn to overcome our insecurities and love our flaws.
FUN FACT
Love With Leila is going to be performing on the SAME STAGE that the character of Leila first ever appeared in UnoWorks four years ago! I feel like we are coming circle here.
She's fierce. She's bearded. She's looking for love.

Leila, our bearded lady-hero, simply wants to please her parents and lose herself in love but she's not quite marriage material. Laugh, cry and sigh with her as she goes through her first period, first date and first plastic surgery consultation. When Leila meets her prince charming her whole world is turned upside down. Is love really all it's cracked up to be? www.laughwithleila.com

Winner, Best Independent Production in 2016, Broadway World

"Persian Judy Garland." – The Coast

"Comic genius… a must see" – The Chronicle Herald
Love with Leila, created and performed by Izad Etemadi (Toronto)
Intrepid Theatre OUTstages Festival
June 21st and  June 23, 2017 at 7pm
Intrepid Theatre Club, #2-1609 Blanshard Street (at Fisgard)
Tickets: $20 in advance through Ticket Rocket, online, by phone at 1-855-842-7575, or in person at 101-804 Broughton Street.
Comedy.
Rating: Coarse language and adult themes