Simply magnificent. There are no other words to describe the wonderful production of My Fair Lady by Blue Bridge Repertory Theatre currently playing at the McPherson Playhouse until August 18th.
From the moment the audience enters the theatre, to a glorious vintage view of London (a scrim specially commissioned by designer Patrick Du Wors) the sense of anticipation is palpable.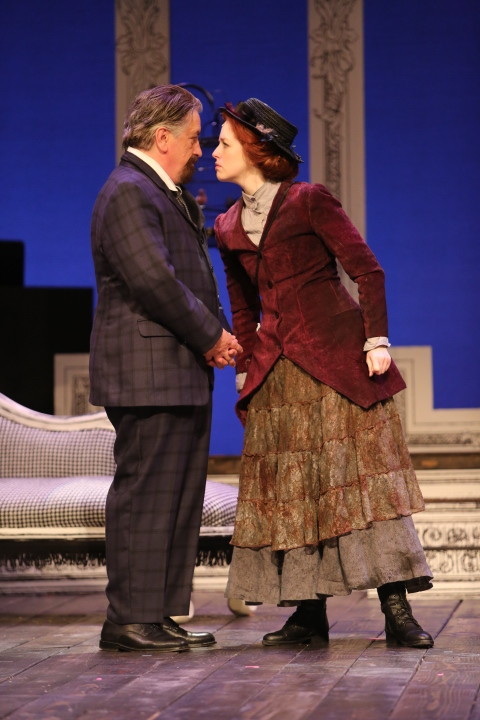 Brian Richmond (Henry Higgins) and Amanda Lisman (Eliza Doolittle). Photo: Tim Matheson
My Fair Lady is one of the largest shows mounted in Victoria in recent memory. The technical prowess necessary to produce a work on this scale is considerable. For the final show of their fifth season, Blue Bridge Repertory Theatre pulls out all the stops, and achieves a striking balance of excellence in design, lighting, music, dance and acting.  Director and choreographer Sara-Jeanne Hosie (in her Blue Bridge directorial debut) oversees a musical that goes from one high note to another.  At times it was more like being at a rock concert or sporting event – I'm not sure the last time I felt this amount of sympathetic reaction from theatre-goers.  By breaking the fourth wall, and having actors enter and exit via the auditorium, or situating them, at times, in the boxes overlooking the stage, Hosie aligns audience closely with the ensemble – success is mutually shared, and audience and actors become a synergistic "one".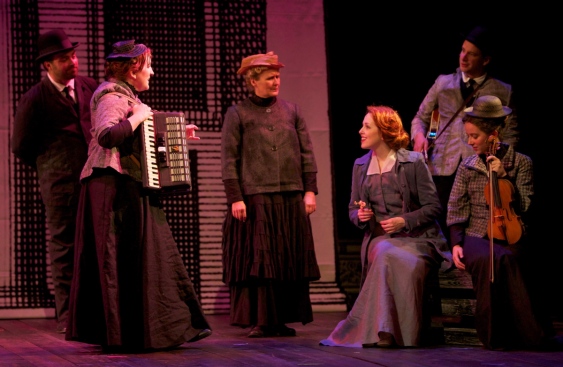 Matt Coulson (Harry), Caitlin Hayes, Shauna Baird, Amanda Lisman (Eliza), RJ Peters (Jamie), Sarah Tradewell. Photo: Tim Matheson
I'm not sure how I personally came to know most of the songs in My Fair Lady – I've never seen it onstage, and definitely don't remember seeing the movie.  This musical, described as "perfect", has entered the collective consciousness. Songs are greeted as long lost cultural friends.
Based on Pygmalion by George Bernard Shaw, and adapted by Lerner and Loewe for the stage, it features a strong female lead with a definite desire to better herself.  Amanda Lisman is spitfire incarnate in her interpretation of Cockney flower-seller Eliza Doolittle– large and unreserved in her movements and expression during the opening sequences, with an unquenchable spirit and spark. Her transformation to proper lady and belle of the ball is astonishing.  Throughout, Lisman glows with a captivating and magnetic presence.
Originally Blue Bridge planned to stage My Fair Lady as a chamber musical; somehow the cast grew and grew until it became 17 people onstage at various times.
The major revelation has to be Brian Richmond (Professor Henry Higgins), Blue Bridge's artistic director, in his return to the stage after decades as a director and dramaturge.  He's been felicitously paired with veteran performer Wes Tritter as his new-found friend Colonel Pickering, a fellow linguist.  Tritter comes across as the jolly avuncular chap to Richmond's rigid pragmatist; this dichotomy is exploited for every comic possibility.
Spewing self-importance and assuredness in his dubious world-view, Richmond as Higgins fairly begs to be taken down a notch. The question becomes, is Eliza woman enough to do it?  This tension, evident from the very beginning, sustains the action throughout the three hours run time, without ever dampening the audience's interest.
There is so much going on at every moment – with an incredibly rich visual design, the eye captures details wherever it turns, whether in different patterns in the cut-outs on the maid's aprons, column etchings in the study, or drapery in the gowns during the Embassy Ball. Patrick Du Wors echoes some of the chromatic themes first displayed in last year's highly successful (and multi-award winning) Little Shop of Horrors. Grey, black and white are ever present, the only variations being in some of Eliza and Alfred Dolittle's wardrobes.  To this muted colour scheme, Du Wors has added layer upon layer of texture and form.  Lighting designer Rebekah Johnson adds punch with washes of rich colour in the backdrops.
Technically, there are some amusing surprises (which I will not reveal) that had the audience applauding during the Ascot racetrack scene.
Musical director John Mills-Cockell had the formidable task of sequencing all the tracks that are employed in addition to the live musicians (Stephanie Sartore & Caitlin Hayes – keyboards and accordion, Sarah Tradewell – violin, RJ Peters – mandolin).  These musicians also formed an element of the ensemble, performing many of the dance numbers and scenes in addition to playing their instruments.
From a dance perspective, this is an exceptionally gifted cast – I counted at least three ballet dancers who are also choreographers (Tara Britt, Amanda Grey, Ashley Evans), Dan Costain (Alfred Doolittle) is a seasoned "hoofer, and RJ Peters, Brodie Nicholls and Matt Coulson (Zoltan Karpathy/Harry) have extensive musical theatre experience. Hosie, assisted by Sylvia Hosie and Jessica Hickman, has developed a choreography that spans the gamut from boisterous polka, jig, and tap numbers (Wouldn't it Be Luverly, With A Little Bit of Luck) to sedate waltzes (Embassy Ball).  It's complex and unexpected. When you consider the short three week rehearsal process, it's a phenomenal achievement.
Iris MacGregor Bannerman was not only an impressive and stately Mrs Higgins; she served as dialect coach, helping the cast create a wide range of very convincing accents.
Vocal highlights included Kholby Wardell (Freddie) in a rich rendition of one of the best-known songs On the Street Where You Live, Costain and pals in a frolicsome With a Little Bit of Luck, and Lisman, unchained, in Just You Wait, to name but a few.
Blue Bridge Repertory Theatre ends their fifth season with an exceptional production of My Fair Lady.  Come celebrate with them.
My Fair Lady, book and lyrics by Alan Jay Lerner and Frederick Loewe
Directed and Choreographed by Sara Jeanne Hosie
August 6 – 18, 2013 at the McPherson Playhouse
Tickets: $24.50 (August 6/7) $45.25 – $54.75
McPherson box office (Centennial Square) 9:30 am to 5:30 pm Mon-Sat
by phone at 250-386-6121 or online at rmts.bc.ca.
Group sales discounts of up to 20% for groups of 8 or more are also available by calling Blue Bridge Repertory Theatre's offices at 250-385-4462.
**Student RUSH tickets available one hour prior to the show. Up-to-date Student ID card necessary. Call RMTS to learn more.
Cast:

Shauna Baird Mrs. Pierce
Dan Costain Alfred Doolittle
Matt Coulson Zoltan Kaparthy/Harry
Ashley Evans  Featured Dancer
Amanda Gray Featured Dancer
Amanda Lisman Eliza Doolittle
Iris McGregor Bannerman Mrs. Higgins/Dialect Coach
Brodie Nicholls Ensemble
Caitlin Hayes & Stephanie Sartore Accordions and Keyboards
RJ Peters Jamie/Mandolin
Brian Richmond Henry Higgins
Sarah Tradewell Violin
Wes Tritter Colonel Pickering
Lindsay Vukovic Mrs. Eynsford-Hill
Kholby Wardell Freddie
Direction and Choreography Sara-Jeanne Hosie
Musical Direction John Mills-Cockell
Assistant to the Choreographer Sylvia Hosie
Apprentice Director/Choreographer Jessica Hickman
Stage Manager Sandy Halliday
Assistant Stage Manager Caitlinn O'Leary
Disclaimer:  I have a close association with Blue Bridge Repertory Theatre; my son, Elliott Loran, was one of the founding artists from the 2009 season. and I am a past board member. I was offered complimentary tickets to review My Fair Lady.