With heart-breaking inevitability, the cast in Of Mice and Men, Blue Bridge Theatre's current production, play out the unfolding tragedy in the lives of a pair of Depression-era migrant workers, George and Lennie.
Originally written in 1937 as a play-novella by the Nobel Prize winning author John Steinbeck, this contemporary classic has the dubious distinction of being one of the most challenged books in North American literary history for its inflammatory language, racism and sexual overtones.
At the heart of the story though are the hopes and dreams of people coping with diminished circumstances and minimal prospects.
A stark stage awaits, minimally set with rocks, cacti, a lone tree and marvellous expanse of sky. Amid rustlings and bird call (effectively echoed through back speakers), Lennie and George stumble in.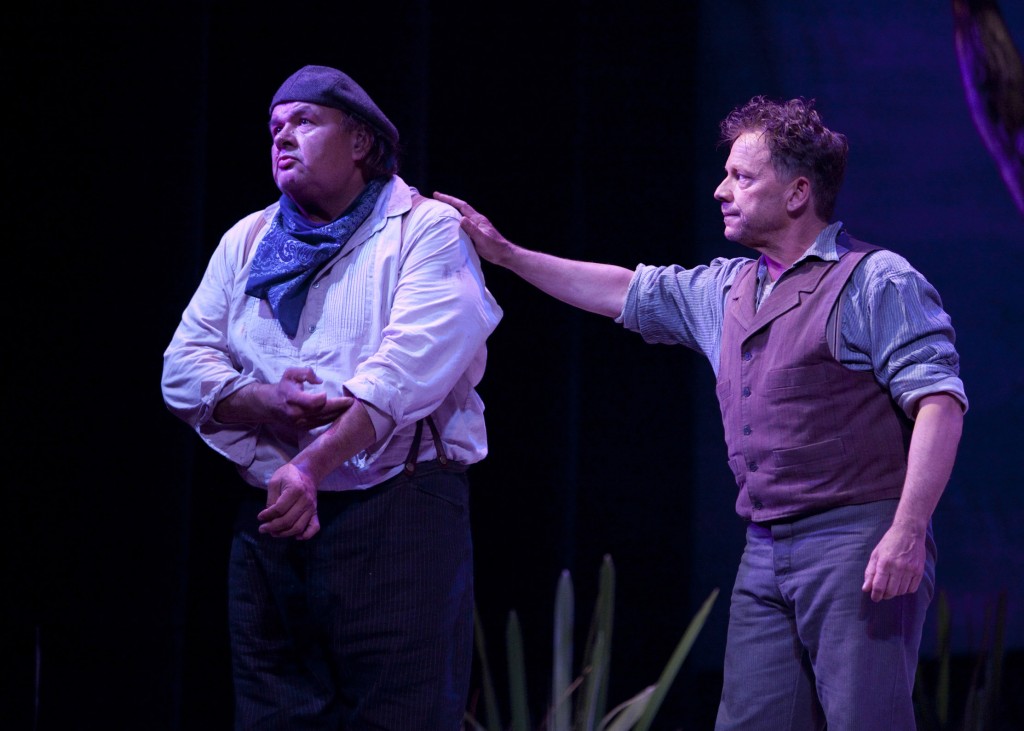 Gary Farmer (Lennie) and David Ferry (George). Photo by Tim Matheson. Image provided
Steinbeck's sparse language hints at a mean life lived on the edges of society.
Cunning and simplicity are married in this pair of unlikely companions. Producing Artistic Director Brian Richmond coaxed veteran aboriginal actor, musician and activist Gary Farmer into playing the pivotal role of Lennie, the gentle giant, and invited back David Ferry (Victoria Theatre Critics award winner for his portrayal of Willy Loman in Death of A Salesman) as George.
The elements of the play are laid out carefully and judiciously. The audience waits, just like George and Lennie, tension building, to find out exactly how things will play out.
Under-girding the cycle of tension and release is the magnificent soundscape created by Brian Linds who has performed and/or sound designed for all four ofBlueBridge's seasons, sometimes taking on double roles, as he does here.  The incessant thrumming and keening in certain scenes unsettles us – we know there is evil and desperation afoot.
If you're a dog-lover, you will be devastated at Linds' scenes as Candy, the ranch handyman, trailing his old dog with him wherever he goes.  Boomer, a border collie, is certainly a find, adding greatly to the pathos in this seminal moment.  Much of the play's development and culmination is revealed in this snippet of a scene.
Designer Ian Rye (Pacific Opera) has created sets that double as bunk houses and barns, making them mobile in the process and allowing actors to make the changes between scenes.  This particular type of stage business furthers the story and continues to add layers of complexity.
The stage at the McPherson, although fore-shortened by innovative raking commissioned for the inaugural season, demands a broad and comprehensive vision.Richmond plays large in his creation and paints not only with words but with actions – the juxtaposition of physical characteristics in the actors, and the differences in their speaking styles heighten Steinbeck's dialogue.  Of particular note are the beautiful tableaux created by the ranch hands playing horse-shoes, back dropping the scene between Curley's wife and Lennie, and then, electric torches in hand, as they search for Lennie in the fog.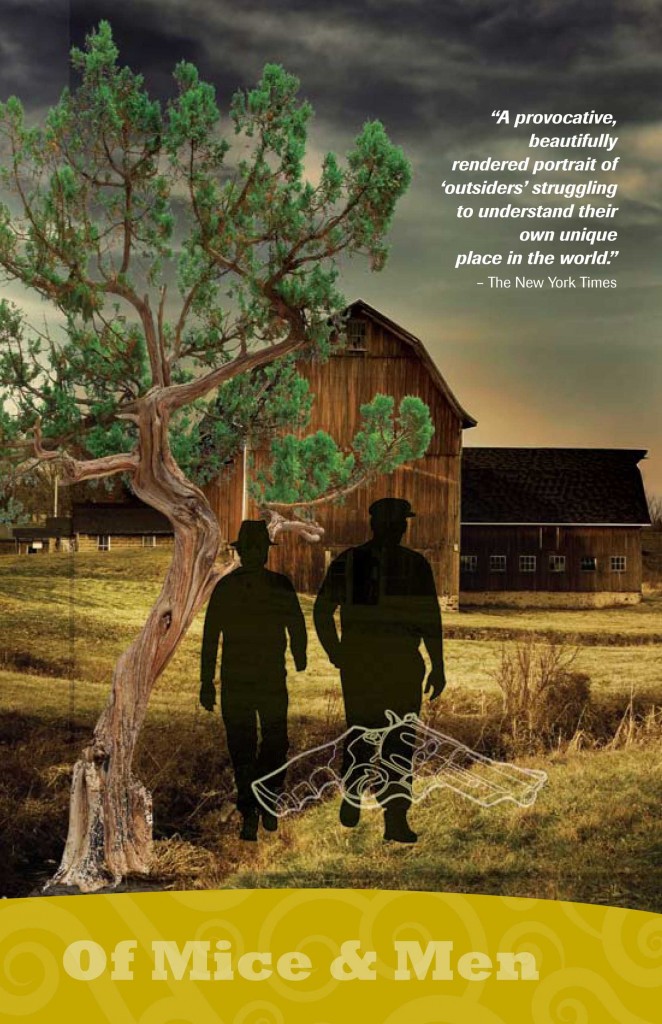 Strong supporting portrayals by the other cast members – Christopher Mackie (Slim), Sebastien Archibald (Whit), Michael Armstrong (Carlson), Ashley O'Connell (Curley), Samantha Richard (Curley's wife), Jim Leard (The Boss), Laurence Dean Ifill (Crooks) – provide vignette after vignette, each as fine as the one preceding. Taken together they make this creation of Of Mice and Men a masterful mosaic of beauty in broken-ness.
Blue Bridge Theatre in its fourth season is the result of patient hard work on the part of many, many people – from the ensemble to the creative team, from funders and supporters, to the audience and administration.  Art of this magnitude does not happen in isolation. Thank you for continuing to make beautiful theatre for our viewing pleasure.
Of Mice and Men by John Steinbeck
July 3 – 15 at McPherson Playhouse
Tickets: McPherson Playhouse, online, by phone (250.386.6121) or in person.
$45-$55
Starring:
Gary Farmer  – Lennie
David Ferry – George
Brian Linds – Candy
Christopher Mackie – Slim
Sebastien Archibald – Whit
Michael Armstrong – Carlson
Ashley O'Connell – Curley
Samantha Richard – Curley's wife
Jim Leard – The Boss
Laurence Dean Ifill – Crooks
Creative Team:
Brian Richmond – Director
Ian Rye – Set Designer
Paticia Reilly – Costume Designer
Rebekah Johnson – Lighting Designer
Brian Linds – Sound Designer
Wren Handman – Stage Manager
Caitlinn O'Leary – Assistant Stage Manager
Iris MacGregor Bannerman – Dialect Coach 
Disclaimer: As always, I retain editorial control over all the content published on this blog. I am a season subscriber to Blue Bridge Theatre, and a past board member.