First the disclaimers:
I am NOT a theatre reviewer, nor do I have any background as an English major. I do however have an abiding passion for theatre and volunteer for the Canadian College of Performing Arts, Intrepid Theatre, Theatre SKAM, and the Victoria Shakespeare Society; I was on the board of Blue Bridge Repertory Theatre for a year.

In addition my younger son, Elliott Loran is a performing artist (actor, musician, dancer, choreographer, singer).

Through him and my own volunteer work, I have had the opportunity to meet many local and visiting performers. I see over 50 plays a year. My opinions are highly subjective. Like my friends Sterling Lynch in Ottawa and Tamara Hernandez in Victoria, I strive to spread my enthusiasm for this discipline to others.
And so, this "non-evaluative review" or "art sneeze".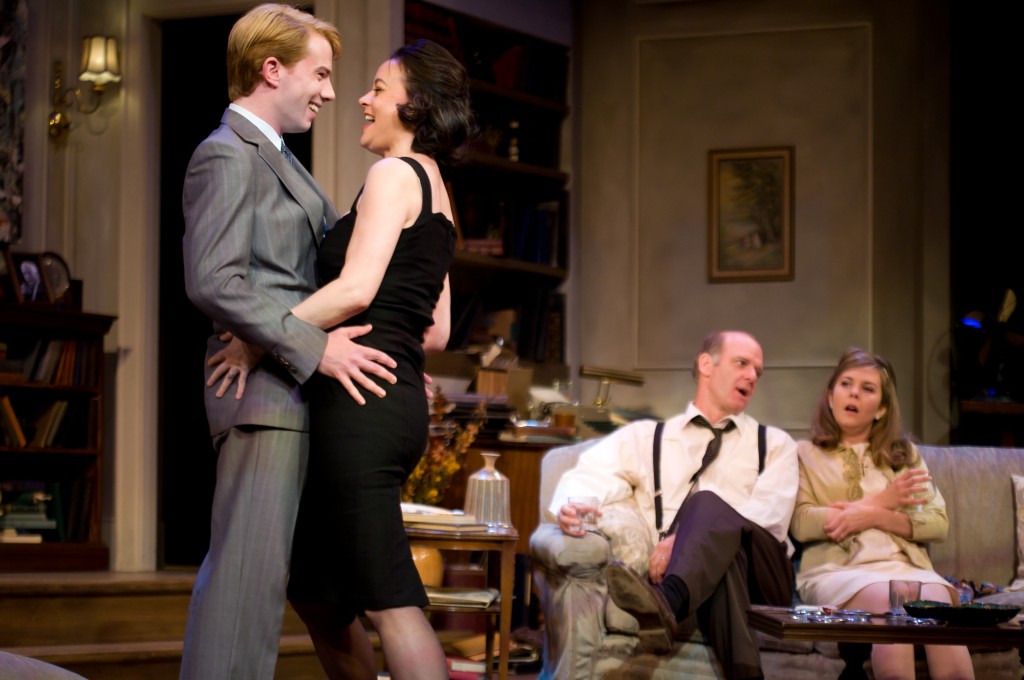 Nick (Alex Plouffe) Martha (Meg Tilly) George (Andrew Wheeler) and Honey (Celine Stubel)
Photo by David Bukach (used with permission)
Who's Afraid of Virginia Woolf is a classic of 20th century American theatre. Written by Edward Albee in 1962, it was nominated in 1963 for a Pulitzer Prize which was, controversially, not awarded that year. You may have studied the play in high school, college or university English classes. Perhaps you've seen the 1966 movie (winner of 5 Oscars: best actress, best supporting actress, best art direction, best cinematography, best costume design) with Elizabeth Taylor and Richard Burton.
Blue Bridge Repertory Theatre made the unprecedented decision last year to ask their subscribers and audience to vote on a short list of shows for the 2011 season. Virginia Woolf was chosen as the dramatic piece. Brian Richmond, the founding (volunteer) artistic director (and director of this show) had an ace up his sleeve. He had managed to coax writer Meg Tilly out of retirement to play Martha. Meg is well known for her roles in The Big Chill and Agnes of God, but she had not been on stage since she was 20, and had not acted since the mid 1990s.
As a writer, she voiced her nervousness quite publicly in interviews and on her blog.
I'm sure there are many people who asked the questions: "Will she measure up?" "Will Blue Bridge deliver?" There was a lot riding on this production. It's a heavy weight to bear for actors, and for a company.
Last night we attended the preview to a sold out house. (Tonight's preview and opening night Thursday July 7th are also sold out).
On first impression, the set is visually stunning and complex. It was a good sign of things to come.
And then – they arrived; college professor George (Andrew Wheeler) and his wife Martha (Tilly) open their front door after a night of partying. Matching verbal blow for verbal blow they proceed to dismantle one another in front of their young guests (Nick – Alex Plouffe and Honey -Celine Stubel) who are, at first, horrified, and then soon join in.
This is a Virginia Woolf unlike any I remember or had imagined – by turns funny, beautiful, heart wrenching and sordid. The actors are perfectly matched not only in their roles but with one another. Written and performed in 3 acts, it is 3 hours of sheer theatrical tour de force.
The creative team of Carole Klemm (sets), Cat Haywood (costumes), Rebekah Johnson (lighting) and Brian Linds (sound) have fashioned a time capsule that perfectly complements the action on the stage.
Blue Bridge has worked hard over 3 seasons to bring modern classics to Victoria audiences while employing seasoned acting professionals and rising young stars (among them my son). What they have accomplished in such a short period of time is astounding!
I would strongly urge you to attend this production. Blue Bridge continues to accumulate awards every season for the quality of their shows. It will be no different this year.
Tickets are available through the McPherson box office. Who's Afraid of Virginia Woolf runs until July 17th with performances nightly Tuesday through Saturday and matinées Wednesday and Sunday.
Bravo and kudos to the entire team at Blue Bridge for this highlight of my theatrical year.