The Rez Sisters by Tomson Highway. Belfry Theatre Sept 16-Oct 19 2014 Victoria BC. A review.
The Belfry Theatre opens their 39th season with panache.  The Rez Sisters is theatre that will have you dreaming overnight, and still thinking at coffee in the morning. It's electrifying, disturbing, sad, funny and as relevant as it was in 1986.
Some days I'm ashamed—ashamed of my settler's world-view and lens; ashamed of my privilege; ashamed of my lack of knowledge of First Nations artists and creators.
How can a playwright and author like Tomson Highway, a person that Maclean's has named as on of the 100 most important people in Canadian history, be completely unknown to me; likewise the work of celebrated theatre artist Tantoo Cardinal?  I feel spectacularly un-informed and un-qualified to even begin to comment on such an important and classical piece of the Canadian theatre canon as The Rez Sisters.
When Highway wrote the play in 1986, and it was first produced by Native Earth Performing Arts, his desire was to translate life on the reservation for a mainstream audience. The Rez Sisters still packs a powerful wallop, even after 28 years.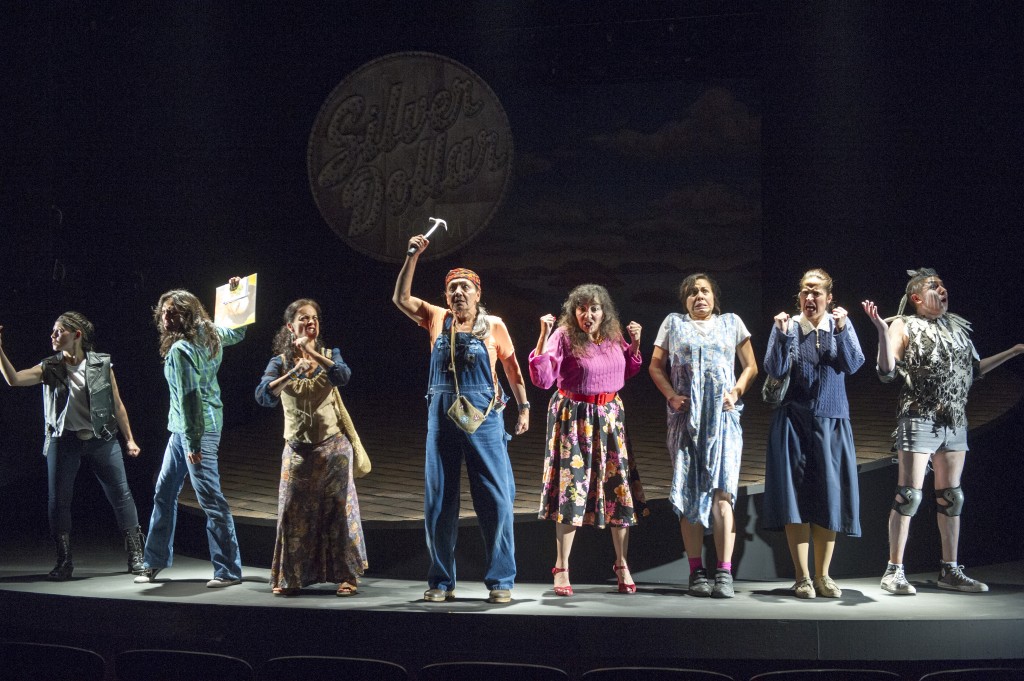 Reneltta Arluk, Lisa C Ravensbergen, Tasha Faye Evans, Tantoo Cardinal, Tracey Nepinak, Tiffany Ayalik,
Cheri Maracle, Waawaate Fobister Photo: David Cooper
For the current Belfry Theatre production, director Peter Hinton (A Tender Thing), assisted by current Native Earth Performing Arts artistic director Ryan Cunningham, has assembled a cast of award-winning and honoured multi-disciplinary artists of the highest calibre, including veterans Cardinal (Pelajia Patchnose), Tracey Nepinak (Philomena Moosetail) and Cheri Maracle (Veronique St Pierre), as well as emerging performers Waawaate Fobister (Nanabush) and Tiffany Ayalik (Zhaboonigan Peterson). Reneltta Arluk (Emily Dictionary) is also a singer, and Lisa Ravensbergen (Annie Cook) and Tasha Faye Evans (Marie Adele Starblanket) have extensive dance backgrounds.
Inspired by Michel Tremblay's Les Belles-Soeurs, The Rez Sisters tells the tale of seven women, related by blood or marriage, living in Wasaychigan Hill—a fictional reservation on Manitoulin Island—, and dreaming about an escape.
Employing symbology consistent across all First Nations Cultures, set designer Catherine Hahn—who also designed the costumes—uses a large, severely raked circle to contain all the worlds of the play—Pelajia's roof in the opening soliloquy, the reservation, the van trip to Toronto, the Silver Dollar Room (where THE BIGGEST BINGO IN THE WORLD takes place).  As a device it helps the audience focus and provides no end of metaphorical allusions reminding us of the sacred circle of life itself, and the drum/dance circle of celebration.
Lighting designer Bonnie Becher's work excels in dark and shadow—safe in the womb of the van, rays illuminating the death dance of Nanabush and Marie Adele—and sparkles with vibrating intensity during the bingo.
Underneath every action and word, the lush musical score of composer and sound designer Troy Slocum highlights the sights and sounds of the reservation, and the emotional states of the seven women. It's particularly effective in creating the frenzy of the work bee montage as they run hither and yon in their attempts to raise money for the trip.
Choreographer Denise Clarke creates moments of transcendent beauty, and laughter-inducing craziness.
Hinton's direction matches the author's magical realism—at times the actors play large in their interpretation of the characters—Lisa C Ravensbergen as a perpetually zippy Annie Cook, Cheri Maracle as  holier-than-thou Veronique St. Pierre, Tracey Nepinak recounting the story of mythical Bingo Betty—while mystical elements are introduced by Waawatee Fobister (Nanabush).  The many heart-rending scenarios are treated with great respect and dignity. Faced with an astonishing ensemble cast, it's impossible to single out many individual scenes without narrating the entire play in this review.
In these seven women, any audience member will find a soul sister—someone whose life resonates with their own. Between the bickering and the back-biting, there is the real sense of pulling together through all of life's challenges—alcoholism, domestic abuse, abandonment, rape—that lifts this production beyond the reservation to a universal realm.
The Rez Sisters is throat-grabbing theatre—it confronts, engages, and demands attention.  Crafted with love and enormous artistry, this is one show I am not likely to forget.
The University of the Fraser Valley has an excellent list of resources for people who want to learn more about The Rez Sisters, and both Anti-Study and Book Rags have study guides.
The Rez Sisters by Tomson Highway
Belfry Theatre, 1291 Gladstone Avenue, Victoria BC
September 16-October 19, 2014
Tickets: 250 385 6815 or online
Starring (in order of appearance)
Tantoo Cardinal Pelajia PatchnoseTracey Nepinak Philomena Mossetail
Lisa C. Ravensbergen Annie Cook
Tasha Faye Evans Marie Adele Starblanket
Waawaate Fobister Nanabush
Cheri Maracle Veronique St Pierre
Tiffany Ayalik Zhaboonigan Peterson
Reneltta Arluk Emily Dictionary
Director Peter Hinton
Choreographer Denise Clarke
Set and Costume Designer Catherine Hahn
Lighting Designer Bonnie Beecher
Composer and Sound Designer Troy Slocum
Stage Manager Jennifer Swan
Assistant Stage Manager Jessica McLeod
Assistant Director Ryan Cunningham

Engaging Audiences
Prior to and throughout the run of The Rez Sisters, the Belfry is producing a number of audience engagement events designed to enhance and extend the experience of the play.
B4Play – Saturday, September 13 at 11 am
CBC Radio's Gregor Craigie will host a live talk show featuring director Peter Hinton, acclaimed actress Tantoo Cardinal from The Rez Sisters, and Judith Sayers, former Chief of Hupacasath First Nation. This free event is held at the Belfry Theatre.
AFTERPLAY WEEKS
September 23 – 27 / October 7 – 11
Following selected performances of The Rez Sisters, we'll host Afterplay – a facilitated discussion where patrons can share their thoughts with fellow audience members. It's a chance to "debrief" after the show and hear how other audience members experienced the play.
TALKBACK THURSDAY
Thursday, September 25
Following the 8 pm performance of The Rez Sisters, join some of the actors from the show and your fellow audience members for a 20-minute Q & A session.
BOOKSMACK!
Monday, September 29 at 7:30 pm
Fast, furious and fun, GVPL librarians return to the Belfry for Booksmack. They'll let their hair down, take off their glasses and speed review their favourite books. Highbrow, lowbrow and everything in between, including some great titles inspired by The Rez Sisters. Free event.
VOCALEYE PERFORMANCE
Sunday, October 12 at 2 pm
Audio describers provide descriptions of the visual elements of the show, allowing people with low vision to enjoy the theatrical experience without missing any of the details. Following the performance there is a touch tour of the set.
Disclaimer: I was graciously provided complimentary tickets to attend The Rez Sisters.