Romeo and Juliet at the Greater Victoria Shakespeare Festival 2015. A review. July 8-August 8, 2015 in Victoria BC.
There is a haunting quality to director Christopher Weddell's version of Romeo and Juliet (currently at the Greater Victoria Shakespeare Festival on the grounds of Camosun College Landsdowne campus July 8-August 8, 2015)—a profound sense of young, headstrong, willful individuals embroiled in perilous situations far above their depth.
Despite having studied the work, this was the first time I have ever seen it staged. What a treat to watch the story unfold from start to finish, beyond the famous balcony scene or the final moments in the tomb.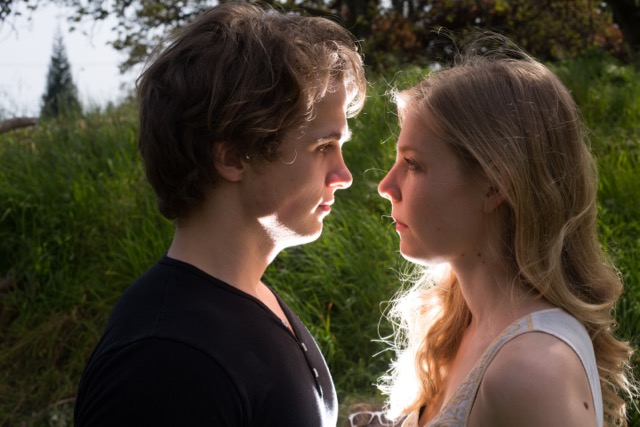 Kiaran McMillan (Romeo) and Sarah Jane Pelzer (Juliet).
Weddell sets Romeo and Juliet in the present day, locally, inspired by the occupation of Centennial Square in 2011—the wealthy, tennis-playing set represent the Capulets (Juliet's family) while much grungier denizens of the street are the Montagues (Romeo's clan). It's easy to imagine the insults flying on the streets of the city, and a young woman captivated by the stereotypical "bad boy".
Costumes by Jimbo Insell are fluid, light-toned (with a number of surprising flashes of red worn by the nurse (Susie Mullen) and Tybalt (Simon Patterson) and elegant for the Montagues–diaphanous scarves accentuate linen sheaths and men's suits are beautifully cut—while dark and rough materials, often worn or with holes, comprise the palette for the Capulets. There is a sense that the Capulets are anchored to the earth while the Montagues float above—far from cares.
The opening hints immediately at menace with strange sounds of plucked strings and rattle—as if in warning (Christopher Weddell sound design). Benvolio (Corin Wrigley) and Mercutio (Trevor Hinton) vault onto the scene in leaps and bounds, as well as an impressive standing somersault (Hinton). The two houses clash.
Against this backdrop of ages-old enmity the audience is introduced first to Juliet's suitor Paris (William Carr), a pleasant young fellow, eager to please, and then to Romeo (Kiaran McMillan in an interpretation full of heart, devotion and simple moon-struck love).
Recent developments with the Greater Victoria Shakespeare Festival include the decision, in 2014, to move to a repertory model with the bulk of the cast playing roles in both summer shows. Professional mentor actors have been hired—this year Sarah Jane Pelzer (A Glass Menagerie-Blue Bridge Repertory Theatre; Ride the Cyclone-Atomic Vaudeville) and Trevor Hinton (Waiting for Godot—Blue Bridge Repertory Theatre). Pelzer is a trained opera singer and actor while Hinton has extensive experience in movement and fight choreography. The strength of the ensemble is evident throughout, in the quality of their vocal work—including the beautiful parsing of the language and the power of voices which must compete with passing buses and planes flying overhead—and the carefully choreographed yet exuberant staging (choreographer Sarah Anne Murphy, dance captain Megan Greenwood).
Members are often professionally trained (with many recent graduates of theatre programs at UVic and the Canadian College of Performing Arts in the company) while others have years of stage experience at the GVSF, Langham Court, Theatre Inconnu, Atomic Vaudeville and the Victoria Fringe Festival. Individual cast members take up the challenge of bringing life to their roles and to the language, sometimes with remarkable spins and flourishes—Alex Judd, as a Capulet servant, raps and mimes as his Lord (the delightfully cantankerous Carter MacDonald) reads out a list of guests coming to the ball. This interlude was a big hit with the youngest audience members. Susie Mullen (Nurse) and Katya Delancey (Lively Helena) are adroit of tongue as they trade ribald and lewd quips with the men. Michelle Morris (Sister Laura) is the salt of the earth, and in the simplest of gestures—wiping her hands on an apron as she comes from the garden—conveys her entire world. Candace Woodland (Lady Capulet) is the epitome of the status-seeking social climber plotting and planning alliances and allegiances. Mercutio (Trevor Hinton), Benvolio (Corin Wrigley) and Tybalt (Simon Patterson) are full of bravado and testosterone.
Director Christopher Weddell incorporates great physicality into the production—precise dance moves full of flourishes in the ball scene, furious grappling in the fight scenes, lewd gestures contrasted with tender love-making.
Sarah Jane Pelzer (Juliet) is possessed of a febrile energy barely tamed; here is the wilful, spoiled child—assured of getting her way, and devious when thwarted, yet retaining still the sweetness of childhood. Together with Romeo she creates a couple that is headstrong and oblivious to danger—running to inevitable doom and a collision course with fate.
Weddell, a founding member of Bard on the Beach, presents a dark, powerful and cautionary tale in this sweeping story of love found and irrevocably lost. No amount of reconciliation will absolve the survivors from their guilt.
Sitting close beside me were a number of young girls (not yet twelve) who, when asked, informed me they had found the Greater Victoria Shakespeare Festival online, and begged to come. They were not the only young audience members present. It's one thing to keep the attention of seasoned theatre-goers and knowledgeable followers of the Bard; I can think of no greater recommendation, in an era of smart phones and iPads, than to know that this Romeo and Juliet has the power to command attention from young fans for over two hours.
Romeo and Juliet, directed by Christopher Weddell
Greater Victoria Shakespeare Festival, Camosun College Landsdowne Campus
July 8-August 8, 2015 Wednesday, Friday and Sunday at 7:30 pm
Tickets through Ticket Rocket or at the door
$24/$19 seniors and students. Children and under FREE.
Season passes $42/$33 seniors and adults
Please note: Parking $3.25 in the Robbins lot
Some chairs and blankets are provided, but it doesn't hurt to bring yours if you have them. It can get chilly outdoors at night so plan accordingly.
Production:
Director Christopher Weddell
Production Design Jimbo Insell
Choreographer Sarah Anne Murphy
Stage Manager Rebecca Marchand
ASM Delaney Tesch
Lighting Design Paul Croy
Sound Design Christopher Weddell
Fight Choreography Trevor Hinton
Dance Captain Megan Greenwood
Wardrobe supervisor Susie Mullen
Assistant props Caroline MacKenzie
Cast (in alphabetical order)
Sampson/Paris William Carr
Nikola/Ensemble Emily DeKorte
Lively Helena/Ensemble Katya Delancey
Sienna/Ensemble Jesse Deutscher
Rosalinde/Juliet understudy Megan Greenwood
Mercutio/Abraham Trevor Hinton
Officer/Peter/Ensemble Alex Judd
Sister Joan/Ensemble Kat Koenigshofer
Lord Capulet Carter MacDonald
Lady Montague Caroline MacKenzie
Romeo Kiaran McMillan
Sister Laura Michelle Morris
Nurse Susie Mullen
Tybalt Simon Paterson
Juliet Sarah Jane Pelzer
lady Capulet Candace Woodland
Gregory/Ensemble Darius Woodland
Benvolio Corin Wrigley
Disclaimer: I was provided with a complimentary ticket to Romeo and Juliet for the purpose of writing a review.