Ruddigore, presented by CCPA's Company C, Jan 27-Feb 4, 2017. Interview with Glynis Leyshon.
The sounds of bodhran, bagpipes and violin will join with keyboard, piano and guitar under the musical leadership of Heather Burns for the final production of CCPA's Company C Studio Ensemble in Ruddigore, directed by the acclaimed, award-winning director Glynis Leyshon.
This is Leyshon's third foray with the students of the Canadian College of Performing Arts (previous credits include Dangerous Liaisons (2012) and Sense and Sensibility (2014)—in another site specific adaptation at St Anne's Academy). When I asked why she chose a little performed Gilbert and Sullivan operetta, she replied "it's most effective if Company C thinks of itself as a season and this year the other offerings—Our Town and This Little Light—were dramatic.  I wanted to inject some comedy"
Sense and Sensibility represented the first time Company C had performed what Leyshon calls "environmental promenade style theatre".  She knew that Craigdarroch Castle is often booked for theatrical performances (Giggling Iguana, Launch Pad Theatre and workingclasstheatre have all performed there) and thought Ruddigore, set in the Scottish highlands, was well suited to the building.  "It's a joyful January offering" not a museum-style version of the piece, adapted to 80-90 minutes as opposed a full length operetta with male and female choruses.  Leyshon is featuring the Bridesmaids as a combined chorus, particularly since there are more young women than young men in this year's ensemble. "It will be a vocally legitimate version with a wonderful music director (Burns).  All of Gilbert and Sullivan's satire, wit and lively music will be preserved—purists won't be disappointed", she states.
And newcomers will enjoy "the intrigue and the great fun of experiencing a ghost story set in a castle, as they become participants in a show" Leyshon says.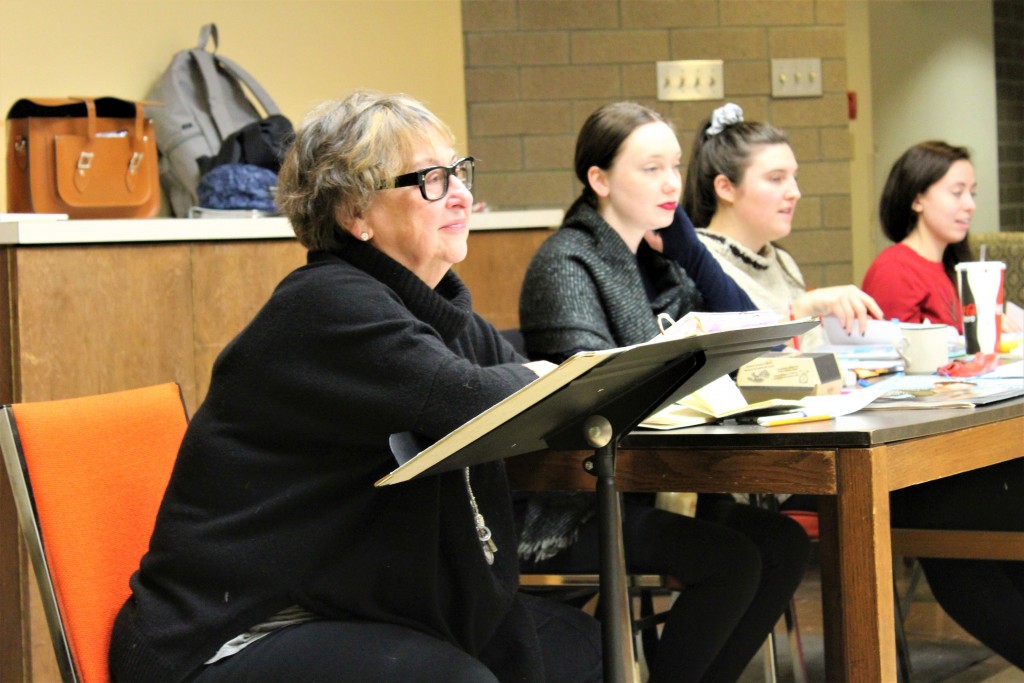 Glynis Leyshon and students in rehearsal. Photo: Will Carr
Leyshon has a passion for working with young people. To her mind, the students of the Company C Studio Ensemble are "engaged, disciplined, hungry and brave".  She wants to contribute to the forward momentum of the art form, and says "I'm not looking to make a substantive directorial mark, but am more interested in the process and the journey, and in raising the level of everyone in the production."
Students Charlotte Thompson (who plays Rosebud) and Forrest Elliot (Robin Oakapple) emphasize the importance of the ensemble and the benefits gained through working together. They've been stretched by the style of Ruddigore, the complexities of Gilbert and Sullivan's words and music and hope the audience will find "lightness and joy, the pleasure of community" in this production.
To put it into a contemporary context, Leyshon says "Gilbert and Sullivan were the Hamilton of their day. Their work can be wildly naughty and Gilbert (the librettist) in particular was a rebel and a gadfly—there is a reason he didn't get knighted".
"It's been very pleasurable to work with this year's Company C who truly represent the spirit and energy of the ensemble", says Leyshon.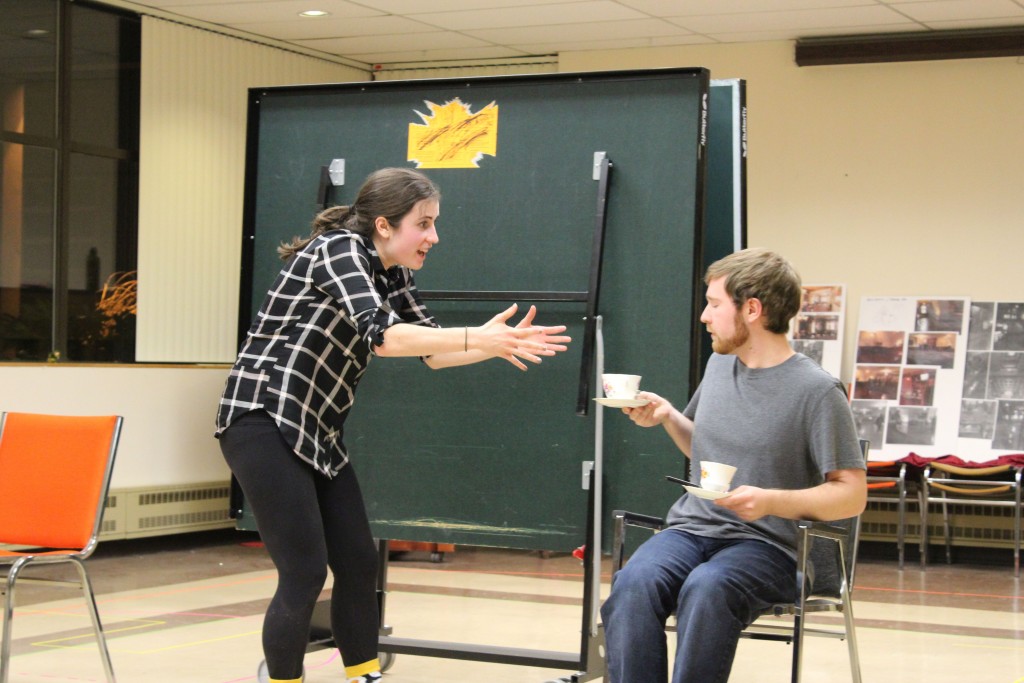 Julie Mombourquette and Devin Aram in rehearsal. Photo: Will Carr
Ruddigore, by Gilbert and Sullivan, directed by Glynis Leyson with musical direction by Heather Burns
Company C Studio Ensemble, Canadian College of Performing Arts
January 27-February 4, 2017 at 6:30pm and 8:30pm
Craigdarroch Castle
Tickets: https://thecastle.ca/events/
$28 general
$24 for Castle Members ***Please call 250-592-5323 to book if you are a Castle Member***
$20 for students ***Please note student ID will be required at door when picking up tickets***
Please note:  This performance involves moving throughout the Castle, including staircases to the fourth floor (85 steps).  There is no elevator. The venue is not wheelchair accessible.
Cast (alphabetical)
Devin Arams Despard Murgatroyd
Will Carr Igor/Ghosts
Jesse Deutscher Tour Guide/ASM
Forrest Elliot Robin Oakapple
Ainsley Harrington Ruth
Madeleine Humeny Bridesmaid
Amber Landry Zorah
Julie Mombourquette Mad Margaret
Derry Oshust Richard Dauntless
Kira Renee Bridesmaid
Chase Sander Old Adam Goodheart
Miranda Sheepwash Bridesmaid
Victoria Stolting Dame Hannah
Charlotte Thompson Rose Maybud
Creative Team 
Director Glynis Leyshon
Music Director Heather Burns
Choreographer/Assistant Director Hannah Ockenden
Costume Designer Shannon Carmichael
Stage Manager Frankie Mulder
Assistant Music Director Chase Sander
Voice/Dialect Coach Dr. Iris Macgregor Bannerman
MEDIA RELEASE:

Victoria BC- The students of the Canadian College of Performing Art's "Company C" Studio Ensemble are closing their 2016/2017 season with a new adaptation of a classic Gilbert and Sullivan Operetta, Ruddigore. The story takes place in the Scottish Highlands. Ruddigore will transport audiences through the Victoria landmark, Craigdarroch Castle, as they follow a musical ghost story that throws lovers into a gothic world of witches, baronets and an age old curse.

First performed in 1887 by the D'Oyly Carte Opera Company, Ruddigore is a great example of Gilbert and Sullivan's wit and musical inventiveness. Audiences are fully immersed in the setting of Craigdarroch Castle, with characters interacting within the rooms of the castle, and the many spirits of the Murgatroyd family drifting through the stairways.

"Adapting Ruddigore to a setting that fully embraces the beauty of Craigdarroch Castle has been a terrific challenge," says director Glynis Leyshon, one of this country's most respected opera and theatre directors. "The talented young performers of CCPA's Company C, working with Musical Director Heather Burns and I, have embraced both the richness of Sullivan's music and the joyful silliness of Gilbert's lyrics… presenting Victoria audiences with an all too rare opportunity to enjoy this lesser known classic".

As part of their training, the performers of "Company C" are also working under the guidance of professional mentors on the technical aspects of the production. From lighting and sets, to props and wardrobe, stage management and choreography, everything in this production will be the product of the young artists from the College. This will be the third and final production from Company C in their 2016/2017 season. Our Town and This Little Light, have been met with great reviews and audiences won't want to miss this fresh take on Gilbert and Sullivan's Ruddigore.

Performances are January 27-29 & February 1-4 at 6:30 & 8:30pm. Tickets are $28 with discounts for castle members and students. Go to www.ccpacanada.com for tickets and box office information, or please contact

The Canadian College of Performing Arts Box Office at 250595-9970 Ext 222 for more information. –