It's time to bid a very sad farewell to the denizens of Bedlam-by-Sea as the third season of Sin City the Live Improvised Serial wraps up tonight (May 28th) at the Victoria Event Centre. Season Three was originally planned to start in the fall of 2012, but busy acting schedules meant the season was advanced to January, for a total of 21 episodes playing to full houses.
It's "FawltyTowers meets Coronation Street, with a dash of Austin Powers, Hot Fuzz, and Calendar Girls" in this fictional UK resort town at the Crown Jewels Hotel and Squid and Thistle Pub.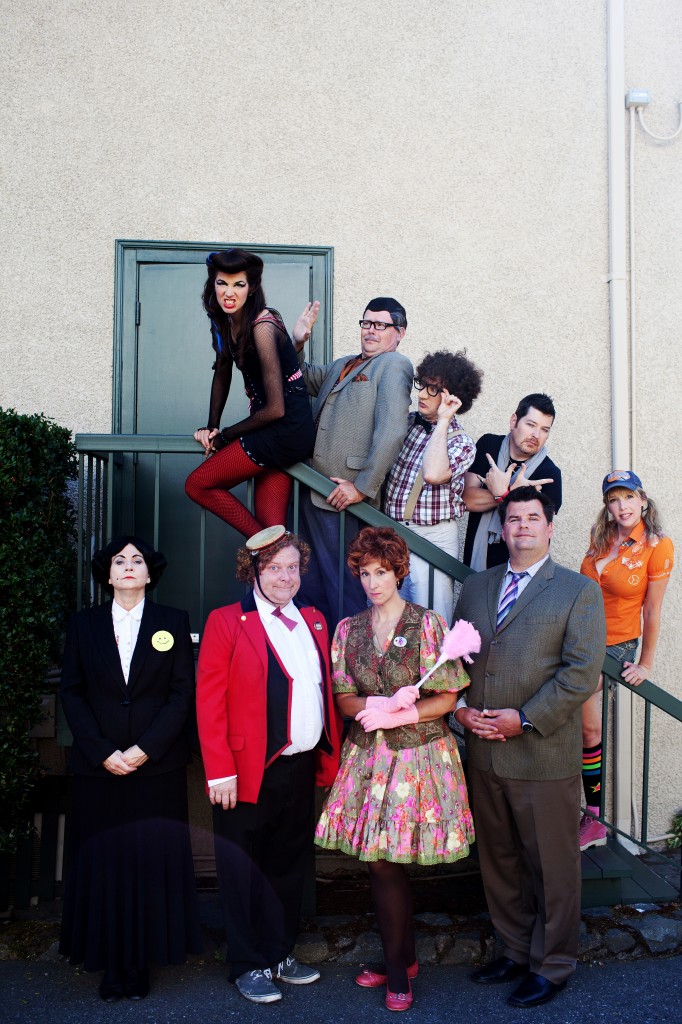 I've been fortunate to attend more shows in season three and have laughed until I choked.   Any attempt at describing this unique form of live, improvised theatre fails miserably – it's been compared to walking a tight-rope without a net, or even bungy –jumping, but when I watch the antics week after week, and begin to understand the high level of trust the actors must have, not only in their own abilities, but in those of the other cast and crew members, I am reminded of BASE jumping – daredevils who willing throw themselves off high buildings and fixed objects, in free fall, hoping their parachutes work. SinCity is BASE jumping for actors.
These improvisers and theatre artists are among Canada's best, with centuries of experience among them – from nights in small coffee-shop venues, to hit theatre runs, comedy shows, and Fringe festival performances.  The list of credits this year alone includes:  39 Steps and That Face (Langham Court), She Kills Me (APTN), Atomic Vaudeville, Dracula- the Blood is the Life (Giggling Iguana), Fringe-provise Me (Victoria Fringe Festival), the Derwin Blanshard Show, Comedy Fun Pack (Victoria Fringe Festival), Watch for Bones (Launch Pad Productions) – I may have missed some.
Tonight we'll know, once and for all, if the hotel remains standing, whether hotel owner Rupert Higginbotham Morgan Cranny and chamber maid Estelle Moffat Kirsten van Ritzen get married, what secret hotel manager Sunna Liedenstein Christine Upright is hiding, whether Nigel Mulway-Tweep Chris Gabel returns to Handwell Asylum, if Colonel Humphrey Major-Minor Alan Penty somehow manages to win Dolly Davroom's Christina Patterson heart, what Simon Preston Robert Conway and Colin Greyson Charlie de Pape have managed to concoct to save the hotel, if hotel porter Peter Moffatt Wes Borg can gain his independence, what drink barkeep Gwendolyn Knight Karen Brelsford has invented this week and if the vicar Quentin Swan Bill Nance truly is a Gock star.
It promises to be a nail-biter but one thing is certain – this is no cliff-hanger.  Tonight we say a final good-bye to the characters we've come to know and love over the past 21 weeks.
Stay tuned for exciting news of Season Four (fall 2013) – Director and co-founder Ian Ferguson promises developments that will take the genre to a new level.
THE CAST
The talented SinCity improvisers play a cast of quirky characters.  Joining the regulars are special guests Katt Campbell, Chris Vickers (RifflandiaTV), Mike Delamont, Jim Leard and Justin Carter.
Starring: Kirsten Van Ritzen, Wes Borg, Morgan Cranny, Christina Patterson, Chris Gabel, Robert Conway, Karen Brelsford, Alan Penty, Charlie de Pape, Christine Upright, Bill Nance. 
Directed LIVE by Ian Ferguson
Musical Director Alexander Brendan Ferguson
Technical Director Theodore R. Sherman with Emma Dickerson 
Single Tickets:  $15 regular  $12 students/seniors 65+ Hotel Room Key $60 (six admissions, can be shared)       
all tickets cash only at the door 7:30 pm  ~ licensed venue, minors ARE permitted, cabaret seating 
Disclaimer:  I attended Season Three on a guest pass. I was not required to write a review. As always, I retain complete editorial control over all content on this blog.